Graduating students may not have everything done on campus to be able to receive their diploma and transcripts. Students are recommended by the Office of the Bursar to check and see if they have balances on their accounts. Students can follow these easy steps to make sure they have everything done to graduate.
Library Books:
Students who have rented books from the IUS Library have until their due date to turn them in. Peggy Greenwell, daytime circulation supervisor, said that after the item's due date passes, the student will be charged 25 cents per item per day. She said after so many fees, the remaining balance is turned over to the bursar's office. She said students' transcripts may be held depending on the account balance. Greenwell also said that the money owed can also be turned over to a collection agency.
"Keep up with your due dates and you'll be fine," Greenwell said. "Keep renewing if you have to."
Bookstore Textbook Rentals:
Hannah Dettmer, assistant store manager, said that all textbook rentals are due back by May 6. She said that late textbooks will be charged the textbook's amount to the credit card used to secure the book at the beginning of the semester. Dettmer said that in addition the textbook's cost, there is a shelving fee that is added to the amount.
"This year we are debuting express rental check-in," Dettmer said. "It should help streamline and make checking books in easier."
She said that the new program allows students to print out the bar codes needed to check books in at home and cut to the beginning of the line.
Bursar:
Students that have a remaining balance on their bursar accounts will not be able to receive their transcripts or their diploma, even if they have completed all the requirements for classes. Ashley McKay, director of Student Accounting Services, said that there will be a hold on the student's account and the student will have to contact the bursar's office to make arrangements. McKay said that if the student has a past due amount, the bursar's office will mail a letter.
"Don't assume or ignore them," McKay said. "Contact us. It could be that something was not set up properly on the account."
She said that if the student owes more than $200 there will be a hold on the account, meaning students cannot take any additional classes. McKay said that if the student is late paying their past dues, there is a late fee of 1.5 percent per month.
UCard:
Money that is left on a student's UCard will remain on the UCard for one year, McKay said. After one year there is a $3 service fee every month until the funds on the card run out. She said that students are able to request refunds for their money on their own UCards, but there is a fee of $15.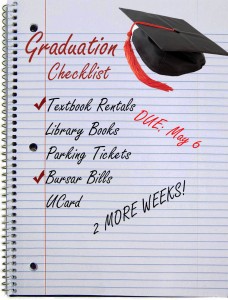 "Students can use their UCard at the bookstore to buy clothes," McKay said. "They can use it in the community to eat at Arby's also. They don't have to use the amount on campus."
Parking Tickets:funds that are left on the UCards or charged with service fees go to the UCard program. McKay said that those funds go to help organize events, the UCard progShe said that any
ram and to buy more equipment on campus. She said in the past years, the funds have also paid for the vending machine card swipes.
Seniors who have parking tickets totaling over $200 may not be able to get their transcripts when they graduate, Charles Edelen, IUS Police chief, said. The IUS Police issues reminders for unpaid parking tickets 30 days after the unpaid ticket and again after 60 days. Edelen said that after 60 days the charges gets sent to the bursar's office and the student will have to pay them there. McKay said that the charges are added to any existing balance in the bursar's office the student may have. Edelen said that students who are unable to make it to campus to pay the fine are able to mail a check to the office.
"We do not accept over-the-phone payments," Edelen said. "The lines are recorded and we don't want people's credit card information to be given out." The money that is paid in fines goes to fund student scholarships.