Marching on!
Southeast Sound marching band performs and competes
Southeast Sound, IU Southeast's marching band, was "en fuego" this summer.
Southeast Sound came together in April of this year and assembled a 19 member squad by the summer. Despite this recent inception, the marching band participated in its first competition on Saturday, Aug. 8 in Indianapolis.
The DCI SoundSport competition marked the last time Southeast Sound performed this year's show, "Fuego." Southeast Sound competed against 17 other groups, including teams from Canada, China and Taiwan. The judges awarded Southeast Sound a bronze rating.
In addition to performing its show, Southeast Sound performed the SoundSport anthem with the other groups.
"I've never had a group compete against groups from abroad, so it's really cool," Jennifer Gordon, the director of Southeast Sound, said. "It's really cool to be able to play music with people who don't speak your language."
"Fuego," which is Spanish for fire, featured Latin-style music, and included two selections: "Estancia" and "Malaguena." The show did not feature a full color guard, but the flute players and the clarinet players performed flag choreography for a short time.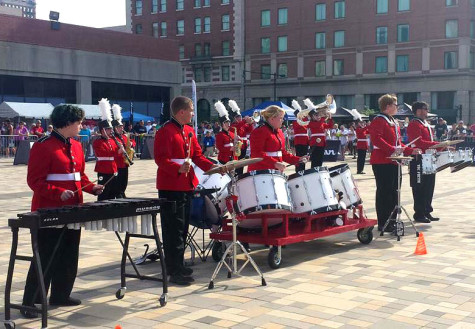 Kristina Peter, psychology sophomore, played the piccolo and performed flag choreography, and said her roles helped her grow as a musician and a performer.
"Before marching band, I wasn't playing piccolo, and I had never done guard before, so it's definitely opened my horizons," Peter said.
In addition to the DCI SoundSport competition, Southeast Sound performed several times this summer. The band first performed in the Summer Pops Festival in the Horseshoe Foundation of Floyd County Amphitheater on campus.
Since then, Southeast Sound has performed at Papa John's Cardinal Stadium and at the News and Tribune's Sports Person of the Year Awards in the Ogle Center.
Scott Gordon, the lead trumpet player in Southeast Sound, said the band has improved musically and visually since it began in April.
"
Music helps you in everything, and it's fun.
— Kristina Peter, psychology sophomore
"There's a lot more of what we call unit cohesion," he said. "As a group, everybody's working together a lot better."
Matt Craven, a human resource management sophomore who plays the French horn in Southeast Sound, said he likes that the members have diverse musical backgrounds.
"When you work with different people, they show you different ways of learning things and different ways of practicing and performing," Craven said.
Craven said he has enjoyed being a member of Southeast Sound.
"It's a lot different compared to competitive high school marching band," Craven said. "It's a lot more laid back, and a lot more fun."
Scott Gordon said that, while fun, Southeast Sound members still put in hard work.
"It takes a lot of work for that to get to where it is today," Gordon said. "It's not just the two nights a week that everybody puts in here, but it's hours of practice at home that they've put in and thinking of what occurred in the previous rehearsal."
Gordon said he wants Southeast Sound to be a valuable addition to IU Southeast.
"We're trying to grow a community here, a community of musicians that, in the past, hasn't really existed in this school," he said.
This fall, Gordon said Southeast Sound will march in the Harvest Homecoming parade on Saturday, Oct. 3, and it may march in the Lanesville Heritage Weekend parade on Saturday, Sept. 12.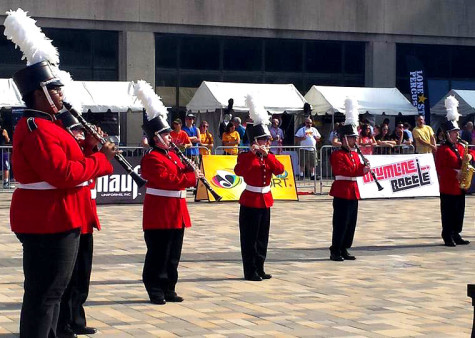 Southeast Sound will begin practicing for the parades on Sunday, Aug. 30 at 6 p.m. in the Activities Building, and anyone who's interested in joining or staying in the band can come.
Southeast Sound is open to IU Southeast students and community members 18 and over.
Peter said any person interested in music should join Southeast Sound.
"It's definitely worth it," Peter said. "It's a great group of people, and it gets you known in the community. Music helps you in everything, and it's fun."