IUS professor discusses King's idea of building a better community
Martin Luther King Jr. had a dream of building a better community for all people, but his notion of the beloved community is an idea that sociologists are still pursuing today.
Melissa Fry, assistant professor of sociology and director of the Applied Research and Education Center at IU Southeast, spoke Thursday, Jan. 21 at 7 p.m. in the Ogle Center's Stem Concert Hall about building a better community through King's work.
Jil Jordan Greene, vice president of human resources and community relations at Horseshoe Southern Indiana, was originally scheduled to speak but was unable to attend. Fry was asked to be the replacement speaker for the night.
Fry said she was honored to speak on the topic of the beloved community and King's sociological work.
"I welcomed the opportunity to reflect on how my work ties in with the work that King did," Fry said.
The night's lecture focused on the progress and challenges facing Southern Indiana communities as they relate to King's community. Fry said applied community-based sociology centers, such as the Applied Research and Education Center, have grown largely out of the work of King and those before him, including W.E.B. Du Bois and Jane Addams.
King's own work in community sociology drew from the philosophy of Josiah Royce and his idea of the beloved community, as well as from studying Mahatma Gandhi's philosophy and practice of education and social change through nonviolent action, Fry said. She also said King built upon their work and identified the three evils that undermine the common good: poverty, racism and militarism.
Fry said King's six steps for nonviolent social change – information gathering, education, personal commitment, discussion, negotiation, and reconciliation – are guiding principles of his philosophy in building the beloved community.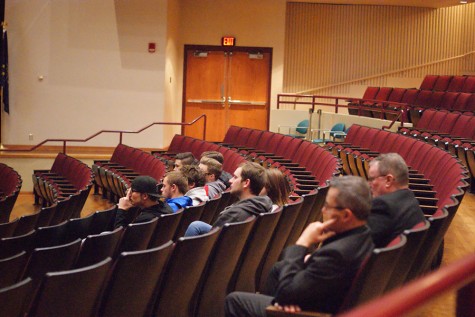 Also, Fry said community sociological centers, such as the Applied Research and Education Center, help identify and research poverty, racism and militarism and follow many of King's six steps. She said the two key aspects of the Applied Research and Education Center are the collection of information and working with the public to identify how to promote change in the community.
Fry said she began teaching at IU Southeast and became director of the Applied Research and Education Center in August 2011.
In 1992, when Fry was 19 years old and taking several premed classes, the acquittal of the police officers in the Rodney King beatings led her to pursue a career in sociology, she said.
"It was 1992 and it was suddenly clear that we had not come nearly as far as the civil rights movement as my very young and naive mind thought," Fry said.
The turnout for Fry's speech was small, but many in attendance were engaged with Fry. Students and staff asked questions regarding the economy, voting rights, climate change and healthcare. Several members of the Tau Kappa Epsilon fraternity attended the event.
Although the event had a small turnout, Channell Barbour, associate director of Campus Life, said she was pleased that several of the students engaged well with Fry.
"They were very connected with what she was saying," Barbour said.