Super Tuesday viewing party
Politically oriented student organizations host viewing party for Super Tuesday results.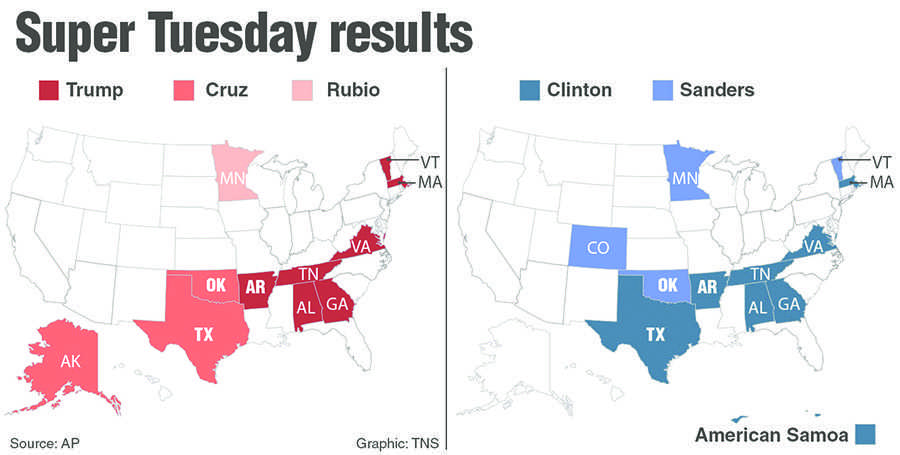 Ever wonder what that cold beer tastes like between two old establishment faces who've filibustered and debated semantics with each other for decades, knowing they'll never agree on the things that matter, but also knowing you can't really hate the guy just because he disagrees with you?
On a dry campus, it's a wonderful feeling when longtime barriers of bitter ideology can be dissolved for a short period of time thanks to the involvement of pretzels, soda, and red and blue cups.
Every political group can be expected to hold a bit of clannishness, but the mood was lighthearted enough at the Super Tuesday Watch Party on campus that moving from group to group and listening to the political speculation gave every person the feeling of being surrounded and united as political nerds, not as Republicans or Democrats:
Kailey Coursey, College Democrats president
On the issues: "Criminal justice reform is a big thing for Hillary. She also wants to reform how students pay for college, but she doesn't want to quite make it free. She wants to expand on Obamacare… Bernie wants criminal reform; he wants to close for-profit prisons. He wants to legalize marijuana. Free college, universal healthcare with more of a European style… He's really big about helping the middle class."
Establishment vs. Antiestablishment: "To the older generation, [Hillary] represents what they define as Democrat. She struggles with younger voters. She represents everything that's in the political establishment for the Democratic Party at this moment… Young people aren't happy with the status quo. [Bernie] is certainly antiestablishment. He challenges the status quo. Even in dress, he doesn't look like what we perceive a politician to look like. He goes in with his crazy hair, talking about how bad banks are. He's not scared to challenge a lobby, or big money, and he doesn't seem to be influenced by big money, which is part of the political establishment."
Issues that she believes will keep Democrats in the White House: "Women's health rights, women's work rights, equal pay, supporting Planned Parenthood, criminal reform."
Aaron Lett, College Republicans president
On the issues: "Marco Rubio's main issue is rebuilding for the family, leaving [the country] better than he inherited it. The main issue for Ted Cruz is restoring the constitution."
Establishment vs. Antiestablishment: "Trump and Cruz are the antiestablishment candidates, Kasich and Rubio being labeled the establishment. It's not a set of issues that are separating them, candidates like Kasich have been around longer. Some are the type that are waiting their turn, whereas Trump and Cruz are trying to break out of that."
Issues that he believes will drive the Republicans back into the White House: "Second Amendment rights, repealing and replacing Obamacare, reforming educational systems."
Kat Faulkner, president of the IU Southeast Civil Liberties Union, had this to say about Donald Trump:
"I can't support him. He's shown racist tendencies with his messages, he's been sexist, he's made fun of people with disabilities… He doesn't represent fairness to people's civil rights. If you're an American citizen, you have civil rights that are protected by the government. And he, obviously from his speeches, shows that he doesn't support a lot of civil rights."
Shawn Billups, president of the Young Americans for Liberty:
"Nationally, we stood behind Rand Paul, and he dropped out. Who they're getting behind now is splitting up. A lot of people are getting behind Ted Cruz, a lot are going third party, a lot of people are going to write in Rand Paul, a lot of people are going to abstain from voting. A lot of people are going for Bernie Sanders because they absolutely do not want Hillary Clinton, and they cannot get behind any of the Republican candidates. Donald Trump, he doesn't speak anything to civil liberties or the Constitution. It's like he thinks he can do whatever he wants, [laughs] he has no knowledge of the Constitution based on what he says. Our group wouldn't support someone like that because we're strong to the Constitution. His policies lack substance. I can't take him serious."
Josh Waddell of Jeffersonville High School, president of the Jeffersonville Teenage Republicans:
"We're here because we're very interested in the political process. We really want to have an insight into who's going to win the nomination on the Republican side, and obviously Super Tuesday is one of the most important election nights of the year."
All of the teenagers in the club supported Marco Rubio. "There's a lot of millennials who are more supportive of Rubio because he's more level headed," Lindsey Bishop, member of Jeffersonville Teenage Republicans, said.
"Rubio has an optimistic message for the future," Waddell said. "Most millennial Republicans aren't your typical bible thumping Republicans. Most millennial republicans are looking for something moderate. We're expanding, we're becoming more inclusive."
Logan Berry of Renaissance Academy in Clarksville:
"I like Trump's position on immigration, drug policy, foreign policy, common core… A big reason for why I like Trump is that he's very politically incorrect and he's not afraid to say what's on his mind. For Democrats, it's nearly impossible to even start a conversation [about Trump], because when they hear anything from you, they shut you off and immediately assume that you're a racist, a sexist, a misogynist, a homophobe, all of those other things. I don't think Trump is a racist."
Berry will not be old enough to vote in this years general election.