From Doodles to Award Winning Art
Kacey Slone, printmaking and graphic arts senior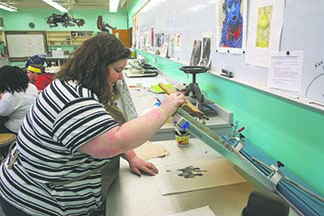 Some people are born to make art.
Kacey Slone, printmaking and graphic arts senior, has known that she enjoyed art since she was a young child.
Starting at a very young age, Slone colored a lot, made storybooks and took photos. Her grandmother would buy her disposable cameras each week and print the pictures out for her. These experiences triggered her passion for art.
Before transferring to IU Southeast, Slone graduated from Ivy Tech Community College with an associate's degree in photography.
Slone wanted to continue her education because she wanted a steadier job than having her own portrait business or working for someone else.
"Ivy Tech prepared me so well for these things and taught me so much about being an artist and having a business, but I felt like I wanted to do more with my art," she said.
At IU Southeast, Slone is concentrating on graphic design and printmaking.
"I chose graphic design mostly because I really like working on the computer and I like having all of my tools in front of me," Slone said.
She chose printmaking as her second concentration because she said it is rewarding and you get back what you make instantly.
She said she hopes to eventually use this degree to create posters for music venues or make CD covers.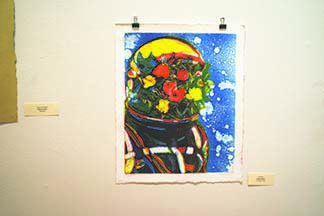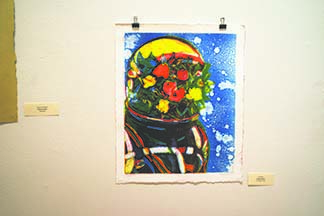 Slone's grandmother wanted her to be a nurse but she does not like blood or snot.
"She thinks I'll make more money, but I would rather have less money and not be miserable," Slone said.
Slone has always known she wanted to have a career that was not monotonous, which is one reason she was attracted to art.
"I feel like I am meant to have an art career," she said.
Susanna Crum, assistant professor of fine arts, has taught Slone in two of her printmaking classes.
Crum is supportive of Slone's degree concentrations and said she has the right attitude for a printmaker.
"One of the most important things with printmaking is tenacity and being able to step back when trouble arises and find a solution calmly and logically and she's got it," Crum said. "She had it from the beginning."
Slone is currently taking a printmaking and social action class with Crum and she is learning how to screen print.
"She has done a great job coming up with interesting and socially engaging projects," Crum said.
Crum said Slone's art style makes viewers do a double take when they see her pieces.
"She has a really good sense of humor, but there is also a really engaging aspect to the images she chooses," Crum said.
Slone said her personality is strongly expressed through her artwork.
"My artwork is very representational of my personality, it is all over the place, and pretty happy, bright, bold and loud," she said.
Bobbie Cole, Slone's roommate, said Slone's artwork is very personal to her.
"[Slone] pours her heart and guts out onto her art, which can be seen in the way she articulates her pieces," Cole said.
Cole's favorite piece by Slone is a video Slone created in 2014 of Slone's friends celebrating the Fourth of July.
"She captures our youth, which is something we often take for granted," Cole said. "I adore that video. It's something I think I will cherish for a long time."
Cole said Slone's artwork always has clips of family or friends, which makes her work personal and hopes to see Slone go far with her talent.
"I hope that she keeps it personal, but also collides into others' lives and captures their moments; the happy ones one does not ever wish to forget," Cole said.
Slone has won a variety of awards throughout her college journey.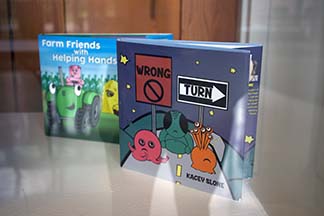 "For photography from my previous degree at Ivy Tech I won a lot of juried art shows and I just won the graphic design studio award for my book cover called 'Wrong Turn,'" Slone said.
Two of Slone's art pieces were accepted into the Annual Juried Student Art Exhibition at IU Southeast.
One was the book, "Wrong Turn," and the other was a print of an astronaut. Slone said her two favorite works are the astronaut print and a mixed media drawing of her friend's child.
She said she likes different forms of art but looking at street art really inspires her.
"I get really inspired by the colors that are normally presented with street art and I really like the places that you find it," she said.
Slone explained she enjoys that all the artists share the same canvas and she gets inspired when she finds new street art. Currently, Swoon is her favorite artist. A street artist, Swoon is known for her life-size wheatpaste prints and paper cutouts of human figures.
According to Mental Floss, wheatpaste is an adhesive made from flour and water. The artist creates a poster and adheres the poster to a site by painting the paste over it.
While looking at other artists' artwork inspires Slone, she does have days when she encounters artist block. When she does, she remembers a quote she once read.
"They said 'even when you have artist block or don't feel very inspired you just need to keep creating because the process of just creating is going to inspire you,'" Slone said.