Collaboration Gets the Job Done
The shared workspace trend motivates individuals working outside of the office
With flexible working arrangements and simplified business management continuously changing the landscape of the workplace, there is one entity that has allowed employees across the world to thrive like never before.
Collaborative workspaces — also known as shared workspaces — have given small business owners and professionals an economic-friendly alternative to a previously excessive tradition of owning a private office space.
Now, millions of Americans are experiencing their day-to-day work alongside professionals from other industries within the same office spaces, both physically and online.
What is a Collaborative Workspace?
A collaborative workspace is where people from a variety of different backgrounds and businesses can work outside of an office at their own pace.  
This is something to consider when working from home, doing freelance work or otherwise working independently.  
Josh Johnson, content creator at The Kentucky Gent, described the general layout of a collaborative workspace.
He said that the majority have an open seating plan, allowing you to sit wherever you want to on a first-come, first-serve basis.
They typically provide Wi-Fi, conference rooms and meeting areas, as well as coffee in the kitchens and adult beverages for happy hour.
"
When you see other people as passionate about something you love as you are, there's something magical there."
— Makena Devlin, freelance artist
Why Use a Collaborative Workspace?
Having spent most of her life with a paint brush in one hand and a small canvas in the other, Makena Devlin knew she had the talent to get her art noticed in her hometown of Louisville, KY.
"I've been painting for years but I hadn't thought of what I could do with it all at first," Devlin said. "There isn't exactly a lot of money in underground art."
It wasn't until a friend of Devlin's entered her clustered living room and asked why she spent her time painting in her home instead of taking her talent to a studio.
"Maybe I was just insecure about my own painting, but I didn't really realize why people went to studios or a collaborative place like it in the first place," Devlin said.
At the University of Louisville, Devlin decided to pursue her career in depth and was exposed to the campus's art studio funded by the Department of Fine Arts.
"All I can say is inspirational," Devlin said. "When you see other people as passionate about something you love as you are, there's something magical there."
The 21-year-old artist had stumbled upon a collaborative – or 'shared' – workspace for the first time. She said her career was never the same.
Within months of discovering what benefits a studio brings to an aspiring artist, Devlin developed a network in Louisville and eventually her own website.
"My parents have their own studio too," Devlin said. "I'm just an artist with a dream. I think [collaborative workspaces] are the future. My dad always says, 'Two heads are better than one' and I'd have to agree with him."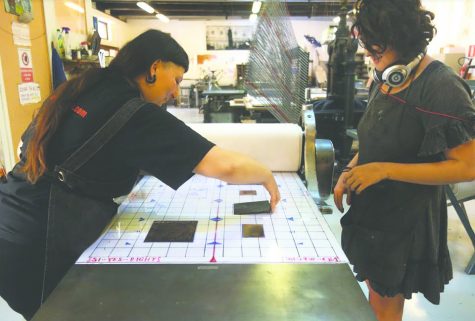 The Start-Up
The rocketing trend was nearly unheard of just a decade ago.
In 2005, there was one shared workspace in the United States. Slightly less than ten years later, there are now over 4,000 collaborative workspaces worldwide.
While some who pay for a workspace anywhere from hours to months at a time are employees at large corporations, many are independent workers.
By the end of 2017, over 41 million Americans (nearly 31 percent of the United States workforce) were considered 'independent' workers according to research done by MBO Partners.
The Good and the Bad
As with anything, there are pros and cons to a workspace environment. However, according to a survey done by Harvard Business Review, people appear to excel in them.
"For work from home folks, like myself, it's a great way to get out of the house, be around people, but still be productive," Johnson said.
He said that he found coffee shops to be too loud and distracting, so this gave him a chance to be able to work around other people. If the other people are in the same industry as you, it's also a way to find inspiration.     
"It serves as a great sounding board for ideas, as well as having sort of a 'team' behind you," Johnson said.
You are also able to set your own schedule. Shared workspaces let you come and go as you please, bringing flexibility into your work day.
There isn't the typical competitive work atmosphere that most offices have. You are working for yourself, so you don't have to worry about fighting for a promotion.
"On the other hand, if you work at a place that's not quite up your alley, it can have a negative impact on your work environment," Johnson said.
For certain activities, such as making phone calls, participating in video calls or otherwise having to make noise, it can be distracting to those around you and therefore not suited for this space.
He recommended trying out different collaborative workspaces to see which one fits your personality the best.