Grenadier Pride and Sportswear Culture at IU Southeast
Amid March Madness, IU Southeast students are wearing their colors with pride, even if they're not crimson and cream
Across the nation, college students are gearing up to see their teams compete in the annual NCAA tournaments. With all the buzz floating around about brackets and sports teams, loyalties at IU Southeast seem swayed, with colors across the spectrum displayed in the halls.
At a school with its own sports and mascot, the IU Southeast Grenadiers seem to consistently fall through the cracks when looking around at the gear sported by students across campus.
A Phenomenon
To some, the prominent representation of other schools at IU Southeast may seem as simple as having a large number of commuters from around the Kentuckiana area.
To others, such as Chris Cox, IU Southeast associate professor of marketing, an underlying phenomenon may be the answer as to why this occurs.
"What I would argue is the single biggest reason you would see gear from [University of Kentucky], [University of Louisville] or IU on campus is a psychological phenomenon known as 'BIRGing,'" Cox said. "It's an acronym and it stands for 'Basking In Reflected Glory.'"
Studies conducted in the 70s by Robert Cialdini, Arizona State University professor of psychology and marketing, theorized that people have a better self-image when associating with a winning team rather than a losing one.
"It's a way that people enhance their self-esteem by identifying with successful others," Cox said. "So the more high profile of those successful others, the more it enhances my self-esteem to identify with them."
One of Cialdini's experiments included the observation of students on a campus following both a win and loss from the football team.
"
A Grenadier, to me, means being a part of something bigger than myself."
— Cody Maloon, junior infielder
Interestingly enough, Cialdini concluded students on the campus would affiliate themselves with the football team following a win, even if the students were not athletes.
Terms such as "we" were more frequently used than terms such as "they" when referring to the team, along with a profoundly higher number of sportswear than what would typically be found after a loss.
Another key factor to the frequent representation of other universities involves the level of competition.
"I think a bigger impact is the level of play," Cox said. "Obviously, NCAA Division I is a much higher profile level and with the media TV contracts."
With IU Southeast competing at the National Association of Intercollegiate Athletics (NAIA) level of play, the Grenadiers become much less visible than high profile universities like Indiana, Louisville or Kentucky.
Marketability of Grenadier Gear
IU Southeast Grenadier-specific gear can be found in the bookstore, located in the University Center South, near the coffee shop.
While the Grenadier accessories are abundant in the bookstore, so is Indiana University-specific gear.
"The good thing about us here that a lot of people don't realize is we are Indiana University," Joe Glover, IU Southeast Athletic Director, said. "We are one university."
Along with the other eight Indiana University campuses, IU Southeast acts as a single part of an entire system, all of which work together to produce an Indiana University brand.
"Any time someone walks into the bookstore and buys an Indiana Hoosiers shirt, there's a royalty that is paid on that," Glover said. "That royalty comes back to us. We get a percentage of that."
The sales of shirts, sweats and other products goes immediately into a giant "pot of money" that is then allocated to all campuses.
"Here at IU Southeast, we use those funds for athletic scholarships," Glover said.
Though the Hoosiers are an Adidas affiliate, all branch schools have reached an agreement with its lead competitor, Nike.
"From an apparel standpoint, we just signed an agreement that will go into effect here soon with Nike," Glover said. "We're going to be an official Nike athletic school."
Soon to be affiliated with Nike, IU Southeast will also be releasing the new brand apparel through e-commerce, allowing customers to buy it online rather than in the bookstore itself.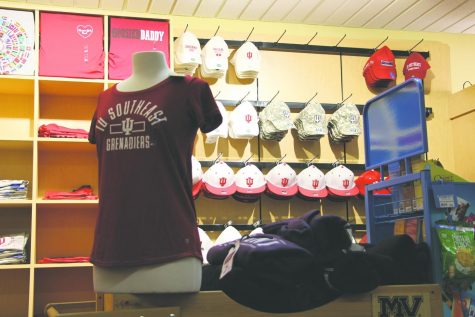 "I think you're going to see a bigger push for that — having the e-commerce out there," Glover said.
For now, Grenadier gear will be sold on campus, along with older branded gear available online, as it has been for quite some time, though improvements in visibility of gear itself hasn't gone unnoticed by Cox.
"If anything, we are probably being a little held back by not having some of the IU Southeast Grenadier gear more visible," Cox said. "But I think it's improved greatly since I've been here."
What Does it Mean to be a Grenadier?   
The IU Southeast mascot is a Grenadier, which is a soldier armed with grenades or a grenade launcher.   
In the 17th and 18th centuries, Grenadiers were hand-picked members of the British army. They tossed their shells into enemy territory with precision and control. Grenadiers were known for their strength and bravery, as their life expectancy was generally shorter than other soldiers.
Today, however, being a Grenadier on the IU Southeast campus means something different.
"A Grenadier, to me, means being a part of something bigger than myself," Cody Maloon, junior infielder on the baseball team, said.
Maloon added that more recognition for the university's teams in the community would improve the sense of Grenadier pride.
"I think the more comprehensive campus presence is, I think the more you would see self-identification with the campus and with the campus's sports teams," Cox said.