Criminal Justice professor dives deep into diversity
Jennifer Ortiz pushes for equality at IU Southeast while contributing to the local community.
In a society growing with diversity, Jennifer Ortiz, assistant professor of criminology and criminal justice, joins the community in fighting for equality and virtue.
Ortiz earned her bachelor's and master's degrees at John Jay College of Criminal Justice. She received a master's in both policing and criminal justice, as well as a Ph.D. in criminal justice from The City University of New York (CUNY) Graduate Center.
"I was always drawn to the criminal justice field, but my initial goal was to be a cop. I was going to get an associates degree and be a police officer," said Ortiz.
After her first semester in college, she changed her major because she decided she wanted to go to law school, but things changed after she realized law school was not for her.
Her undergraduate mentor advised her to get her master's degree. While working on her master's, she learned how much she enjoyed statistics and became the Research Director for the New York State Permanent Commision on Sentencing for four years.
"I spent nine months doing one stats analysis and they created a law based on whatever they felt, not based on any stats or facts, so I thought 'Well, this is a waste of my time.'"
During her time as a Research Director, she found her true passion.
"In that process I was forced to teach in order to have my tuition paid for, and I fell in love with being in the classroom. I fell in love with helping students and seeing the change I could create,"  said Ortiz.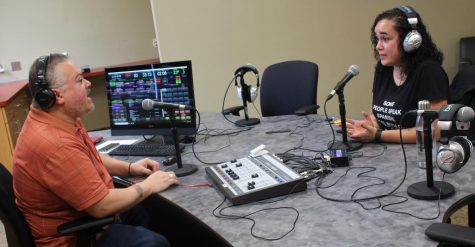 She then began searching for a teaching job.
"I wanted very specific things when I was looking for a teaching job. I didn't want to be at a major research institute. I wanted to be at a teaching college, a place where I can focus on my students, and IUS gives me that," said Ortiz.
Ortiz wanted to be where she could relate to her students. For Ortiz, this meant being where a large percentage of the student body worked. This, for her, was something she found endearing having gone through it herself.
"I worked 40 hours a week, 8-4, and went to college from 6-10 at night. I know what that hustle is like and I wanted students who were like me so I can help them," Ortiz said.
Ortiz strives to be a professor who is not only here to teach, but to guide as well.
"I care about my students. I don't just care about their grades. I mean, I have a couch and Kleenex in my office for a reason," Ortiz said.
This is Ortiz's fourth year at IU Southeast. Not only is she a professor, but she also takes on many other responsibilities on and off campus.
On campus, she sits on the Chancellor's Diversity Council, which talks about how to increase diversity, as well conduct the diversity training for the Resident Assistance on campus last year.
She takes part in Latin Lunch Hour, a Horizon Radio station that plays Latin music, while also playing a role in the Indiana Latino Leadership Conference.
She also won the Chancellor's Diversity Award for her involvement on campus, which she said was largely because of the events she led.
"We held an event on toxic masculinity, on sexual assault on college campuses, on the impact on race and neighborhoods and I do a lot of volunteer work outside of campus," Ortiz said.
Off campus, she volunteers for the Big Brother, Big Sister program, in which she mentors a mixed 11-year-old boy, as well as the Mission Behind Bars and Beyond, where she helps women get back on their feet after being released from prison.
Along with volunteering, Ortiz was voted in as a member of the New Albany Human Rights Commission last year by the existing four members.
Founded in the 1970's and was disbanded in the 1990's, it was brought back in 2012 because of the growth of diversity within the community. The purpose of the commission is to address issues of discrimination in the area based on sex, gender, race, ethnicity and class.
"I've lived here for four years now and I didn't know the commision was even a thing. When I found out about it, I thought it was something I definitely want to be a part of," said Ortiz.
A part-time student and sociology major, Leo Lopez has received advice and help from Ortiz over the past few years.
"To me, an important part of what she taught me was to be proud of my culture. I still remember her poetry reading in the second floor of the library. It made me feel proud of my roots," said Lopez.
Lopez said he's also confident in Ortiz's contribution to the community.
"She really never stops, and that's why this community is so lucky to have her fight for them," said Lopez.
Ortiz sees a lot of value in what she does and enjoys giving back to the community, adding her door is always open to IUS students.