Student, supervisor, professor
Adjunct history professor juggles teaching while having a full-time job and going back to school
Coffee shops are common places professors and students go to finish their work while enjoying a hot cup of coffee after a long day on campus. The same can be said for Matthew Goldberg, an adjunct professor at IU Southeast.
He takes this short time in the coffee shop for himself, relaxing from the mental toll of working as a supervisor at a library, teaching as an adjunct professor and pursuing a master's degree.
Becoming a college professor has always been in the cards for Goldberg. He credited his early interest in the profession to his mother and grandfather, both having taught at the college level.
"According to family lore, somewhere in the house is a little essay they give you when you are like a five year old in elementary school and it says that I want to be a history professor," Goldberg said. "I know it sounds cheesy, but it was either that or becoming Indiana Jones and since that one didn't seem likely, I stuck with the history professor route."
His love of history and books began early in life. He read regular childhood books such as "Goodnight Moon," but the first book he remembers being read was about Ancient Egyptian burial practices.
Becoming a Professor
Goldberg is a Louisville resident who stayed close to home, earning both a bachelor of arts and a master of arts degree — both in history — from the University of Louisville. After graduating, it did not take long for him to find a job in the classroom.
"Right after I got my master's degree, quite literally three weeks after I was awarded my degree, I was put in a classroom at UofL and they offered me a position. I went from grad student to adjunct professor in three weeks."
Goldberg started at IU Southeast shortly thereafter, after a colleague at the University of Louisville contacted an IU Southeast staff member and recommended him for the job.
Library Love
Goldberg, along with being an adjunct professor at IU Southeast and a part-time lecturer at the University of Louisville, works full-time as the Head of Access and User Services in Ekstrom Library in Louisville. He started at the library as an undergraduate at UofL. In his time there, he discovered his love for libraries.
"I got a full time job so I could keep working in the library industry and I fell out of love with history as a full profession and fell into love with libraries as a profession, but I knew that those two things I could do at the same time so it was kind of perfect."
Taking the Next Step
Goldberg is currently a graduate student, taking online classes at the University of Kentucky to work toward a master's degree in library science. He said he went back to school because he loves the library and wants to continue pursuing it as a career, even if it means moving away from home.
"I realized that if I wanted to continue to be good at that and continue to be promoted, which I had been, I needed to get the MLS to get the next faculty jump. The next step is to finish my degree, which is probably another year away, and at that point, given where I am in my career and my age, I will have to leave Kentucky in all likelihood to take the next step."
Though he loves being a professor, Goldberg sees that chapter of his life coming to an end soon.
"I would love to say that whatever university I end up at will have a bunch of adjunct jobs or even part-time professor jobs for me but the field is very inundated with well-qualified adjuncts and is well-inundated with well-qualified full-time professors who can't find jobs."
Goldberg said he does not know where he will end up, but he wants to stay as close to home as possible.
"I have been in Louisville my entire life, 30 years here. I have a lot of family on the east coast so I am definitely going to look east. The goal is to stay close to home with home being no more than four or five hours away."
A Campus Unlike Any Other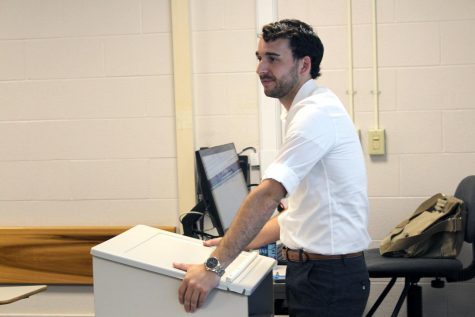 Goldberg said that he did not know what to expect at IU Southeast and mentioned that the only thing that his colleagues told him about the campus was that the students were much different than those at the University of Louisville. Though he has only been lecturing at IU Southeast for a short time, Goldberg praised his experience thus far and agrees about the students.
"Over the course of working here, I have really come to fall in love with IUS's student body," Goldberg said. "They are very engaging. They are very interested in what you are lecturing on and are very participatory. I never feel like I need to beg the class to get involved."
Goldberg not only loves the students but he loves the environment that the campus provides as well.
"I really love the campus. I had never heard of IUS before a friend of mine recommended this position and that is coming from a Louisville resident who has been here for 30 years. I have to say, I am not just pleasantly surprised, I am ecstatic. I find it a very welcoming place to work."
Goldberg's students were quick to mention how much of an impact he has had on them.
"I really enjoy his class the most this year because he seems to be one of the more passionate teachers when it comes to their subjects," said Jay Rice, a junior communications major. "He knows what he wants to tell us and he is not afraid to go off subject for us to know about it."
Rice mentioned that not only is Goldberg a delight as a professor, but he is an even better person.
"He has an excellent sense of humor and I think he is phenomenal to get along with. I do really think that he wants the best for his students because he is in our shoes. He knows what we are going through and he is willing to teach us in a way that we learn best."
Kyann South, a sophomore psychology major, mentioned how much his enthusiasm helps with the course.
"I am not a big history fan but I like that he keeps everything entertaining," South said. "He talks about personal experiences too. I like that even though he has a lot going on, he still is energetic for our class and wants us to learn."
Goldberg does not know how much longer he will be at IU Southeast, but he is appreciative of the students he has had.
"Any college is not so much about the student body as much as about what the student body puts into it," Goldberg said. "You are not going to find a place where the student body puts more into it than IUS does."