Indiana University suspends face-to-face classroom teaching over COVID-19 concerns
All classes have been moved online until Apr. 6, pending further review.
IU President Michael McRobbie announced today in a statement all IU campuses will suspend face-to-face classroom teaching after spring break until Apr. 6. "However," McRobbie wrote, "that could change with the evolving situation."
McRobbie recommended students travel to their permanent homes during the suspension, though IU campuses, residential halls, and dining services will remain open.
All university-related international travel is suspended through Apr. 5, and "personal international travel is strongly discouraged given the associated risks of possibly being unable to return for some period if the situation changes," McRobbie wrote. "Travelers returning from countries designated Level 2 or 3 by the CDC are subject to 14-day self-quarantine off campus upon return."
IU also suspended university-related domestic travel through Apr. 5. "We encourage all members of the IU community to consider using video conferencing, phones or other means rather than traveling campus-to-campus or elsewhere to meet in person," McRobbie wrote.
The announcement comes the week before spring break, a time when students travel both domestically and internationally.
The IU Office of Public Safety suggested in a Mar. 4 email to all students and faculty classes may be moved online. "IU will take additional steps as warranted in this rapidly evolving situation," the email read. "Those could possibly include the need to continue courses remotely."
The email included information about travel advisories and self-quarantining. "This information is especially important for you to consider in connection with spring break travel," the Office of Public Safety wrote.
IU's announcement follows multiple confirmed COVID-19 cases in both Indiana and Kentucky.
"To date, no known cases of COVID-19 have been identified on any IU campus," McRobbie wrote. "Two IU students have self-reported presumptively positive tests for COVID-19 after being in a CDC-designated Level 3 country while studying abroad. They are receiving care at their home cities, and neither has returned to an IU campus. Multiple cases have been reported in the state of Indiana."
IU is one of a growing number of colleges to suspend classes over coronavirus concerns. Kentucky's Berea College, which is less than a two hour drive away from IUS, announced today it was completely canceling its spring semester after Friday, Mar. 13.
Some classes, such as those involving laboratories or studios, might not be able to be taught online. "We are investigating how to accommodate classroom activities that typically include laboratories or other in-person interactions, and specific guidance will follow," McRobbie wrote in his announcement.
IUS Chancellor Ray Wallace released his own statement two hours after McRobbie's, in which he addressed face-to-face class suspension and student travel.
"Per the announcement today by Indiana University President, Michael A. McRobbie, following the IU spring break, March 15-22, the IU Southeast campus and all other IU campuses will be teaching all classes remotely by various distance-learning modalities," Wallace wrote. "While completing classes remotely, students are strongly encouraged to stay in their permanent home, away from campus, unless they are prevented from returning home because of travel restrictions or they do not have access to the technology at home, such as reliable internet access, to complete their classes remotely."
"The IU Southeast campus will remain open to faculty, staff and students including library services, lodging and dining services," Wallace wrote. "Public meetings scheduled to take place on campus have been cancelled through April 5. IU's first priority is to protect all members of the IU community. The measures announced today are based on the best information available to us and they follow the guidance and advice of federal health officials, state and local health and hospital officials and IU's own internal resources.  Additional information will be forthcoming."
About the Writer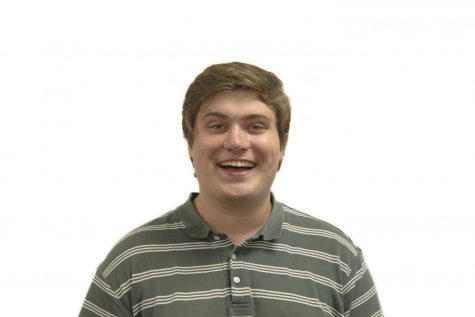 John Clere, Editor-in-Chief
John is the third consecutive generation in his family to write for and edit a newspaper. He had his first column in a newspaper at age 13! News ink runs...