10 places to visit in southern Indiana before you graduate
IU Southeast students need places to go where they can relax or enjoy the Southern Indiana area
New to campus? This one's for you! College can be a hard transition for new students, but it can be even more difficult for students that are new to the area. Although living in a new city can be intimidating, exploring the local Indiana landscape is half the fun! Southern Indiana is full of hidden gems just waiting to be explored. Some are less than 20 miles away from IU Southeast. Here are 10 interesting – and cheap- places to visit in southern Indiana before you graduate. 
1. Falls of the Ohio State Park 
201 W Riverside Dr, Clarksville, Ind. 47129 
Needing some fresh air during a study break? Located just seven miles from campus, The Falls of the Ohio State Park and its Interpretive Center sits on a 1,404 acre National Wildlife Conservation Area. The Falls are home to the largest exposed Devonian fossil bed in the world, featuring some 390-million-year-old fossils. With the Louisville skyline just across the river, this links the environment of the ancient past with modern beauty.
https://www.fallsoftheohio.org/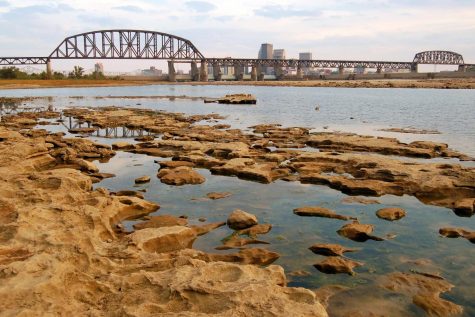 2. Historic Downtown Jeffersonville
401 Pearl Street, Jeffersonville, Ind. 47130 (Jeffersonville Main Street Inc.)
Just an eight mile drive from campus, Downtown Jeffersonville is home to many unique local shops, bakeries, boutiques and restaurants that can only be found in this city. Because of its rich architectural and historic significance, the Old Jeffersonville Historic District was listed on the National Register of Historic Places in 1987. It includes a mix of residential and commercial architecture, much of which dates from the mid-1800s to the early 1900s. Be sure to check out and support the fun local businesses of downtown, such as Adrienne & Co. Bakery & Café, Pearl Street Sweets, Union Restaurant & GameYard and Schimpff's Confectionery – one of the United States oldest, family-owned candy businesses still in operation. Downtown Jeffersonville is also home to concerts, festivals, a farmers market and other fun events!
 https://www.jeffmainstreet.org/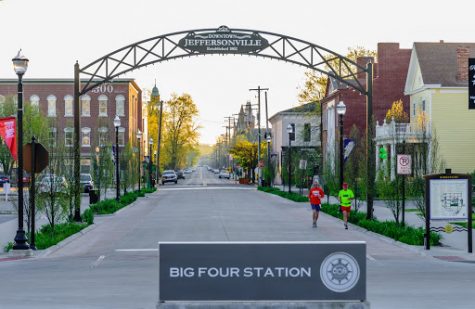 3. Georgetown Drive-In
8200 State RD 64, Georgetown, Ind. 47122
Grab your blanket, crank up the radio, and make some weekend memories at Georgetown Drive-In. Since its opening in 1951, the drive-in has been offering southern Indiana entertainment for 70 years. As one of the few drive-in theaters still in operation in the United States, this dual-screen outdoor attraction prides itself in an authentic retro movie experience. This location is a great place to spend a Friday night, watch a good movie and take some retro-themed pictures. 
https://georgetowndrivein.com/index.shtml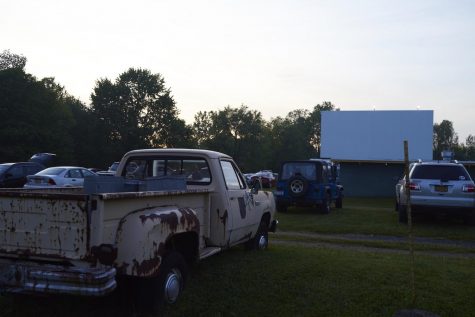 4. New Albany Riverfront Amphitheater
100 E Water St, New Albany, Ind. 47150
Placed right up against the Ohio River, New Albany's Riverfront Amphitheater offers scenic views you can't get anywhere else. In warmer months, the stage becomes an entirely outdoor local concert and event venue with free admission to the public. The stage is also adjacent to New Albany Flow SkatePark and the Ohio River Greenway – a seven mile riverfront park system that links the three cities of New Albany, Clarksville, and Jeffersonville, with access to the Big Four Bridge. With its close proximity to campus, the area is perfect for daily exercise with trails for walking, jogging and bicycling.
https://cityofnewalbany.com/residents/riverfront-amphitheater/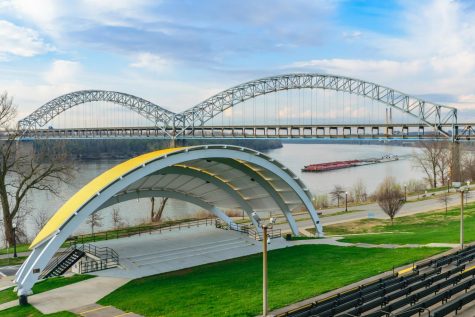 5. The Big Four Bridge
215 W Chestnut St., Jeffersonville, Ind. 47130
This mile-long pedestrian and cyclist bridge spans the width of the Ohio River and connects Jeffersonville and Louisville. The bridge was originally a Railway that connected the four big cities of Chicago, Cincinnati, Cleveland and St. Louis, giving the bridge its "Big Four" namesake. The iconic walking bridge now offers amazing urban views of the Louisville city skyline and Ohio River. 
https://jeffparks.org/parks/big4-station/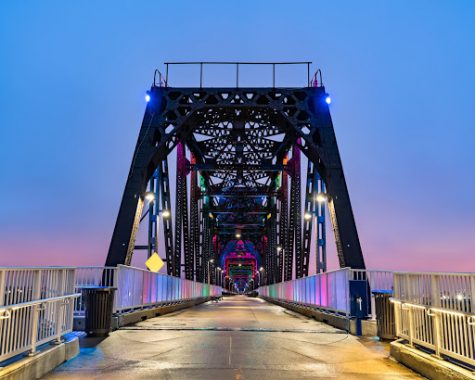 6. Charlestown State Park
12500 Indiana 62, Charlestown, Ind. 47111
Less than 18 miles from campus, Charlestown State Park is the perfect place for anyone looking to get in touch with Mother Nature. As one of Indiana's newest and largest state parks, it offers scenic outdoor views which are perfect for a day trip off-campus. The park has interpretive programs, hiking, camping and a boat launch on the Ohio River. Be sure to check out Rose Island, where the remains of an abandoned amusement park serve as a ghostly reminder of the past.
https://www.in.gov/dnr/parklake/2986.htm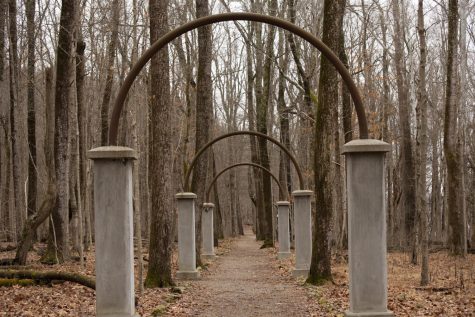 7. Downtown New Albany
202 E Market St., New Albany, Ind. 47150 (New Albany Farmers Market)
Historic Downtown New Albany is home to many fantastic options for food and dining, shopping and vivid nightlife. Located just five miles down the road from campus, this area offers the authentic New Albany experience. Along with its rich history, it is also home to the New Albany Farmers Market. The market is open from May to October and features fresh, locally grown and homemade foods straight from the community. Be sure to check out other New Albany staple businesses, such as RecBar 812, The Exchange Pub + Kitchen, Rookies Cookies, Bella Roma Restaurant and many more. The distressed exposed brick featured on many of these downtown buildings make a perfect backdrop for pictures!
https://www.explorenewalbany.com/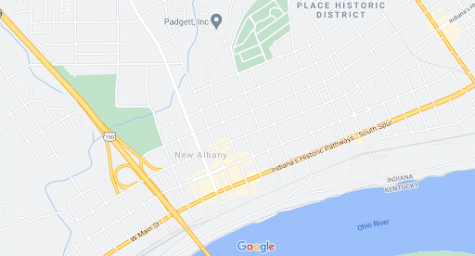 8. Clark State Forest
2 Service Rd, Henryville, Ind. 47126
Needing an outdoorsy escapade? Located roughly 20 miles north of campus in Henryville, Clark State Forest is Indiana's oldest state forest. People who enjoy exploring will appreciate the 24,000 acres of untouched land perfect for fishing, hiking, picnicking, biking and camping. The property also features a fire tower built in 1930, with an elevation of over 1,000 feet. The iconic tower overlooks the surrounding counties of Clark, Floyd, Scott and Washington. Perfect for pictures!
https://www.in.gov/dnr/forestry/4827.htm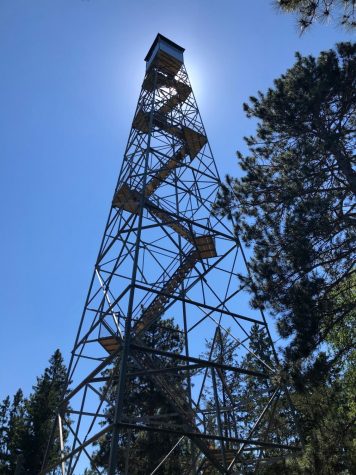 9. Jeffersonville Overlook
100 W Riverside Dr, Jeffersonville, Ind. 47130
Living up to its namesake, the Jeffersonville Overlook provides stunning views of the Ohio River, Louisville city skyline and the colorful Big Four Bridge. The Overlook is also adjacent to the Jeffersonville RiverStage and RiverStage Park. In the summer season, the RiverStage becomes a concert venue for local bands and theater for family movies. Admission and parking are free for these events. Regardless of the time of year, this is the perfect place to take in the beautiful views and watch the sunset over the river!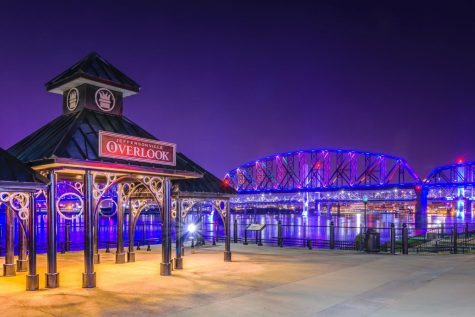 10. The Culbertson Mansion State Historic Site 
914 E Main Street, New Albany, Ind. 47150
Looking for a quick local adventure? At less than 5 miles from campus, the Culbertson mansion is a great historic landmark iconic to New Albany. The mansion was the home of William Culbertson, who was at one point the richest man in Indiana. The mansion was completed in 1869 and encompasses more than 20,000 square feet and contains 25 rooms. There are year-round guided tours of the mansion and surrounding property, along with an annual haunted house every October. 
https://www.indianamuseum.org/historic-sites/culbertson-mansion/