5 reasons why students with depression don't seek help
An overall decline in mental health is on the rise due to the COVID-19 pandemic. Students with depression are among those facing a decline in their mental health. Despite needing or wanting to seek help, a lot of students with depression don't seek help at all.
Here are five reasons why students with depression may not seek help. Included are resources that IUS students can take advantage of while they're on and off campus.
1. They didn't know about the resources available to them. 
It is becoming increasingly common for students to not be aware of resources available to them on campus. Interviews conducted with three IUS students showed that students were not actively aware of all the resources that are available and free of charge to students on and off campus.  
"I have never known where these resources were on campus, or that I could tap in virtually," said Madalyn Marinc, an IUS student. "As a freshman on campus, especially coming in during a pandemic, I wish the importance of these programs were emphasized to all students."
Students can utilize the Counseling and Psychological Center on campus. The CAPS center at IUS provides services including individual counseling, family counseling, couple counseling, care management services, outreach and education services and many other programs that are designed to cater to the needs of IUS students and faculty.
"I think if IUS were to market these programs to students on all social media platforms and make incoming freshmen aware of these resources, students may be able to get the proper help that they need, or feel less insecure about seeking out these resources," Marinc said.
The counseling center on campus is readily available to students virtually or on campus to best fit the schedules of students.
2. They don't have time to seek proper help.
Getting the proper guidance and assistance you need does not take as long as most individuals think. Depending on the topic at hand and the resources you are needing, average sessions with counselors or resources to better someone's mental health typically take anywhere from 45 to 90 minutes a day. IUS is also becoming more versatile to fit the time constraints of their students. When talking with the counseling center on campus we realized that not only do they offer online sessions so students can get help from the comfort of their home, they also prepare extensively before your meeting to ensure they are making the most of your time and directing you in a light that will best fit your needs.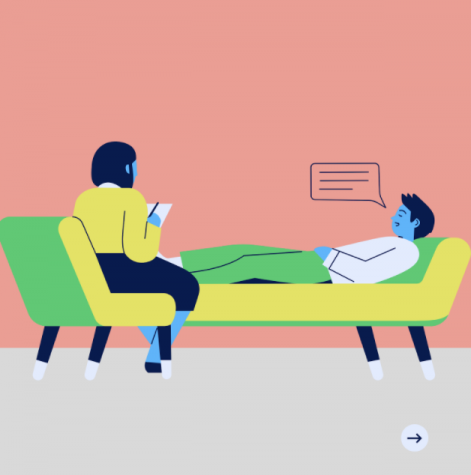 3. They don't realize they have depression or symptoms of depression.
Surveys completed in 2020 from National Alliance on Mental Illness revealed that 63% of the students stated that their mental health worsened after COVID-19. Upon interviewing three students of Indiana University Southeast we found that each individual suffered from a form of anxiety or depression within their life. 
"Usually when I feel down or depressed I tend to just put my feelings on the backburner," said Jonathan Mattingly, an IUS student. "I guess I just think that it will eventually fade away if I don't think about it for too long." 
It is not uncommon for depression to be a come and go obstacle.
"Typically I find myself going through some cycles of really good months, and then some bad ones, so I am not sure how much seeking help will benefit me because my depression isn't constant," Mattingly said.
Individuals typically have a hard time identifying exactly what they are suffering from, and oftentimes we may be feeling down and simply hide it in a way that makes it more challenging to seek help. It is best that you go and speak with someone about how you are feeling so that they can give you a professional opinion.
Students can receive a free diagnosis or talk with a licensed professional on campus about their mental health by visiting the Counseling and Psychological Center on campus at IUS.
4. They believe that resources can be costly.
A lot of students are reluctant to seek help because they're afraid of the cost. Some common questions are: "What if I can't afford it?" and "Will my insurance cover it?" Well, if you are an IUS student, either full or part time, counseling services are absolutely free. You have free access to trained counseling professionals at the master and doctorate level, and if needed, IUS has a licensed social worker that can help you manage your personal situation. There's also a toll-free Regional Crisis and Information Line that's available for students 24 hours a day at (800) 221-0446.
5. There is a stigma and sense of embarrassment regarding seeking help for mental health.
Another reason students are reluctant to seek help when dealing with depression is that they're afraid of the perceived stigma for seeking mental health. 
"I think a lot of people feel a sense of weakness if they struggle with mental health," said Logan Daily, an IUS student. "I think it's exceptionally common for males to feel as though they can not seek out help or talk about their mental health, which definitely should not be the case." 
Common questions that students dealing with depression ask themselves are "What will my friends think?" and "Will this change their opinion of me?" 
Believe it or not, college depression is not unusual. In 2018, a survey of about 14,000 students in eight countries found that 35% of them suffer from some type of mental illness, including anxiety and depression. This has only increased due to the COVID-19 pandemic. Unfortunately, the media frequently portrays mental health situations unrealistically, often overdramatizing or even romanticizing mental illnesses. As an IUS student, you have access to a wide array of mental health specialists that cover everything from individual counseling just for you, or even group counseling if you're having a tough stretch with family. There's even couples counseling available for you and your significant other. They can also refer you for specialized treatment, such as for substance abuse or addiction disorders. If you are still reluctant, they now offer private video or virtual visits that can be conducted discreetly between you and your counselor. 
Overall, the important takeaway from this is that not only are there IUS resources available to help you deal with depression, but that you understand that you are normal. The CAPS department at IUS will help you deal with it.