IUS Horizon seniors share their favorite places to relax, hangout in Kentuckiana
Four local hangouts you might have missed
Even after four or more years on campus, it's nearly impossible for even IUS seniors to know all the best spots off campus, especially after the toll COVID has taken on nearby businesses and attractions followed by the opening of new ones to take their place. In fact, recently it has felt more than a bit difficult to keep up with the new spots to hang out or grab a bite to eat.
Despite the rocky climate for local business and the difficulty some feel in going out and experiencing the world in any way close to pre-pandemic life, there are still safe, affordable, and fun places to get a bit of a break from the daily grind in the area. From food, to local landmarks, and even social distanced board gaming spots, the Kentuckiana area still has quite a bit of life to offer IUS students. While there are many more to choose from, these four are more than a match for student budgets and a wide array of interests.
Simple Seafood, Casual Comfort – Aubryn Crotchett
For an upscale casual dinner with friends or a significant other, IUS students have quite a few options in the area, with several nationwide chains in the immediate area, however, one of our favorites is Red Lobster.
Red Lobster is a seafood restaurant in Southern Indiana that almost everyone is familiar with. Located in Clarksville, the restaurant offers traditional, American style seafood and is memorable with its New England Style Decor. Although you're only in Clarksville, once you enter the restaurant it is like you have been transported to the East coast.
Even though Red Lobster is a seafood restaurant, it also offers pastas, steak and chicken for those that do not like seafood. Two of the best things to order on the regular menu are the Ultimate Feast and the cajun chicken linguine alfredo. The Ultimate Feast costs $29.99, but you get your money's worth with the four different types of seafood that come with it as well as two sides. For the pasta lovers out there, the cajun chicken linguine alfredo is delectable with its creamy, seasoned sauce and its flavorful chicken. The pasta pairs perfectly with the cheddar biscuits that are included with each Red Lobster meal.
Red Lobster is a great idea for date nights or special occasions. The staff has been extremely welcoming each time I have gone there and the atmosphere is comfortable, as it offers dim lighting and relaxing music.
Red Lobster's liquor menu offers many different drink options. My personal favorite is the Malibu Hurricane. If you are into fruity drinks, then it is an option to consider. The mix of coconut Malibu Rum and tropical flavored juices makes me feel like I am on the beach.
Even after filling up on biscuits and entrees, we recommend saving room for dessert. I have always had a sweet tooth and I have never been disappointed by any of their desserts. Two well tested go-tos are the Key Lime Pie and the Brownie Overboard.
Address: 951 E Lewis and Clark Pkwy Suite 3004, Clarksville, IN 47129
Price: Feasts range from $19.49 to $35.99. Pastas range from $14.99 to $24.99. Desserts range from $6.99 to $7.99.
Hours:
Monday: 11:30 am to 9:00 pm
Tuesday: 11:30 am to 9:00 pm
Wednesday: 11:30 am to 9:00 pm
Thursday: 11:30 am to 9:00 pm
Friday: 11:30 am to 9:00 pm
Saturday: 11:30 am to 9:00 pm
Sunday: 11:30 am to 9:00 pm
New Discoveries and Ancient History
Due to COVID-19, gatherings, events, and even simple dates have become much more commonly held outdoors.
If an outdoor lunch or even a longer excursion sounds good to you, a scenic option to consider is Falls of the Ohio State Park. At around 13 minutes away from IUS, it's a good place to go with friends, family or even by yourself just to get away from the hustle and bustle.
At first glance it may just seem like your average riverside, but what is neat is that it houses over 390-million-year-old fossils. The fossils are ancient sea creatures and plants that used to live in the Ohio River Valley during the Devonian Period. It is crazy to think that one of the largest Devonian fossil beds is only a short drive from campus.
Whenever you visit The Falls of the Ohio State Park, you can hike along the river bank or even sit on a downed tree and watch the river. On days when it is warm and sunny, it is a great place to study, eat lunch or hangout with friends. I like to eat lunch there during my spare time because it is peaceful and offers a pretty view.
If you like to learn about history, there is an interpretive center that offers exhibits on fossil history of the Ohio Valley. It has five different exhibits including Ancient Sea, A Changing Land, Converging Cultures, The Falls Today and Rotunda. My personal favorite is the Ancient Sea exhibit because it tells you what kind of creatures existed in the Ohio Valley, 390 million years ago and it helps you identify which fossils belong to which creatures.
Address: 201 W Riverside Dr, Clarksville, IN 47129
Price: Admission is $9 for age 12 & up; $7 for age 5 to 11 and under 5 is free. Parking is $2.
Interpretive Center Hours:
Monday: 9 am to 5 pm
Tuesday: 9 am to 5 pm
Wednesday: 9 am to 5 pm
Thursday: 9 am to 5 pm
Friday: 9 am to 5 pm
Saturday: 9 am to 5 pm
Sunday: 1 pm to 5 pm
Park Ground Hours:
Monday: 7 am to 11 pm
Tuesday: 7 am to 11 pm
Wednesday: 7 am to 11 pm
Thursday: 7 am to 11 pm
Friday: 7 am to 11 pm
Saturday: 7 am to 11 pm
Sunday: 7 am to 11 pm
Paper Heroes and Plastic Monsters – Garland Noel
While many have curtailed their in-person gatherings and specialty retail stores have taken a heavy hit, tabletop roleplaying games are still growing in popularity. During the COVID-19 pandemic, Dungeons and Dragons sales jumped 33%, according to CNBC, and are still climbing through a six year growth pattern.
If you're one of the many who have found either tabletop gaming or comic books as a relief from pandemic woes, or are just a massive nerd like me, Heroes Comics and Gaming is a nice oasis to get away to when you need your next escapism fix or just want to play a game or two.
Situated across one building down from Baxter Jack's on Baxter Avenue in Louisville, Heroes immediately catches the eye, with its pop art paint job that reminds viewers of a comic book landscape and its DC Comics and Marvel Comics neon signs. From the outside, Heroes looks almost like a comic book shop torn from the pages of the material itself, complete with "Secret Entrance" in the back parking lot.
Once inside, some might say it's even better. With expansive comic book racks and a bathroom that's "bigger on the inside", the shop is brimming with memorabilia and charm without looking overly kitschy. For D&D and tabletop wargaming fans, Heroes has the largest assortment of miniatures in the Highlands, with everything from Reaper, to WizKids, and even My Little Pony on occasion. For those of an artsy persuasion, they also sell everything you need to paint and customize any of those miniatures to your heart's content.
For those with an addiction to trading cards, comic books, or even just board games, don't think this place is just for roleplaying geeks. Heroes has a large assortment of board games, from the traditional to the wild, a huge backlog of recent and classic comics, and even a sizable Magic the Gathering area. And, if they don't have exactly what you're looking for, they are always happy to special order for customers in need.
Heroes also boasts a massive play area for new customers and regulars alike who feel like testing their new purchases or just coming to hang out in their favorite store, though they ask that you call ahead to reserve a free gaming table during the pandemic. They also host a variety of tournaments, competitions, and other events for gamers and non-specified geeks alike as well as offering snacks and drinks for those who might not want to purchase something big, but do want to hang out with their friends. Masks are required to spend time in the store and staff regularly clean and disinfect surfaces, so this is a safe place to hang out with a small group and relax.
Address: 361 Baxter Ave, Louisville, KY 40204
Monday 12–8PM
Tuesday 12–8PM
Wednesday 12–8PM
Thursday 12–8PM
Friday 12–10PM
Sunday 12–6PM
Ice Cream, Burgers, Fried Chicken and Bourbon: What's Not To Like? – Garland Noel
80/20 at Kaelin's has two grand claims to fame.
One is that it was the birthplace of the cheeseburger. However, with a cursory Google search you can see how often that claim is disputed by one restaurant or another. From California, to Louisville, and even Colorado, that claim on a historical first is hard to prove.
However, the second claim that Kaelin's makes is easy to confirm. The original restaurant was the first to serve Colonel Sanders' famous fried chicken in Kentucky, from a small table he was allowed to set up in the building.
What does that have to do with today?
Well, today, Kaelin's serves up some of the best fried chicken, burgers, ice cream and even alcoholic drinks in the city of Louisville. Owners Matt Staggs and William Dubourg have, of course, made their fair share of changes to the historic 1930s building and even to its food, taking the history of the place and cleaning up some of the rough edges while elevating the cuisine a cut above your average American diner, to the point of being this year's Derby Burger partner.
However, the comfort, love and care that a landmark like Kaelin's exudes hasn't been changed at all. From the kitschy and fun malt shop decor on the second floor to the amazingly friendly waitstaff, and even the fact the owner remembers me when I walk in the door, walking into Kaelin's feels like coming home.
Beyond the history and general good feeling, the food is also absolutely spectacular, both for accomplished foodies and for those with less refined palates. I've tried nearly everything on the menu here, and nothing has managed to disappoint. If you want a favorite, try the short rib grilled cheese, which boasts a heaping helping of braised short rib mashed between thick toast and pimento cheese, but you could honestly take your pick here. Even the sides are well worth the trip.
For those of age, the cocktails are usually tremendous, though they are seasonal. My current favorite is either the Spanish Gin and Tonic or the Brown Suit, but quite a few of my friends love their tiki drink inspired "adult capri suns." And, for those who are still a kid at heart, the ice cream menu also rotates seasonally, with favorites like Unicorn Cookie and Tagalong going fast.
Whether for date night, a dinner with friends, or even a family outing, Kaelin's is the place to go.
Address: 1801 Newburg Rd Louisville, KY 40205
Price: Burgers and sandwiches range from $10 to $15 and include sides. Dinner can be a bit more pricey, with options ranging from $13 to $32.
Hours:
Saturday 11:30AM–10PM
Sunday 11:30AM–9PM
Monday Closed
Tuesday 11:30AM–9PM
Wednesday 11:30AM–9PM
Thursday 11:30AM–9PM
Friday 11:30AM–10PM
While these locations are some of our favorites, and certainly worth looking into if this review peaks your interest, there are many more options to be had in the Kentuckiana area. Certainly more than either of us can keep up with.
In the end, no matter where you decide to go for food or fun, we encourage you to explore, try new things, and remember that the best food and fun are the ones you enjoy with your friends, family, and hopefully, the IUS community.
About the Contributors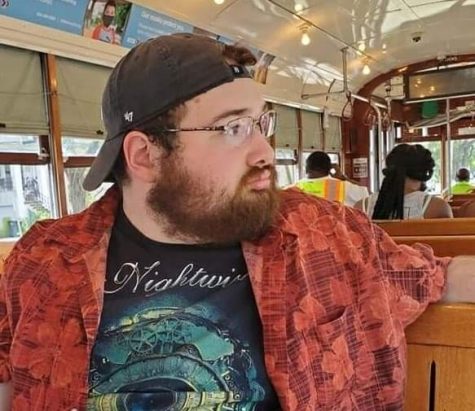 Garland Noel, Staff Reporter
Garland is a Staff Reporter for The Horizon. He is a senior majoring in Multimedia Journalism. Garland has prior experience on the staff of The Horizon...