IUS student housing planning for return to activities, socialization in the fall 2021 semester
Things may feel a bit more like normal for students living on campus during the fall
The halls of Meadow Lodge are dead quiet, and the communal great room is completely devoid of people, despite the mid-day sun streaming through the windows and the number of comfortable chairs strewn about the large area. Students are nowhere to be seen, and for a building intended to house "Student Life", the building feels like a tomb.
After a tough year for students and staff, with declining mental health and increased stress among most students, IU Southeast is finally trying to turn the corner on the COVID-19 pandemic. However, there are a number of changes to morale and student norms for both staff and student workers to overcome.
Going into the past year of student housing at IUS was both a scary experience, and a particularly stressful one, according to education junior Shelby Worden, who has spent her sophomore year and the entire pandemic as an IUS resident advisor.
After looking forward to being a student leader and having a traditional college experience, Worden instead spent the year feeling like a "bad guy" and worrying more about the physical safety of her charges than about whether they were enjoying themselves. While she is excited to go back to "normal", she feels that the past year has caused her to frequently doubt her abilities as an RA as well as a student leader.
Even Worden's boss, Residence Life coordinator Lizzy Southard feels more than a bit out of touch with what normal means anymore, let alone with her student staffers.
Southard has spent her past year not only scrambling to provide some sort of experience and campus life for her residents, but also quickly teaching her staff how to be both counselors and COVID safety personnel.
From safely delivering food to students affected by COVID, to learning how to plan gatherings and events within CDC guidelines, and even learning how to do one-on-one wellness checks for student residents, she and her staff have had to evolve constantly to stay relevant.
Her colleague, Residence Life coordinator Luke Westmoreland, says that weekly updates have been the norm, with guidelines often being adjusted, added, or removed completely on a regular basis.
For Westmoreland, who spent his first year at IUS riding the pandemic rollercoaster, it's hard to more than roll with the changes and do his best. With no prior experience in IUS life he has a hard time hoping for the past to return, but he is more than dedicated to bringing about a safe new experience in the fall semester.
However, for people like Southard, who has spent several years as a staff member of IUS and comes from a background of being an IUS alumna, the old IUS can't come back soon enough.
As for the next generation of IUS upperclassmen, like Worden, they are more than ready to step up to the plate, both as leaders and as students.
Worden has not only reapplied as an RA for the next semester, but has also become an orientation leader for the fall semester in an attempt to be there for students who may never have been to in-person courses or had a true college experience, despite, in some cases, being second year students.
Between the energy of students like Worden and staff like Westmoreland and Southard, Southard sees a brighter future in the works for IUS and for student residents in particular.
Activity planning for student residents has already stepped back up to pre-COVID levels and Southard says she has already seen quite a few students apply to return to the lodges, including students who had to take a break during the pandemic.
In the meantime, Southard and her staff have continued using "intentional interactions", a method of coming specifically to students and offering help or simple companionship, and just being there for residents in their times of need.
As Southard points out, and Worden echoes, students sometimes just need a helping hand or a friendly face during the often difficult transition to college, especially after the past year.
For solid information about the new COVID guidelines prospective residents and non-resident IUS students alike will have to wait until at least July, but like the Vice Chancellors, Southard feels that the pandemic, at least on our campus, has turned an important corner.
About the Contributors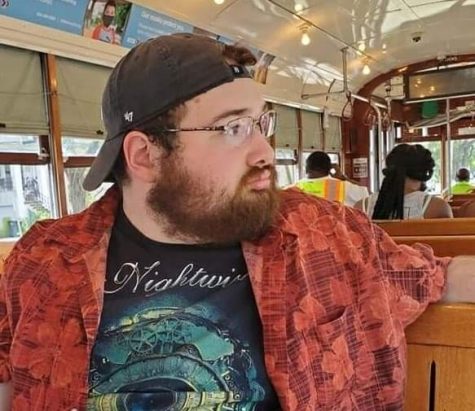 Garland Noel, Staff Reporter
Garland is a Staff Reporter for The Horizon. He is a senior majoring in Multimedia Journalism. Garland has prior experience on the staff of The Horizon...