Students, staff recommend their favorite hangout spots, restaurants near IUS
The variety of locations around campus will have something for everyone
With Indiana lifting their mask mandate, IU Southeast signaling a return to "normal" this semester, and vaccinations increasing, students new and old will be returning to campus for classes and maybe more. However, the local area has changed a bit since the last in-person semester at IUS and some students may be wondering where they can spend their non-class hours studying, relaxing, or just grabbing a bite between courses.
To tackle this information deficit, and to support their favorite local businesses and landmarks, IUS students and staff have shared their favorite restaurants, arcades, bars, and even gyms for those new to, or getting reacquainted with, the area.
Athletics and Agave
Education junior Shelby Worden leads a very busy life. From school to being a campus resident assistant, and even serving as a Fall 2021 orientation leader, Worden has devoted quite a bit of her time to achieve her education and to helping others do the same.
Address: 951 E Lewis and Clark Pkwy, Clarksville, IN 47129
Price: Consult Business for Membership Prices
Hours: Mon-Thu 5am-11:30pm
Fri 5am-9pm
Sat 7am-8pm
Sun 8am-8pm
When she isn't spending her time directing new students, studying, or serving her fellow residents, Worden spends quite a bit of time making sure she's in peak shape. For those with a similar interest in fitness, she suggests the Louisville Athletic Club in Clarksville, Indiana.
Just 15 minutes from IUS, the Louisville Athletic Club offers a variety of classes in various fitness-related activities, on-site massage, and even a small cafe. For free tours of Louisville Athletic Club visit their website and fill out their contact form.
However, if you're not into athletics, or just want a great place to have a cheat meal after leg day, Worden suggests Agave and Rye in New Albany. With "epic tacos" and an extensive drink list, Agave and Rye have quickly expanded throughout the Kentuckiana area, with locations in Kentucky, Tennessee, and now Indiana, serving upscale takes on Mexican street food, trendy libations for those of age, and a very unique atmosphere.
Address: 324 E Main St, New Albany, IN 47150
Price: Signature tacos range from $4.50 to $11.50 and are served a la carte. Meals range from $11 to $13.
Menu
Hours: Monday 11AM–11PM
Tuesday 11AM–11PM
Wednesday 11AM–11PM
Thursday 11AM–11PM
Friday 11AM–12AM
Saturday 11AM–12AM
Sunday 11AM–10PM
With their river-side view and rising popularity, Agave and Rye is a great place to go for a night on the town.
Vietnamese and Video Games
Resident Life Coordinator Lizzy Southard not only works with on-campus residents every semester to plan activities and ensure a good college experience but was once a student at IUS herself. While she encourages students to participate in on-campus activities, she also wants students to know that there's plenty to do off-campus too.
As a self admitted "foodie", Southard's first suggestion for off-campus eats is a small, family-owned Vietnamese restaurant called Tanthai.
Address: 4510 Charlestown Rd # 100, New Albany, IN 47150
Price: Meals range from $9 to $15.50
Menu
Hours: Monday 11AM–9PM
Tuesday 11AM–9PM
Wednesday 11AM–9PM
Thursday 11AM–9PM
Friday 11AM–9PM
Saturday 12–9PM
Sunday Closed
Tanthai offers "real Thai food outside of Thailand" and strives for authenticity in everything they do. Whether you're a world traveler like Southard or just looking to try something new, Tanthai's extensive menu has everything from larb to a Thai take on chicken fingers, all prepared by natives of Thailand.
And if you decide that you want some in-person fun to follow up your food excursion, Southard recommends Rec Bar 812, a combination bar, restaurant, and retro arcade.
Address: 336 Pearl St, New Albany, IN 47150
Price: Shareable appetizers start at $9 and go to $13. Mains range from $8 to $13. Tokens can be purchased for $0.25 apiece and most games take one token per play.
Menu
Hours: Monday 4PM–12AM
Tuesday 4PM–12AM
Wednesday 4PM–12AM
Thursday 4PM–12AM
Friday 4PM–2AM
Saturday 12PM–2AM
Sunday 12PM–12AM
Rec Bar 812 boasts a 25,000 square foot gaming and dining area with over 100 arcade games and a room just for unique vintage and new pinball tables. If you'd rather just hang out with your friends and not pay for tokens, they also have a respectable bar food menu and an impressive list of nerd-themed cocktails to keep you occupied while your friends battle space invaders or play ski ball. Whether you just want to play video games, want to hang out with your friends, or just get some passable drinks and bar fare, Rec Bar 812 is an all-inclusive hangout for those in the IUS area.
Comfortable Chains
Finally, while there are more than a few unique options to the IUS area, sometimes students just want a bit of the familiar, a place where they know what to expect or how much it might hurt their wallets.
Psychology junior Aspen White enjoys spending her free time away from campus at Qdoba Mexican Eats. The restaurant is located seven minutes from campus and is reasonable in price. White states that it is a great place to grab a bite to eat, hang out with friends, and work on homework. One of the many perks White listed about Qdoba is that they offer free wifi and have a quiet atmosphere.
Address: 2216 State Street, New Albany, IN 47150
Price: Signature chicken and burrito bowls range from $8.25 to $9.95. Menu items such as burritos, bowls, tacos, and quesadillas can be built where you choose your own toppings, but prices do vary.
Menu
Hours: Monday 10:30 AM – 9:00 PM
Tuesday 10:30 AM – 9:00 PM
Wednesday 10:30 AM – 9:00 PM
Thursday 10:30 AM – 9:00 PM
Friday 10:30 AM – 9:00 PM
Saturday 10:30 AM – 9:00 PM
Sunday 10:30 AM – 9:00 PM
And of course, no matter what students or staff recommend, you can always just explore, on your own or with friends. To quote Southard, "New Albany's been such a chill way to experience a lot of local businesses."
About the Contributors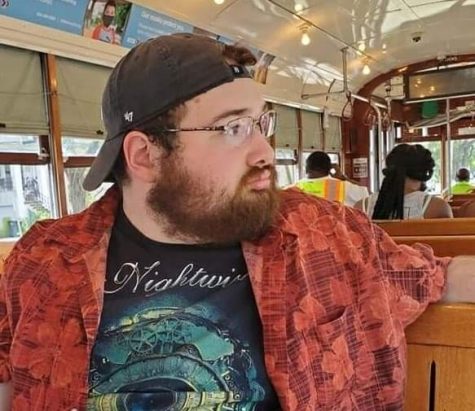 Garland Noel, Staff Reporter
Garland is a Staff Reporter for The Horizon. He is a senior majoring in Multimedia Journalism. Garland has prior experience on the staff of The Horizon...