IU Southeast's concert choir takes a new twist
Many performances have been directed in the past at IUS. But recently, the concert choir's self-directed performance had a new twist. 
The IUS concert choir, made up entirely of students, created the entire event from scratch.
Harmony Hornback, an IUS freshman double majoring in vocal performance and sound engineering who was in the concert choir, said though the director gave suggestions, the choir format and layout were up to the students. 
"We were able to express what we wanted to do for our concert and make a show out of it," Hornback said."
Students set up the music equipment themselves, selected pieces, divided up singing parts, and led their own performance together as a group. 
Dr. Brittny A. Kempfer, first-year IUS choir director and assistant professor of music education and choral music, wanted the concert choir to be student-based, rather than teacher-led and traditional. 
"I really wanted to do something different and give the students an opportunity to do more of the non-traditional music more of involving their own creative ideas instead of it being director-led… It was all student-driven," she said.
This choir included soprano 1s Lauryn Miller and Laney Warren; soprano 2s Mikayla Baxter and Carly Dennis; altos Hornback and Rebekah Young; tenors Nick Burdette and Ben Wilga; and basses Jaime Irvin, Zek Morris, and Nathan Smith. 
The choir also had a band which included Burdette on guitar, Morris on bass guitar, Smith on piano/keyboard, and Wilga on drums. 
The pieces they performed were "And Your Bird Can Sing" by The Beatles; "Radio Gaga" by Queen; "Sing a Song" by Earth, Wind, and Fire; "Exit Music (for a Film)" by Radiohead; "You Can't Stop the Beat" from Hairspray; "Piano Man/Your Song" from Billy Joel, Elton John, and Bernie Taupin; and "Sing" by Pentatonix.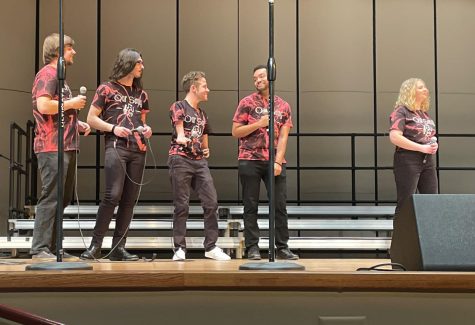 Kempfer said a new ensemble will start next year. Anyone who wants to join can choose the direction they want to go for each semester, whether it's a cappella, rock and roll, or another genre of music. 
"If you are a musician in any way: if you sing, if you play an instrument, even if you don't think you do it very well, we have a place for you," she said. "You don't have to be a music major or minor." 
Kempfer even has a student with a graphic design major and a student with an elementary education major that comes to choir. 
Meanwhile, the performance had different students playing instruments, singing together with choreography, and singing solos. The community choir, made up of New Albany and other nearby residents, joined the students in performances that encapsulated the theme, "Our Song." 
For instance, student Young danced while the combined choirs sang "Singin' in the Rain." 
Hornback and Kempfer said about 330 people attended the show. 
The music department's concert choir and community choir event occurred Sunday, April 3 from the Stem Concert Hall at the Ogle Center.  
For more information about how to join, visit oglecenter.com or contact Kempfer at bkempfer@iu.edu