Poet busts a move, speed-raps at Ogle Center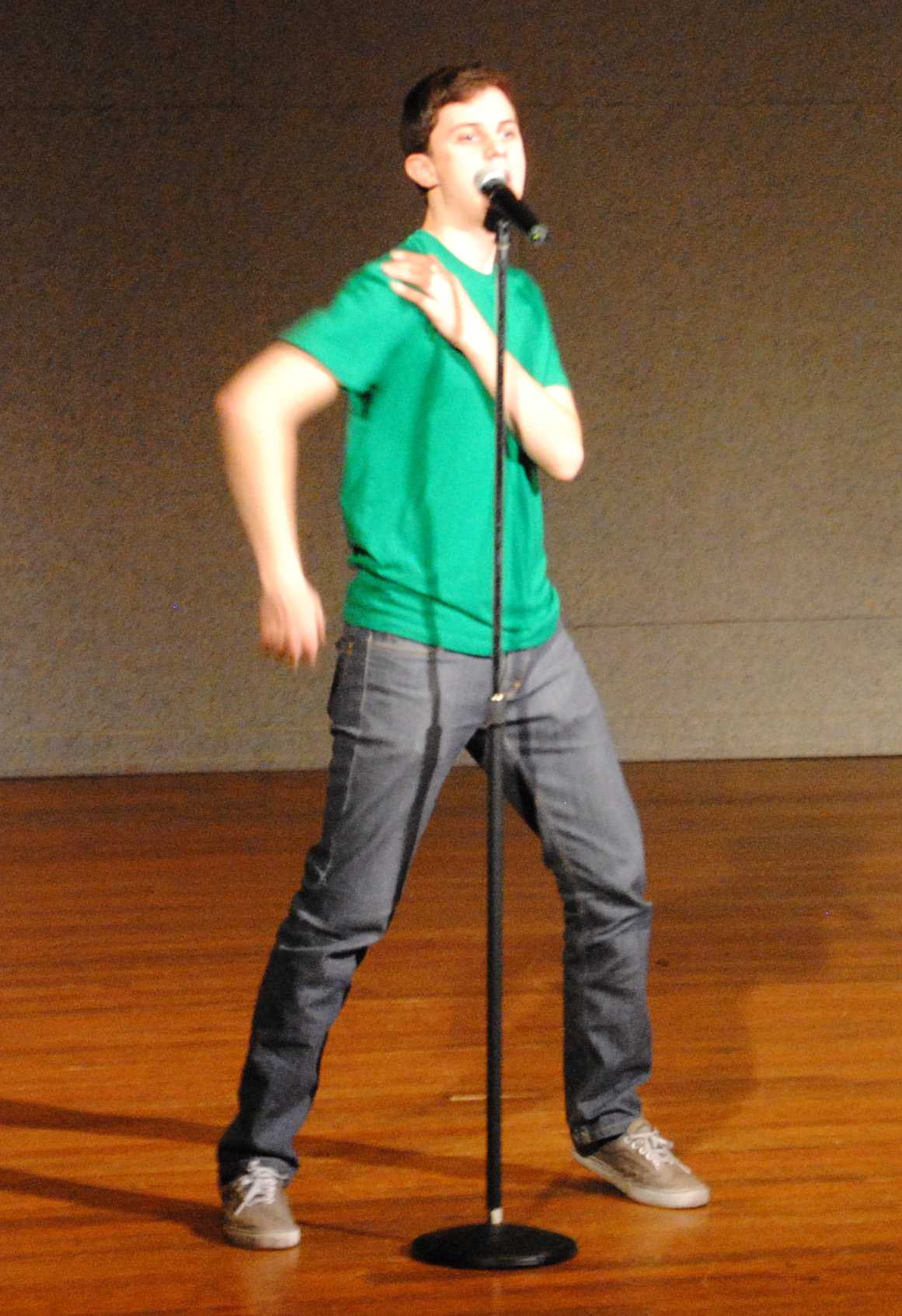 George Watsky, poetry writer and speed-rapper, brought his YouTube Spoken Word performance to the Ogle Center Feb. 3.
Watsky, 24, was last seen on The Ellen DeGeneres Show on Jan. 27 performing a fast-rap birthday greeting for the host.
"It was just a little odd," Watsky said.  "I was performing for an audience of pretty much all 45-to-55-year-old woman, and I was rapping.  I wasn't doing poetry."
Watsky filled the hour-long performance with poetry about luck, hopes, dreams, politics and how good he is at dancing.
"As you university students know, a machine harnesses energy to perform an activity," he said.  "Well, I am a dancing machine.  I am the greatest dancer history has ever seen."
Watsky began writing and performing when he was 15 and living in San Francisco.
"I found myself getting a little bit better and a little bit better and a little bit better," he said.  "Then, I found myself doing it for a career."
He graduated from Emerson College with a degree in writing and acting for the screen and stage.
During his college years, he toured on a smaller schedule at conferences and universities in more than half of the country and two places in Australia.  He performed in some of the most famous venues including the Apollo Theater, the Shrine Auditorium and the Kennedy Center Concert Hall.
Watsky has since moved to Los Angeles and has performed on season 6 of "Russell Simmons Presents Def Poetry" on HBO.  He has won many poetry competitions and was one of three poets to perform on the NAACP Image Awards in honor of Russell Simmons' lifetime achievement award.
He brought the audience back to his 21st birthday in Boston, where he talked about the establishment of the Lonely Hearts Club.
"We don't dance the Dougie, the Stanky Leg or the Chicken Noodle Soup," he said.  "We serve my mom's delicious golden chicken noodle soup."
Watsky took shots at the media and current trends in the movies and television.
"If you've seen 'Twilight: Eclipse,' then the Lonely Hearts Club is for you," he said.   "For some beautiful reason, Sgt. Pepper wants to meet with you."
After a short love poem in which he confessed of loving someone from his big toe to his elbow, he ended with a poem to celebrate humanity.
"We don't get enough credit for being the best species on the planet," Watsky said.  "I've never heard a dog call us their best friends, and we just basically sing their praises and haven't heard a peep from them."
Patrick Lewis, secondary education freshman, and Macy Morrison, nursing freshman, said they saw Watsky on The Ellen DeGeneres Show and decided to go see him.
"It wasn't exactly what I expected, but I thought it was cool," Lewis said.
By AMANDA
CHIAMULERA
Staff
alchiamu@umail.iu.edu