Exotic animals find home in Indiana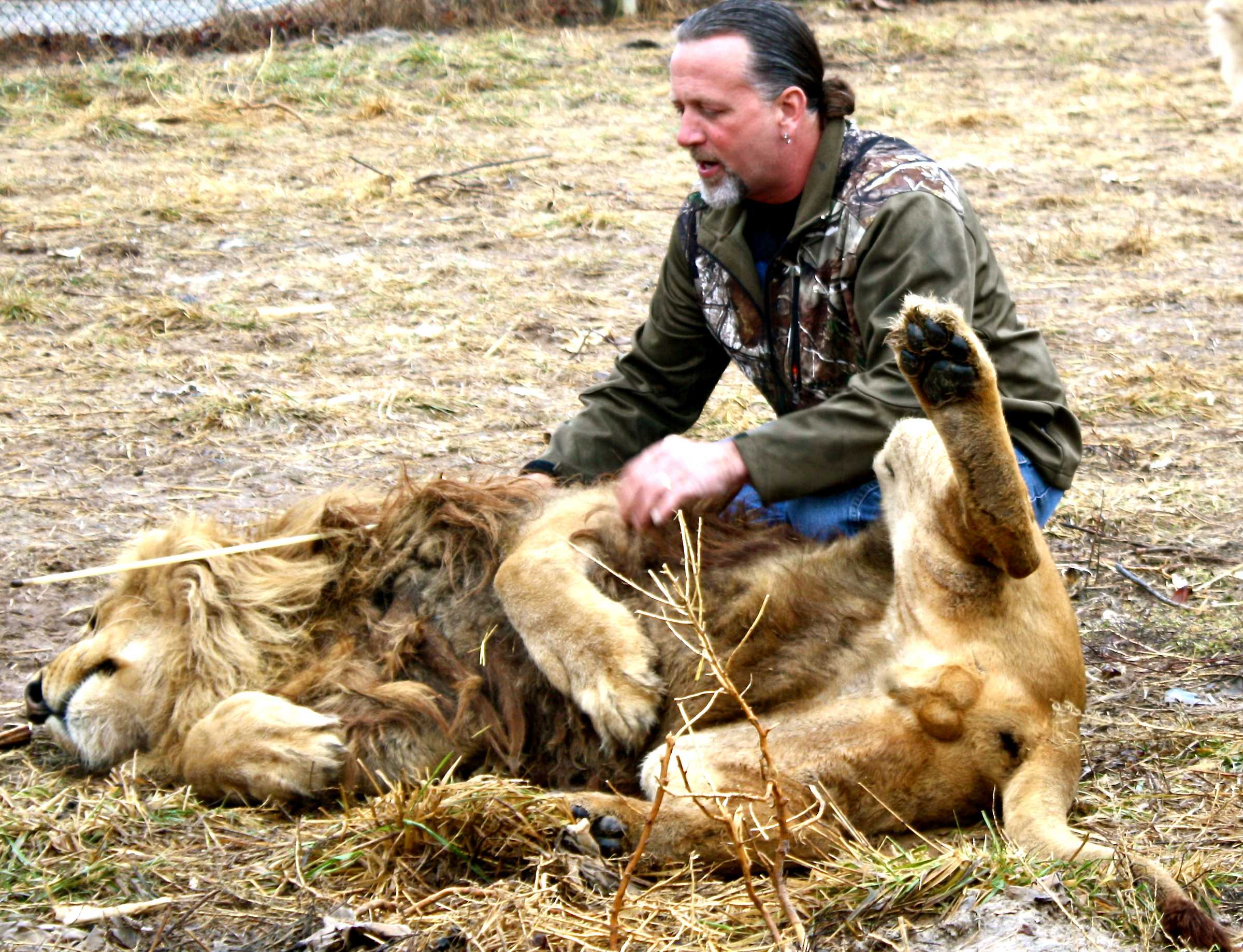 Tim and Melisa Stark work to rehabilitate and provide a permanent home for wildlife through their non-profit organization — Wildlife In Need, Inc.
Located at the Stark's personal home in Charlestown, Ind., their property contains more than eight acres of land. The Starks call this home — a home also to more than 150 [mostly exotic] animals.
WIN is a refuge home for exotic animals and a rehabilitation center for animals native to the area. It has been federally licensed in Indiana since 1999.
Some of the many animals they care for include lions, primates, tigers, reptiles, bears and a few endangered species. Workers for the refuge are volunteers and work to help keep the animals healthy, fed and loved.
The refuge started in 1994, mainly nourishing raccoons and smaller animals and then releasing them back into the wild, but that wasn't enough.
Tim Stark is the president of WIN, and his passion motivated him to get the proper training, education and experience to provide for the more exotic animals.
Growing up in Sellersburg, Ind., Tim Stark said his inspiration started as a child when he became obsessed with wildlife. He said he would bring smaller animals home and love and take care of them.
"I don't believe in the term 'wild,' as a wild animal," Tim Stark said. "They don't have that wild instinct. Animals get fearful and defensive around humans to protect themselves because they have become accustomed to human beings violent behavior. Respect an animal, they respect you back," he said.
Tim Stark has two smaller dogs, Oreo and Snickerdoodle, who live inside his house with him and his wife, Melisa Stark, who is the secretary and treasurer of WIN. Despite the various exotic animals they have, these two are his guard dogs.
The Starks also have a full-grown lion, Chief, and a dog, Bandit, who live together in the same crate.
The lion enjoys belly rubs and playing with the dog. They also have grizzly bears who love to suck on your finger like a pacifier.
The Starks said they "teach people stuff they normally wouldn't learn at the zoo."
They said they give personal and interactive tours to the public every Sunday in the spring by appointment only. The tour is $20 a person.
During the tour, the Starks and volunteers recognize the visitors' favorite animals and will spend more time with those animals. The entire length of the tour is based on the interest and how entertained the group of visitors is.
"The tour can last 20 minutes or all day," Tim Stark said. "It just depends on the person or group."
During the tour, visitors would be able to play with tiger cubs, as well as interact and pet a lot of the animals.
The tour also helps people overcome their fear of certain animals by showing them most exotic animals can be very timid and thrive off of attention.
"We allow and encourage people to take a tour — to see nature and beauty is [the animals's] gift back to the visitors," Melisa Stark said.
By BROOKE LEHMAN
Staff
bnlehman@ius.edu