Rock Fight needs Band-Aid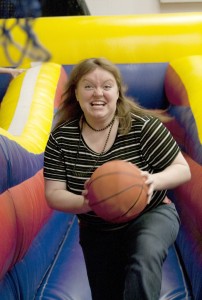 This year, the event featured music from several different student music groups and boasted free food, a blow-up obstacle course and a photo booth where students could have their picture taken with friends.
Sally Perkins, a 2005 IUS alumnae, brought her daughter Lola, 5, because it was a free event that is still appropriate for her daughter.
"It's very family-friendly," Perkins said. "It's hard not to have a good time. [Lola] has just as much fun here as she would at a more expensive event."
Ayla Pravas, fine arts freshman, said she doesn't normally come to campus events, but, if they had more events like Rock Fight, she said she would attend.
Pravas's favorite part of the show was seeing local band Huh Robots play.
"I'd like to see things like this with more people," Pravas said.
Hannah Smith, international studies senior, said she had a good time listening to the different bands but also came to see Huh Robots.
"If I had to rate my favorite things of tonight, it would be Huh Robots and then the photo booth," Smith said. "I would have liked to see more local bands competing for a prize. Last year, there were a lot of bands playing set after set. This year, there isn't as much."
Kelly Newton, computer science senior, and Rosella Pearl, undecided freshman, are the local members of Huh Robots. They met in 2009 and have since release two self-produced records.
"We love playing all-ages shows because that's where the energy's at," Pearl said.
In the next five-to-seven years, Huh Robots' members hope to be able to play across the United States and eventually earn enough income to be able to give back to the community.
"I want to have enough income coming in to give back to the community through music," Pearl said. "I want to make my music so that it is full of love and give back."
The turnout suffered at this year's event due to an inclement weather policy that forced the event to be moved from McCullough Plaza to the Activities Building.
Jennifer Broadus, theater junior and organizer of the event, said even with a smaller crowd than in past years, she believes the event was still successful.
"Next year, we would get some more bands and hopefully do that by marketing the event a little earlier," Broadus said. "We have a lot of happy people here. The next step is to continue to make events fun for students. When we plan our events we have to make it fun for everyone or the students won't come out."
By LESLIE RADCLIFF
Photo Editor
radclifl@umail.iu.edu