Kentucky native brings opera to Ogle
IUS Horizon
September 18, 2011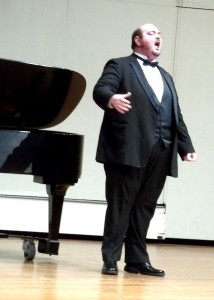 Aaron Lundy, IUS vocal instructor, and guest artists performed in Stem Hall at the Ogle Center on Sept. 11
Lundy's voice rang out across the concert hall as Deborah Dierks played piano alongside him.
Also accompanying Lundy and performing a solo were guest artists, including Clark Evans, Kentucky, Renee Saindon, Missouri, and Maggie Pennsylvania.
Evans sang baritone, Saindon sang soprano and Schmenker sang mezzo soprano. Lundy's tenor vocals rounded off the quartet ensemble.
Lundy's performance consisted of many musical selections by Italian composer Giuseppe Verdi. He said many selections were arias — an expressive melody — from Verdi's operas, and some selections included duets or quartets.
Lundy said he chose Verdi's music because Verdi has always been one of his favorite composers.
Lundy also said he enjoys the wide range of style within Verdi's music.
"I wanted to bring opera music back to the masses," Lundy said. "Back in the time period when operas were popular, it was equivalent to going to the movies today. Opera is so underrated by society today, and I wanted to show how wonderful it can be."
Lundy grew up in Owensboro, Ky., and began singing when he was 5 years old.
He participated in his school's choir and band, and in high school, he became interested in opera.
Lundy said he has continued to enjoy opera more than other musical genres ever since.
Lundy received his Bachelor of Music in Vocal Performance from Murray State University in Murray, Ky., and received his Master of Music from Eastman School of Music in New York.
Lundy has traveled throughout the U.S. and many countries including Ireland, Wales and Italy.
His most recent abroad performance was at St. Stephen's Cathedral in Vienna, Austria where he performed Mozart's Requiem.
"Austria was a great experience," Lundy said. "The architecture there is so much different from here, and from other parts of the world really. It's amazing to see the differences all around the world."
By NICOLE BRANDUM
Staff
hrwoods@umail.iu.edu