Capabilities Walk has big turnout at IUS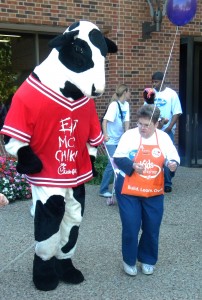 The IUS ALLIES partnered with The Down Syndrome Support Association of Southern Indiana to present the third annual Celebrate Our Capabilities Walk on Saturday, Sept. 17.
ALLIES is a student group whose goal is to create alliances in the community to increase awareness of Down syndrome and other disabilities and the walk is held every year.
Rachel McComb said it's a good experience for her daughter, Jenni Armour.
"We've been coming every year since Jenni was baby," McComb said. "It gives her a chance to do things she may not be able to do otherwise."
Prior to the walk, there were activities children could participate in, including a Home Depot table set up where children could make different projects.
Lisa Williams, Home Depot employee and volunteer for the event, said it's a great experience for the children.
"There are a number of things the children can build," Williams said. "There are message boards, battery organizers, tool boxes and a valet organizer."
Williams said Home Depot has a children's workshop every month. Participants get to keep their apron and receive a pin for every project they complete.
Other sponsors included UPS Inc., Walmart and Chick-fil-A.
Kevin Evans, elementary education junior and vice president of ALLIES, said the number of volunteers they had for it was great.
"I'm proud of the volunteers," Evans said. "We managed to get 60 volunteers to come and help us."
Jill Smith, outreach director for the Down Syndrome Support Association of Southern Indiana and event sponsor, said while they thought they had plenty of T-shirts for the participants, they actually ran out.
"We had about 250 T-shirts, and we ran out before the walk started," Smith said.
Smith said she estimated about 400 participants attended.
Evans said he has been working for almost seven months to get the Capabilities Walk on campus.
"I'm pretty sure this is the first disability walk to take place on campus," he said.
Evans also said ALLIES has a few upcoming events scheduled on campus within the next month.
"We're doing a pumpkin carving session for kids with Down syndrome," Evans said.
He said the organization is also doing a campaign on campus — Down with the 'R' Word.
"We're going to get a big coffin and have students put their name on it then throw it into the coffin and bury the 'R' word," Evans said.
By BRYAN JONES
Staff
jonesbry@umail.iu.edu