Local business delivers homemade pizza
IUS Horizon
September 26, 2011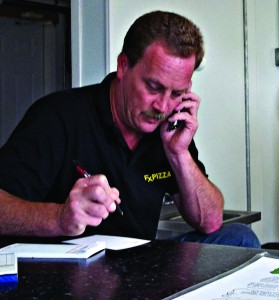 Local business FX Pizza may be new to the Floyds Knobs, Ind., but it is already gaining support among residents.
FX Pizza opened on Aug. 1, and it has become popular among local residents. Support from Floyd Central High School organizations, as well as other media coverage, has helped this business take off.
Brothers Mark and Gerry Newton co-own FX Pizza, located on Old Vincennes Road in Floyds Knobs. FX Pizza is a delivery and carry-out only business.
Mark and Gerry Newton said they had always talked about going into the pizza making business, but never acted on it until both brothers fell on difficult times.
"We both lost our jobs within a month a piece," Mark Newton said. "We tossed the idea around before, and when that happened we took it further."
However, experience was in their favor since Mark Newton once worked in the pizza business.
"[Mark Newton] used to run a Pizza Hut," Gerry Newton said. "It was the most profitable pizza place around."
Gerry Newton said the Highlander Point location has also helped with the success of FX Pizza because it is a popular spot in the Floyds Knobs area.
FX Pizza offers customers not only pizza, but sandwiches, wings and breadsticks for affordable prices. All ingredients are fresh, and Mark Newton cooks made-to-order pizzas every day.
Mark and Gerry Newton also allowed their daughters to work at FX Pizza — Brittney Newton, nursing freshman, and Whitney Carroll, senior at FCHS.
"I believe that the business is really going to help us financially and to become closer as a family," Brittney said. "I enjoy working at a family-owned business more because it gives you the chance to actually speak your mind."
Gerry Newton said future plans for FX Pizza are in the works, including outdoor seating and a miniature golf course on the property in the upcoming spring.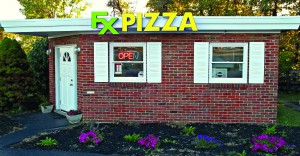 "Outdoor seating will help business more because we currently have no seating," Gerry Newton said. "Lunch is a little slow because of that."
The new additions would allow people to eat pizza, hang out with friends and family and enjoy a game of miniature golf. Brittney said she feels it will be a big hit among customers.
"The best part, I believe, is the putt-putt course, even though it won't be set up until next April or May," Brittney Newton said. "It is something everyone can enjoy, and I do mean everyone because it is wheelchair capable."
Eventually, Mark and Gerry Newton said they want to expand their business to other locations.
By NICOLE BRANDUM
Staff
nbrandum@ius.edu