Students share thrilling '80s theme party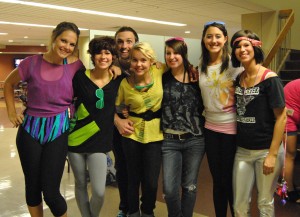 More than 150 students were met with the hit song "Thriller" by Michael Jackson upon entering the Hoosier Room on Sept. 15. The room was donned with brightly colored nylons, poufy hair and leg warmers to mark the annual '80s Night event held by Residence Life and Housing.
The Hoosier Room was filled with streamers, balloons and cardboard character cutouts, including Princess Leia from "Star Wars" and Freddy Kreuger from "Nightmare on Elm Street."  The large screen at the front of the room played music videos of Madonna, as well as the movie "Grease" via YouTube.
Jen Crompton, associate director of Residence Life, welcomed students at the door.
Olivia Jackson, elementary education sophomore, was one of the community advisers to organize the event.
"Residence Life and Housing chose to sponsor an '80s themed dance to help get students and residents more involved on campus," Jackson said.  "Choosing an '80s theme just sounded fun."
Jackson said the community adviser staff was split into two groups, one for marketing and one for logistics.
They first started planning the event during community adviser training in August and Jackson said they were able to finish the last minute details a day before the dance.
"The team as a whole really came together to organize and advertise for this event," she said. "It certainly wouldn't have been such a huge success without all of them."
McKenzie Knight, elementary education junior, said she attended because she had a friend who helped organize the event.
"I came to show my support for my friend," she said, "but it also just sounded like fun."
The event provided punch and snacks through Conference and Catering.
"Oh the punch," Knight said.  "I love the punch."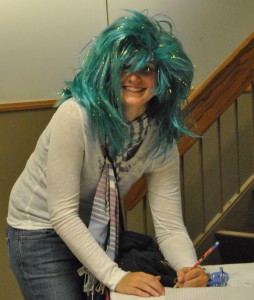 The dancing continued until midnight with line dances, such as Thriller and the Cha- Cha and Electric Slide. However, it also included modern songs.
"I really enjoyed learning popular '80s dances like the Thriller," Jackson said.  "We had just about everyone on the dance floor."
Jackson said overall she was pleased with the amount of students who attended the event.
"I thought people looked awesome," she said.  "I was really impressed with the way people dressed and styled their hair.  It definitely made the dance all the more fun."
By AMANDA CHIAMULERA
Staff
alchiamu@umail.iu.edu