Ventriloquist performs with puppet friends on campus
IUS Horizon
October 10, 2011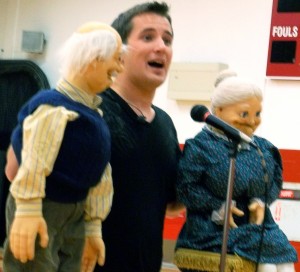 Ryan and Friends brought comedy and ventriloquism to IU Southeast for a family-focused weekend on Oct. 1.
Ryan Bomgardner, comedian and ventriloquist, along with his puppet friends, entertained a small audience in the Activities Building with his show, Ryan and Friends.
The event was hosted by Kim Pelle, coordinator for the Adult Student Center.
Pelle said the event was part of a family weekend.
"We wanted the event to allow families to get involved with the students," Pelle said. "We chose the Activities Building because it hosted the women's volleyball tournament earlier in the day. We hoped it would be the entertainment after the game and bring people in that way."
While a big crowd did not show up as planned, a smaller crowd did show up to see Bomgardner's talented cast of characters.
Ventriloquism is the talent of throwing one's voice to create the allusion of it coming from somewhere other than the owner.
Students, faculty and children were introduced to a variety of characters, such as Jeffery, Harold, Irene and Ardy.
"Jeffery is probably my favorite puppet I use," Bomgardner said. "He is a complex character of sorts."
All of Bomgardner's puppets are professionally made, and Jeffery, the 8-year-old child puppet, is the most expensive, costing a couple thousand dollars.
Alice, 9, was allowed to pet Ardy the skunk during the show.
"I liked the skunk," Alice said. "He was my favorite."
Bomgardner is from Harrisburg, Pa., and he started learning ventriloquism when he was 12 years old.
He said it took him five to six years to perfect his talent.
"Being a 12-year-old boy, it was not cool to play with dolls, so I didn't practice that much," Bomgardner said.
When Bomgardner was 18 years old, he was performing 80 shows a year.
Now, he performs around 150 shows each year all over the United States.
Bomgardner learned ventriloquism through books, mentors and by teaching himself.
He uses six to eight different voices and has different voices for different age groups. Bomgardner said everyday people and activities inspire his comedy.
"[I use] things everyone else smiles at," Bomgardner said. "I use things that people may not realize are funny while they are doing them, but later, when repeated back to them, those things are hilarious.
"People don't know where the voice is coming from," Bomgardner said. "You get to have fun in ventriloquism too by doing that sort of stuff."
By NICOLE BRANDUM
Staff
nbrandum@ius.edu