Artist draws on experience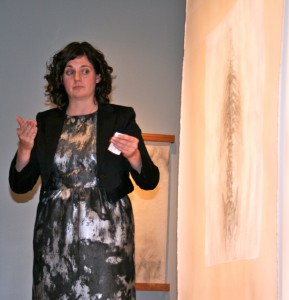 To kick off 2012, the Ronald Barr Gallery opened with the "Drawing on Experience" exhibit by Emily Sheehan, artist and visiting assistant professor of fine arts, on Jan. 11.
Seven works are represented in this show. All the works are based on the same concept of perceptual drawing, or, in other words, drawing from observation in a multi-sensory way.
"I completed three of the works in the show prior to my coming to teach at IU Southeast," Sheehan said. "The rest of the work in the show is brand new, completed in my campus studio space in the last six months."
Sheehan said her older and newer works have slightly different goals in exploring perception.
"My older work is really looking at my own self experience," Sheehan said.
The seven works represented in "Drawing on Experience" include "Five Softest Parts of My Face," "Where I Am Hard All the Time," "I Think That's Way Too Close," Articulating Experience: "I Feel," Articulating Experience: "I Think," Articulating Experience: "I Know," "Drawing a Deep Breath" and "Standing Still."
In her artist statement, Sheehan said people perceive through their bodily senses, absorb and evaluate each encounter, construct means to interpret and respond to and convey their understanding to others. It is in this human space between encounter and communication that people make the world personal.
The activity of perceptual drawing is what Sheehan said holds her in that human space longer.
"It makes me think about what I internalize," Sheehan said. "It lets me decide what to share and then allows me to create drawings."
In order for someone to understand what he or she is attempting to draw, Sheehan said that person needs to pull it slowly through his or her perceptions and understand it on many different levels.
"I think that all of the work in the show is seeking that main goal of representing that understanding as an image," Sheehan said.
Amie Villiger, graphic design and painting senior, attended the opening to support the Fine Arts Program.
"I really liked the zen-ness of it all," Villiger said.
Sheehan uses a variety of drawing materials, both traditional and non-traditional, in her works.
"I choose materials specifically and deliberately for each project," Sheehan said.
Kristin Shields, fine arts senior, is taking Sheehan's Life Drawing class this semester and came out to the gallery opening.
"I like her use of negative space," Shields said. "That's personally really hard for me to do with my own work, so I admire that about hers."
Sheehan said her goal for her newer work is to show the result of an everyday activity as an image.
"I want to pull the viewer into their head space that moment before you actually communicate what you're experiencing," Sheehan said.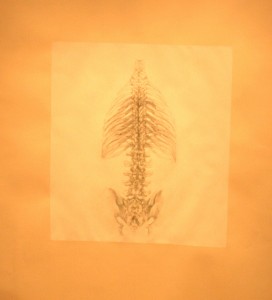 After walking through the gallery and taking in the exhibit, Sheehan said she wants the viewer to simply stop and think.
"I really want people to just acknowledge their unique experiences," Sheehan said. "Think a little bit longer about how they got where they are now."
Shields said it was a little difficult for her to understand at first.
"Once she explained her reasoning behind it, it made more sense," Shields said. "I definitely do like to get close and engaged with the work though."
Sheehan earned her Master of Fine Arts at the Minneapolis College of Art and Design in Minnesota, where she also taught.
"I started teaching at IU Southeast in fall 2011," Sheehan said.
"Drawing on Experience" will continue to be shown until Jan. 31 in the Ronald Barr Gallery located in the Ogle Center.
By TAYLOR FERGUSON
Staff
tayfergu@ius.edu