Local disaster brings community together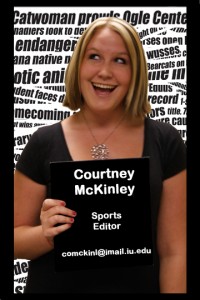 It has been a little more than a week since the tragedy occurred that struck the nearby towns of Henryville, Marysville, Pekin and the surrounding areas.
Many homes, businesses and lives were destroyed on March 2 as tornados ripped through the Southern Indiana and Kentucky area.
Although this natural disaster was such a heartbreaking and terrible occurrence, the overwhelming generosity and willingness to help from the surrounding community has restored my faith in humanity.
This catastrophe has brought the cities of Southern Indiana and Louisville together to help rebuild the cities that were demolished by the tornados.
It seems everywhere I look people are helping others through this disaster in any way they can.
I have seen many people volunteer to help with the clean up and offer monetary donations, as well as donations of food, clothing and other items to the families affected.
Although it is unfortunate a tragedy of this magnitude is the cause for so much humanitarianism, I appreciate the kindness that has been showcased by so many people.
What is also unfortunate is the fact not many people are willing to put themselves out to help those in need when a tragedy strikes other states, countries or continents.
This obviously depends on the extent of the disaster, but, truthfully, people are far less likely to aid in something that does not directly affect them or the ones they know.
I am not saying people are emotional robots when they hear about a natural or man-made disaster occurring in other various states and nations. They are just far more desensitized to it.
They have the mind set of, "Well, this is several states or countries away, and this does not affect my daily life, so I'm not too interested." I am definitely guilty of this, as well.
It is human nature to think this way, similar to the thought of putting off a big paper until the next day because it may not have an affect until tomorrow, so there is no sense in worrying about it now.
This mind set has been used in a vast amount of worldly occurrences.
For example, not many Americans were routinely stressing about the trouble with Afghanistan until the terrorist attacks of Sept. 11.
Yes, it was wonderful to see Americans stand together and demonstrate patriotism.
It was even nice to hear "God Bless the U.S.A." on the radio several times a day.
However, for more than a decade, Americans have continued to fight overseas, yet that spark for patriotism has dimmed, and Americans are becoming increasingly numb despite the casualties on both sides.
Perhaps this would not be the case if the war were physically occurring here and destroying our cities.
For several years we cared about the reports, but, overtime, interest in the war has waned because each day there would be another report of a bomb going off, and it started becoming almost mundane for Americans to hear about it when the bombs were not going off here.
I know this is not the case for all Americans, especially those who have loved ones in the military or are in the military.
I am sure their daily routine is often affected by the war, but, once again, this is because they are being directly affected.
All of this stems from the diffusion of responsibility.
The more people who are around, the more others are likely to hope someone else will take care of a situation or issue first.
We want our military to fight for our freedom, and it is expected they will handle the dirty work. What would we do without them? Then we would have to fight.
We expect the communities that experience a tragic event to take on responsibility for themselves and rebuild their own lives because we are expected to do the same for ours.
Most of the time, people do not step in and try to resolve issues on their own unless it is forced on them.
A lot of people simply hope the bad will go away if avoided.
I can only imagine the catastrophic events could have been prevented had someone taken responsibility to cease the harmful actions.
Currently, a viral video is spreading across the Internet called KONY 2012.
This video is a documentary about Ugandan warlord, Joseph Kony, who is responsible for the enslavement of more than 30,000 children.
For 30 years, the leader of the Lord's Resistance Army has abducted children and forced the boys to kill their parents and turned the girls into sex slaves.
Tragedies are much worse when children are being affected.
The documentary, backed by Invisible Children, is utilizing social media to reach a global audience.
The aim of KONY 2012 is to "raise support for Kony's arrest and set a precedent for international justice."
The filmmaker, Jason Russell, said Kony is the most wanted man in the world according to the International Criminal Court.
This video was very inspirational to me. Despite the video depicting issues primarily in Africa, people in the U.S. and other countries are watching the video and wanting to help, too.
The issue is real, and it is amazing how people are taking notice of other social issues that are not solely occurring in their hometowns.
Although the video may not take Kony down, it has successfully raised awareness of the issue through Facebook and Twitter, and, for that, I support it.
The power of social media has really stepped up positively for once.
Ultimately, I am disheartened by the lack of motivation to help those in need on a daily basis without a tragedy having to occur.
Also, I wish those in my community, including myself, made more of an effort to reach out to other states or countries to help those in need.
However, I am surprised and grateful that so many people have taken responsibility to help one another in our community at this time.
If anything, it is reciprocity.
We should help others if we would ever want others to help us. After all, it could have been you.
By COURTNEY MCKINLEY
Sports Editor
comckinl@imail.iu.edu