Artist connects through spoken word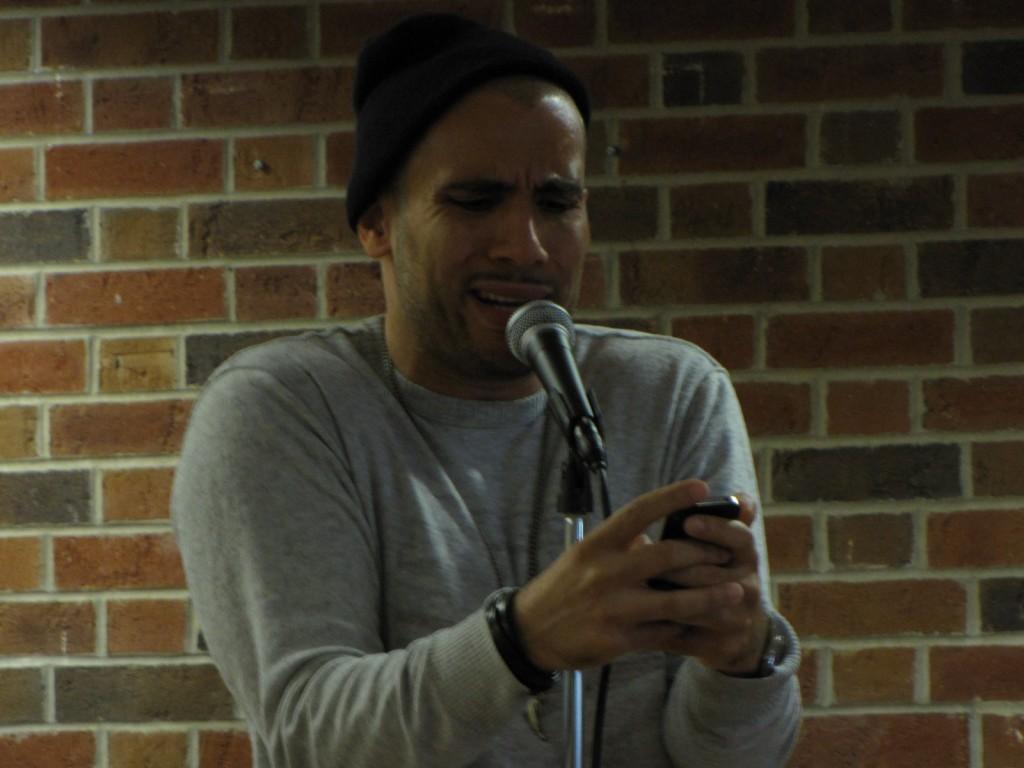 The Commons can be a busy place with students meeting there to discuss homework assignments, catching up with friends and even trying to fit in meals before their next classes. It is a fast-paced, loud area that serves many purposes for the active student.
However, on Wednesday, Nov. 7, for a moment's time, The Commons fell silent with captivation, from the words of Oveous Maximus.
Maximus is a rapper and a poet and said he considers himself an independent artist.
"I didn't become an artist for fame or for money," Maximus said.
In his short time spent at IU Southeast, Maximus shared some of his personal and emotional poems with students.
In his poem "Letter to My Brother," Maximus describes how hard it was to lose his brother Carlos "Ziiinc Blue" to suicide.
Carlos became his inspiration to begin writing in 2003.
"I am the voice of my brother," Maximus said. "I always tell people to utilize their time and make sure that you're doing what you love because you never know what you can lose in just a single moment. For me, it was my brother."
Maximus spoke about all kinds of issues from today's society being consumed with technology, to stereotyping.
However, the message Maximus wanted to make most clear is that no one should ever judge another person simply based on looks.
"We are all one race — the human race — and we need to respect one another," Maximus said.
In addition to his poems, Maximus also has a new album to come out on Dec. 12, entitled "Kill Your Myths."
Maximus said the album will have two sections, a night and a day. Because he had so much music, it was hard for him to fit onto one disc.
"I want people to be intellectually stimulated, even when they're just bumpin' in their cars," Maximus said.
The album was released under Moca Arts Music, or MAM, an indie record label Maximus and his friends created.
Some fans, Maximus said, have compared his new album to the band "Outkast," which he said is a great honor.
"'Kill Your Myths' can apply to all works of life," Maximus said. "When I look at someone, I could assume a million things about them, but people are more than what they look like."
Students seemed to enjoy Maximus, snapping and cheering throughout the entire performance.
One student, Kenneth Woods, biology junior, said he had been looking forward to the event for weeks.
Woods was even able to gain a one-on-one interview with Maximus after the event.
"I write poetry myself, and it's always good to get other people's opinion," Woods said.
Woods also said that he has recently started to perform his readings in Louisville.
"It was great to see Maximus perform and learn a thing or two from him," Woods said. "He constantly kept my attention, and I didn't even realize an hour had gone by."
Erwin Jacobs, coordinator for the Student Program Council, had a hand in setting up the event and said it went better than he imagined.
"It took a minute for students to warm up to him," Jacobs said. "Though, once they did, they were very captivated by him."
One student exclaimed across The Commons that Maximus' words were courageous and honest.
"I thought preforming at IU Southeast would be a challenge," Maximus said. "I don't usually perform in the day, or in cafeterias, but it enabled me to socialize with the audience, which made me feel more connected to them."
During his readings Maximus encouraged students to ask questions about his work and invited everyone to speak with him after the event.
"I consider myself a very humble guy," Maximus said while reading his poetry. "You know, I've been all over the world, even to Rome, but the pizza is better in New York because it has a taste of home."
By GAIL FAUSTYN
Staff
gfaustyn@ius.edu