Grenadiers claw at Cougars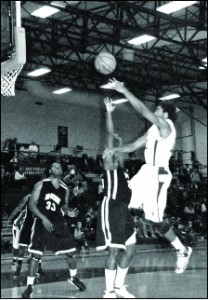 The IUS men's basketball team defeated Mid-Continent University in their fifth game of the season on Nov. 17. The narrow victory brought their record to 3-2.
Tyrell Means, sophomore guard, scored 14 points for the Grenadiers.
"I feel like I did what was needed," Means said. "I played a lot harder than I usually do. I'm glad I could help the team."
Means said the team has continued to make strides as the season has progressed.
"I felt good about the game tonight," Means said.  "We're starting to play as a team."
However, Means said there are areas the team needs to improve on.
"We still have to work on our defense," Means said, "We've got to learn from our mistakes."
Means said Wiley Brown, IUS men's basketball head coach, emphasized aspects of their gameplay in need of improvement after the win.
"He congratulates us on what we do right, but he still lets us know what we did wrong, whether we win or lose," Means said.
Brown said he wants to see the team push themselves through every quarter.
"We continue to play and play hard, but only in spurts," Brown said. "In crucial situations, we've got to toughen up."
The Grenadiers edged out the Cougars, 76-74.
Brown said the narrow victory could have gone to either team.
"The ball was in [Mid-Continent's] hands for the last-second shot, and it could have just as easily gone in," Brown said. "I would rather lose a game like this early in the year, so these guys would learn."
The Grenadiers had four players shoot in the double digits. Jake Simpson, sophomore guard, lead with 17 points, followed by Cameron Mitchell, junior guard, with 16, Means, with 14, and Kegan Clark, junior forward, with 12.
Brown said the team played adequate defense, but wants to see it progress to the championship level.
"We've got to live by our defensive philosophy," Brown said. "We've got to get in front of the guy, and then stay in front of the guy."
The Grenadiers were under their average in successful perimeter shots for the game.
"My philosophy is they were wide open shots, so you got to keep shooting it," Brown said. "We turn down good shots and pass the ball out to get that great shot. I encourage my guys to take those shots all day long. Those shots are going to go in by the end of the year."
Brown said he wants fans to know the team is getting better every game.
"We already put on a good show right now," Brown said, "but we're getting ready to put on a great show."
Brown said the Grenadier's preseason first-place ranking in the coaches' poll brings out the best in every team they face.
"We've got to play championship ball at all times," Brown said. "Our next game is always our next big challenge."
By SAM WEBER
Staff
samweber@ius.edu