Tales of a lockdown
Cell phones buzzed, beeped. "An armed person has been reported on campus."
Fear. Scrambling. And then, relief.
Everyone on campus had a story from the lockdown. Here are a few of them.
Uneasy, even after 'all-clear'
Quintera Quinn, elementary education freshman, had just started up her computer in the Physical Sciences Building to take a math exam when she overheard her professor whispering to her assistant that there was "a gunman on campus."
Quinn said she immediately became alarmed and wanted to yell but remained quiet until the class had been told the news.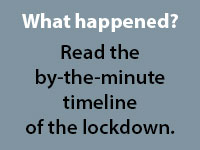 "I looked at this girl in my class and said 'I really hope this is a joke because I'm scared,'" Quinn said.
The room Quinn's class was in was not able to be locked, but she said her instructor, Delaine Cochran, senior lecturer of mathematics, tried to jamb the door shut to the best of her abilities.
Quinn said there were mixed emotions among the other students in the room—some were afraid like she was while others were angry and discussed a strategy for what they would do if the person entered their classroom. One student who was in the armed services offered safety techniques, such as getting on the floor in case bullets came through the room.
When the all-clear was issued and it was revealed that the threat had been a student with an airsoft BB gun, Quinn said she was a little angry about the gun but felt relief at the way the university handled the situation.
"Since the people on our campus, the campus police and the alert system was so proactive, I feel a lot better because if something does happen, we will be safe," Quinn said. "I just hope I'm in a room where the door locks.
Quinn said she continued to experience fear throughout the day and even felt uneasy walking to band practice, which was in Knobview, alone later.
Professor goes on auto-pilot
Gregory Kordsmeier, assistant professor of sociology, was lecturing in Crestview Hall, room 109, when he said a student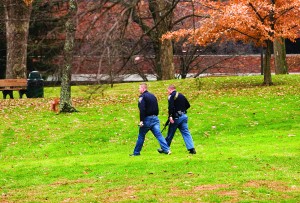 stopped him mid-sentence to tell him about the alert.
"I signed up for IU alert and all that other stuff, but of course, like a lot of other professors on this campus who don't want students on their cellphones in class, I don't like to have my cellphone out in class," he said. "I put it on vibrate and stick it in my pocket and generally ignore it when it vibrates."
He said he was fearful at first, for the safety of his students, himself and his wife, who was also teaching on campus at the same time.
"In the moment, I sort of pushed that aside and sort of went on automatic pilot, doing the things just to make sure we were safe," Kordsmeier said.
He said he told students to remain quietly in their seats and he turned off all the lights. He could not find a locking mechanism on the inside of the door, so he sat on the floor and braced himself with his back to the door until a student relayed a text from a friend in another classroom that some people were barricading unlocked doors with furniture. A table was moved, and Kordsmeier sat on top of it until the all clear was issued.
Kordsmeier said although he realized his life may be in danger, he feels a responsibility to his students while they are in his classroom.
"If I had a student try to slug another student, I'd feel responsible for the safety of the student who was going to get hit in my classroom," he said.
In this situation, Kordsmeier said he felt the same duty.
"In a way I wanted to put myself in the most vulnerable position because if anybody in my classroom was going to get hurt, I would want to put myself in harm's way if I could, because I feel responsibility for my students," he said.