Lady Grenadiers come home for easy win
There is no place like home. The Lady Grenadiers got things going with a 64-46 victory over the visiting Berea Mountaineers in the first game of a men's and women's homecoming double-header in the Activities Building Saturday afternoon.
The win lifted the Lady Grenadiers overall record to 15-10 with a conference record of 10-5. Megan Cureton, junior guard, led all scorers with 17 points and said the team is feeling good heading into the end of the regular season.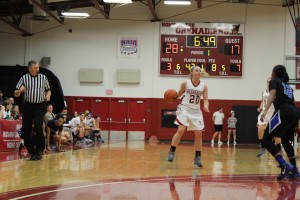 "We are very confident now because we've just won five games in-a-row," said Cureton. "Hopefully we can keep the streak going, because we never want to lose."
The game got off to a slow start as the two teams had to overcome some early big game jitters. After the nerves wore off, the Grenadiers began to attack thanks to the quickness of junior guard Heather Wheat. Wheat was able to slash her way to the hole several times for easy layups.
IU Southeast pushed the lead to double-digits on a three-pointer by Cureton with 1:12 left in the first half. Wheat drained a three of her own as the buzzer sounded to put the Grenadiers up 41-24 going into intermission.
The Grenadiers started off cold in the second half, scoring only two points in the first nine minutes. They got back on track with a fast break that ended with a Wheat assist to Cureton for an easy layup. That bucket put IU Southeast back up by 11 with 10:03 to play.
Minutes later Bridgette Jones, junior guard, hit three-pointers on consecutive trips down the court, in nearly the same spot, to break the game wide open at 51-36.
The Grenadiers pushed the lead to 20 on a layup by Haley Pace, freshman center, with just 5:12 remaining in the game.
After the game, Head Coach Robin Farris said that defense has been a key factor in his team's recent winning streak.
"I think our biggest thing is our field goal percentage defense, just challenging shots and not putting them on the free throw line," Farris said. "That allows us to get our fast break going."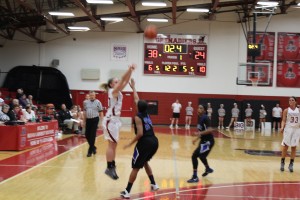 The Mountaineers shot just 30 percent from the field as the Grenadiers held the KIAC conference's fifth leading scorer, Johnesha Warren, to just six points. Warren, junior guard, had been averaging 18.2 points a game.
With two weeks until the conference tournament, Wheat said the Grenadiers need to make some improvements in order to make a serious run at a conference championship.
"Rebounding is always a big key for us," said Wheat. "We always need to box out and prevent second-chance points."
IU Southeast out-rebounded Berea 40-37 and only allowed six second-chance points.
The Lady Grenadiers next game is on the road against Brescia on Feb. 19.