Out with staying in, in with getting out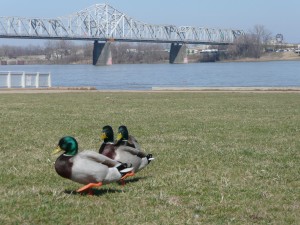 That moment when the weather begins to change is a breath of fresh air for all those who spent the winter wishing for an early spring. Though cold winter has taken its time in leaving, the new season has arrived at last, and the warmer weather is soon to become the norm.
Now it is time to take advantage of the sunshine and the extended daytime.
Here are some ways to enjoy the outdoors at IU Southeast:
Support the Grenadiers! See a baseball game! With the advent of the warmer weather comes the opening of baseball season across the country. From the Pee Wee League to MLB, bats are prepared and gloves are broken in. IU Southeast's own baseball team is beginning their season, and what better way to show support than by watching a game and cheering the team on?
Join an intramural team! It's often great fun to watch a sport. But for many, the thrill of a game comes not from watching but from being a part of the game itself. So if the sportsman within needs to be awakened, IU Southeast offers plenty of opportunities to do just that. Ranging from volleyball to cornhole, the IU Athletics department gives casual athletes a chance to join in the fun.
Take up an outdoor hobby! Warm weather that comes with spring provides great opportunity for discovering new hobbies. Due to the success of Suzanne Collins' "The Hunger Games" series, archery has become an increasingly popular sport, but there are plenty of other options such as soccer or baseball.
Thunder Over Louisville! Thunder Over Louisville, taking place April 12, is one of the biggest, brightest, and loudest events on both sides of the Ohio River. With the Blue Angels booked for this year's event, and the traditional fireworks show, there's enough deafening sound and excitement to satisfy anyone.
Derrrrrby! The region's biggest event is May 3, with plenty of fun leading up to it. Parties fancy hats, fireworks, and the race itself. There are plenty of ways to join in the fun.
Volunteer! Though there are plenty of ways to have fun in the sun, this one gives back to the community. Volunteering can come in a variety of opportunities, ranging from coaching a children's sports team to helping local community centers repaint their winter-worn buildings. Volunteering also offers a great way for friends to come together and do something both fun and beneficial.
Disc golf! Also known as 'frisbee golf' to some, disc golf is a popular sport in the Kentuckiana region, with multiple courses across the area. From Iroquois Park to Severin Lang, Charlie Vettiner and Fun Farm, there are plenty of places across the region to take up one of the most challenging sports around.
Ultimate Frisbee! For some, however, disc golf is too slow-paced and quiet a sport to play. Ultimate Frisbee can be fast-paced, extremely social, and highly competitive if played correctly. With the open waterfront offering a great expanse, there is ample opportunity to get a game going.
Run a marathon! Though it starts in May, the road to the Kentucky Derby is paved with several activities. One of the most charitable are the numerous marathons and mini-marathons that span the weeks before. Not only do participants push their bodies to new limits, they also can provide support for important charities that affect thousands of peoples' lives.