From cadet to officer
IU Southeast student graduates top of his class at IU Police Academy
With one spritz, a cloud of pepper spray hit Deven Estes's face and went into his eyes.
Estes, a criminology and criminal justice senior, had to read an index card through blurry eyes and was hit by a football dummy.
"It teaches you to fight through, and it shows you that you still can perform your job," said Estes.
The tasks were part of a training exercise at the IU Police Academy, held on the IU Bloomington campus, that took place from May through August. For 43 years, the academy has enabled cadets — incoming seniors from IU campuses — to receive their law enforcement certification. Out of those 36 cadets, Estes was at the top of the class.
Estes said he knew his test grades immediately, based on what he saw on Canvas. However, there were two handwritten tests that also factored into each cadet's average, and the cadets were not informed of those scores until the end of the academy. Estes finished with a 98 percent, while the overall average of the graduating class was a 95 percent.
"
I wanted to do police work because you still have a chance to interact with the community."
— Deven Estes, criminology and criminal justice senior
"It was awesome," he said. "They kept it all a secret."
To achieve the honor and gain the skills essential for law enforcement, Estes had to put in a large amount of hard work at the academy.
At the academy, the cadets took classes that helped them learn and practice essential law enforcement skills. They also completed several workouts and training exercises.
Estes said he woke up at 4:55 a.m. each weekday to put on his physical training gear and drive to the gym. At 6 a.m., Estes and the other cadets were ordered to complete the daily exercises, which included pushups, situps, jumping jacks and several others.
After completing them, the cadets had to run. Sometimes they ran two to five miles in formation, or they ran up the stairs in Memorial Stadium. Other times, they ran on trails or over various types of terrain.
Each weekday ended at 5 p.m. after classes, unless the cadets participated in special events, such as blood drives or training exercises.
"When you wake up at 4:55 in the morning, once you get home at 5 [p.m.], you eat dinner and sit around for 30 minutes, and you're pretty much ready for bed," Estes said.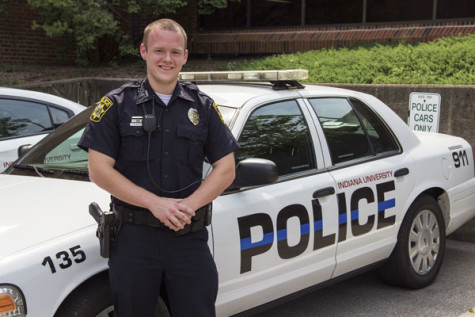 Charles Edelen, chief of police at IU Southeast, said the academy helps new officers become marketable to most of the police departments in Indiana after they graduate from college, because the officers usually do not have to attend another police academy. Some of the officers seek more advanced careers in the Federal Bureau Investigation, the Drug Enforcement Administration or other law enforcement agencies throughout the U.S.
After graduating from the academy and receiving his law enforcement certification, Estes became a part-time officer at IU Southeast. He works 20 hours a week in the department, in addition to being a full-time student.
When Estes is working, a full-time officer accompanies him at all times, because Estes needs additional training to become a full-time officer and perform duties alone.
Estes made a drug arrest on campus during his third day on the job. He said he felt prepared, because he participated in several related training exercises at the academy.
"I actually felt really comfortable," Estes said. "It was very exciting. You don't expect it right out of the gate, especially on a college campus."
Estes said he is gaining experience in several areas of police work, including pulling over vehicles, directing traffic, providing medical assistance and interacting with the public.
"One nice thing about being on campus is you actually get to get out and interact with students, faculty and staff," he said. "It's a lot of fun. You actually get to get out, talk to people and make friendships."
Tyler Risinger, informatics junior, said Estes helped make him feel like he belongs at IU Southeast.
"A lot of people are outwardly friendly, but Deven [Estes] goes out of the way to make sure he knows you are his friend," Risinger said.
Kassandra Casper, psychology senior and Estes's girlfriend, said that Estes is personable.
"IU Southeast is like home for him," she said. "He wants to make sure it's still safe while having fun."
Estes said he initially majored in nursing, but a friend's dad caused him to become interested in law enforcement.
"I wanted to do police work because you still have a chance to interact with the community and actually help [people] and make an impact," Estes said.
Estes said he decided to apply to the IUS Police cadet program during his sophomore year. He was accepted, serving as a cadet during his junior year and throughout his time at the academy. As a cadet, he mainly enforced parking by issuing parking citations.
Edelen and Estes said they would like to see more students apply to the cadet program, because only 6 to 10 students have applied each year since the cadet program began in 2012.
"We always seem to struggle with getting people to apply," Edelen said.
Edelen said that only sophomores can apply to become a cadet, and only one cadet is selected for each academic year. This is because the chosen student can only be a cadet as a junior.
The IU Southeast website contains important information about the cadet program. Edelen said applications for the 2016-17 academic year will be accepted late January through early February.
Estes said the program can't be beat. He recommends that eligible, interested sophomores apply, since it provides several opportunities to gain experience. Estes said the program and the experiences he has gained have reinforced his decision to become a police officer.
"Before you come in to this line of work, you don't necessarily know what to expect," he said. "You never know what you're going to see. So it's very interesting. I feel like [the program] only reassured me that this is what I want to do."
Estes said recent publicized occurrences of police brutality in major cities have not deterred him from a law enforcement career, because he is dedicated to being professional.
"Of course, you hear of officers doing the wrong things and not actually doing the appropriate actions," Estes said. "And that just reassured me that when you're on the scene, you always have to be professional. You always have to do what is expected of you."
Casper said she is proud of Estes for his hard work.
"Even though it's not always a safe job, I'm proud of him for continuing to work hard as a part-time officer," she said. "I'm glad he's out there protecting the school and the community."