Following her calling in the classroom
Senior preps for career while student teaching
On Tuesday, July 28, 24 fourth-grade students watched Shelby Royalty, education senior, as she led an icebreaker activity she found on Pinterest.
Some IU Southeast students were on summer break that day, while others may have been preparing to finish summer classes. Meanwhile, Royalty spent the day student teaching in Susan Mosley's fourth-grade classroom at Corydon Intermediate School. July 28 was the first day of school for students in the South Harrison Community School Corporation, the corporation to which Corydon Intermediate School belongs.
"I was really nervous to meet the kids and just learn about all of her procedures, but it ended up going really well," Royalty said. "I feel like even on that first day, I really bonded with her, and I started bonding with the kids. It was a really enjoyable experience, even though I was nervous."
The student-teaching experience is required for students in the IU Southeast School of Education, according to the school's website.
The School of Education consists of four blocks. Students learn about teaching methods, various aspects of classroom life and the psychology behind teaching during the first three blocks. They also complete practicum experiences where they help teachers work with students and teach lessons.
In block four, students in the School of Education use their collective knowledge while spending a semester student teaching in an assigned classroom and school.
Royalty said she taught her students lessons about erosion and weathering, and she has helped the students complete related experiments and activities.
"I had the students blow on it in different ways. Through a straw, not through a straw, with small rocks in with the paper and without the rocks, so that they could see how different things, such as the amount of wind and plants or rocks, can affect the rate of erosion," Royalty said.
Mosley said her students have completed additional experiments with Royalty's help.
"The students did an experiment in which they dipped a cookie in water to show how water weathers rock," Mosley said.
Royalty said she enjoyed working with students in small groups during the experiments.
"I enjoy teaching the whole class, but I really enjoy those small groups where I can do more individualized things," she said. "I feel like I can better watch them to make sure that they're getting what I'm saying."
Mosley said Royalty excels at individualizing instruction for students.
" [Royalty] breaks things down for students to help them understand what they are learning," Mosley said. "She is very good at working one on one with students to help them master skills."
Completing science experiments with her students, Royalty said she has been teaching math and guided reading. She also said she enjoys seeing concepts click in students' heads.
"I like working with the students and knowing that I am helping them learn," Royalty said.
In addition to helping students learn, Royalty said she completes other tasks regularly, such as staff meetings, as part of her student teaching duties.
Mosley said Royalty helps her grade assessments and assignments, and she also helps plan lessons. She also said Royalty will teach all subjects starting Monday, Oct. 19, when the students return from fall break.
Royalty said these tasks, as well as others, are showing her that teaching is time consuming.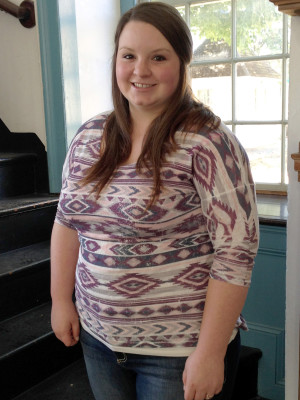 "It's not just a 9 to 5 job where you work and then you go home," she said. "It's constant. So I'm learning more about what actually goes into teaching this semester."
While student teaching, Royalty said she has learned and used classroom management strategies.
"I'm learning that I definitely think that it's very important to set up procedures in the classroom so that [students] know what's happening," she said.
Royalty said she is still nervous about working with students' parents because she believes she is inexperienced in that aspect. However, she said student teaching has made her more confident in her teaching abilities.
"In my previous practicum experiences, I used to get so nervous about teaching a lesson, but now I don't even think twice about it," Royalty said. "So both at school and just in general, it's made me a lot more confident in my ability to do things, because now I know that I can do it, so it's not as hard as it used to be."
Before student teaching at Corydon Intermediate School, Royalty said she talked to Terri Beard, lecturer of education and head of block four. Royalty gave her three school corporations she was interested in teaching in. Beard talked to the elementary school principals in those corporations, and Royalty was then assigned to Corydon Intermediate.
Royalty said the School of Education has given her hands-on experience working in different schools, and she has learned how teachers in those schools manage their classrooms.
"In block one, I was at Byck Elementary in Portland," Royalty said. "In block two, the school I was at was Fairmont Elementary [in New Albany]. Then in block three, I was at Riverside Elementary in Jeffersonville. I really liked that school."
Deborah Mink, associate professor of education, said she supervised Royalty during the spring 2015 semester, when Royalty was at Riverside Elementary School.
"[Royalty] was with a teacher who is very meticulous and demanded a lot from our students," Mink said. " She taught her block three unit on the book 'The Day the Crayon Quit.' Her first graders absolutely loved it and I shared it with everyone in her cohort. "
Royalty said she completed several education courses with her cohort, which consisted of her classmates. She said Mink is one of her favorite education professors because she taught her and her classmates that teaching math can be exciting.
"She really showed me that everything can be exciting and lead to kids being more engaged, than just sitting there trying to memorize math facts," Royalty said.
Mink said she teaches her students to help their students see that they can learn math, excel on standardized tests and have fun at the same time.
"I always infuse children's literature into math," Mink said. "We read 'The Rainbow Fish' and make a fish out of graham crackers. We read 'The Grouchy Ladybug' and make a ladybug clock. We read 'The Very Hungry Caterpillar' and make a three-dimensional apple with a little hungry caterpillar that sits inside.
Mink said she believes Royalty has grown into an effective teacher who cares about her students.
"Shelby [Royalty] loves her students and the students know that," Mink said. "She is firm, and fair. She is extremely creative as well and knows the importance of teaching the Indiana standards."
Royalty said she didn't want to be a teacher until her second year of college, the 2012-13 academic year. She was a tour guide at the Corydon Capitol State Historic Site — where she still works — and Squire Boone Caverns in Mauckport, Ind.
"I was working with kids a lot, and that was the first time that I ever really considered it [teaching]," Royalty said.
Royalty said she believes she is now pursuing her passion, and she also said teaching requires dedication.
"I think teaching is a calling," she said. "It's not just something for everyone. You have to really be willing to put your heart and soul into it."
About the Contributor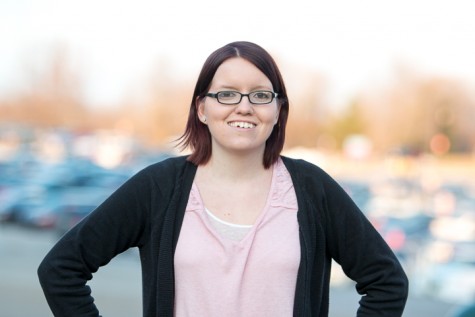 Kristin Kennedy, News Editor (Spring 2016); Social Media Coordinator (Fall 2015); Staff Reporter (Spring 2015)
Hey! I'm Kristin Kennedy, and I'm a news editor and social media coordinator for The Horizon! This is my third semester with this news organization. I'm...