New technology showcased at Game On 1.5
During this semester's Game On technology festival, called Game On 1.5!, students, faculty and staff used the Oculus Rift, a system for virtual reality, to explore the capabilities of virtual reality technology.
Game On 1.5! was held on Wednesday, Jan. 27 from 11 a.m. to 2 p.m. in The Commons. In addition to offering an opportunity to use the Oculus Rift, the technology festival featured student showcases, video games and booths related to technology services in the IU system.
On one side of the festival, Alicia Hosier, a University Information Technology Services representative from IU Bloomington, had a simulation that was used with the developer kit model of the Oculus Rift. Hosier said the simulation was of a roller coaster found in Sweden called The Helix.
The Oculus Rift is expected to release on Monday, March 28, but the first shipment will occur in July 2016 with a price point of $599, according to Hosier.
Hosier said she expects there will be a variety of educational uses for the Oculus Rift.
"There are already Oculus software, for exploring the human body," Hosier said.
The Oculus Rift demonstration used an Alienware laptop, but consumers won't need to use high-end computers to run the Oculus Rift hardware, Hosier said. However, she said there are no plans to make a Mac or Linux compatible Oculus.
Hosier said the Oculus Rift creates risks for people with motion sickness and epilepsy. She said they can fall over while standing due to feelings of disorientation, and this scenario has happened at Oculus Rift demonstrations on other campuses.
On the other side of the event, attendees could view a student-built demonstration for the Oculus Rift. Dallas Flora, informatics senior, said the demonstration was designed by last year's informatics seniors.
During the demonstration, users created 3-D shapes from hand motions, and they could assign a color to the shape by using motion sensors on the table.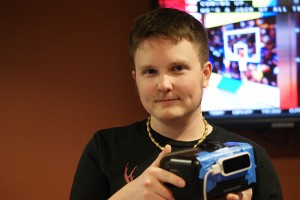 Flora said it's important for users to get used to virtual reality motion sensors in order to use them properly.
"Virtual space takes time to adjust to, and it [the demonstration] was working as intended," Flora said.
Eric Cox, UITS application designer at IU Bloomington, said using the Oculus Rift is very realistic.
"This technology could be applied in police and firefighter training," he said.
Cox also said virtual reality technology could evolve.
"If you paired this vision with other senses like touch, smell, and hearing, it's possible application will expand," he said.
Additionally, Nash Laney, fine arts student, demonstrated 3Doodler, a 3-D printer pen that can be used to design projects and build creative ideas in the medium of 3-D printing.
"This is only the second time I've used one [a 3Doodler] and I was making a rectangular prism," he said.
Laney said he is unsure if 3Doodler will have a future in the professional art world, but it might have potential.
"Honestly it could go either way," Laney said. "An artist could use this for new ideas or possibly make an entire art piece with it. The pieces are very flimsy, so it would be very difficult to create an art piece with it, but not impossible."
Filmed by Connor Edrington