IU Southeast's 75th anniversary recognized by Indiana General Assembly
On Monday, Feb. 8, Indiana State Rep. Ed Clere met with IUS staff and students not for the sake of discussion, but instead to offer a resolution that would recognize the campus's 75th anniversary.
The resolution was authored by Clere and co-authored by several local representatives from surrounding cities – Corydon, Crothersville, Jeffersonville, Jasper and Salem –  and it gathered involvement from the Republican and Democratic parties, something that Clere said is a "rare joy." The resolution was brought before the Indiana Senate and House of Representatives for consideration.
The majority of Senate members voted in favor of the resolution, determining that the Indiana General Assembly had successfully congratulated IU Southeast for its 75th anniversary.
"It's great that our institution is getting recognized by leaders in the state," Trent Wallace, communications senior and president of the Student Government Association, said. "It really is a fantastic accomplishment for a regional campus."
Wallace and Parker Norfleet, business junior and SGA vice president, were present for the assembly hearing. Standing alongside Chancellor Ray Wallace, Norfleet and Trent Wallace listened as the House of Representatives acknowledged IU Southeast for its 75 years of accomplishments.
"It was exciting," Trent Wallace said. "[The resolution] is a great opportunity for us to show off our awesome university to members of the state Senate and House of Representatives."
Clere said he wanted to make sure that IU Southeast received the attention it deserved, especially in regards to being a successful regional campus.
Clere said there are resolutions nearly every week in Indiana legislature that recognize various accomplishments and achievements throughout the state. He said he wanted to make sure IU Southeast received the same level of recognition, which is why he developed the idea for the resolution.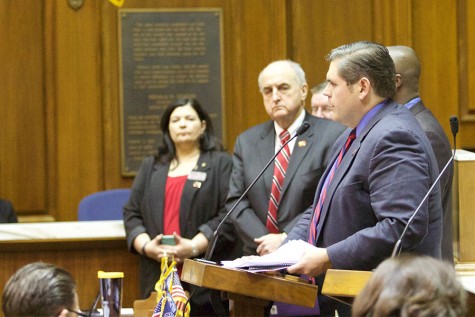 "The 75th anniversary of the founding of the campus is a significant milestone," Clere said. "It's important to recognize this anniversary, but I think that it is even more important to bring attention to the great things that have been happening at IU Southeast. It was an opportunity to talk about everything that is happening and all of the exciting developments on campus, including new programs and recognitions that have been received."
Clere said it was exciting to see the university acknowledged for its accomplishments, including instances of academic excellence and the intent to expand student housing in the near future.
"It was a great honor to have not only Chancellor Wallace and his team present, but President [Michael] McRobbie as well," Clere said. "By everybody taking the time to be a part of [the resolution], it sent a message about how important not only IU Southeast is, but also how important education and all of the branch campuses are."
Ray Wallace said he was more than happy with how the event turned out, but what stood out most to him was the recognition for IU Southeast that was taking place.
"It's not often that higher education schools, especially regional schools, are called to the legislature," he said. "It was nice that it was both House and Senate. We should really be honored."
Ray Wallace said that at the hearing, it was obvious that IU Southeast has cultivated several friends from both the Republican and Democratic side of the political system over the course of 75 years. He said it shows the campus is not only important to students, faculty, staff and the community, but also to the state.
"It's obvious that we are important to Indiana," Ray Wallace said. "Southern Indiana gets overlooked for a lot of things, so to be the lead public university in the area and to be recognized just for 75 years of longevity is important. We are doing a lot of great things and continue to get better and better."
Starting as the IU Southeast chancellor in June 2014, Ray Wallace said 75 years of achievement is something that he is proud to be a part of, because the recognition says a lot about the overall success of IU Southeast.
"We are very established, that's what [the resolution] really says," he said. "We are established and we are proving to be worthy of support. I was very pleased."
Ray Wallace said not only academic performance and plans for the university led to the resolution, but also the increasing number of Kentucky students that have pursued an education at IU Southeast.
According to Ray Wallace, legislators have recently become impressed with the reciprocity that is happening between Indiana and Kentucky. In the past few years, the enrollment of Kentucky-based students has risen to nearly 35 percent, a number that Ray Wallace said was impressive to those paying attention.
"They were pleased with the outreach to communities, and not just New Albany," he said. "The opportunity to attract students from Kentucky through reciprocity is a big deal, something that we have taken and ran with, and done very well. A great way to diversify is to meet the needs of the entire area, which we are doing."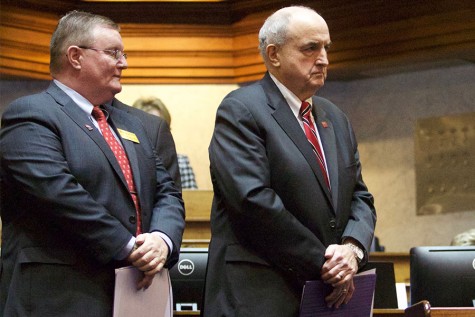 Ray Wallace said the resolution brings exposure to IU Southeast. He also said the resolution authored by Rep. Clere not only brings to light many of the accomplishments that IU Southeast has cultivated leading up to its 75th anniversary, but also does the simple job of bringing more awareness to the campus.
"The biggest benefit is exposure," Ray Wallace said. "The fact that time was taken out of busy schedules to recognize a regional university is a big deal. In my opinion, we are the strongest regional campus in the IU family and I think that statement bears fruit in the fact that we are the only [regional] campus that has had this sort of recognition."
About the Contributor
Jordan Williams, Managing Editor
Hello, my name is Jordan Williams. I am a soon to be English graduate and present journalism student. I work as Features Editor for the Horizon, which...