Students portray characters during Spring Ball
IUS students cosplayed –took on the appearance and personality of — science fiction, fantasy, anime and video game characters during the Spring Ball.
The Castle Club, the Gamers' Society, the Asian Pop Culture Club, and non-affiliated sponsor and former student Michael Hartsfield held the Spring Ball on Thursday, March 17 from 8 to 11 p.m. in the Hoosier Room in University Center North.
The Spring Ball featured costume contests, with categories including cutest costume, best group, best couple and most creative.
Amanda Miles, Spanish junior and president of the Castle Club, announced Sabrina Friend was the winner of the cutest costume category. Friend dressed as a character from "My Little Pony: Friendship Is Magic."
Friend said she came to the event to help her boyfriend, but she wanted to come either way. 
Miles said she was dressed as Honey from the anime series "Ouran Host Club." Miles said she won the best group costume category with the help of her friends in the Castle Club, who cosplayed as other characters from "Ouran Host Club."
Hartsfield said he came to help some good friends as an unaffiliated cosponsor, and he provided most of the food and drinks at the event, including snack cakes, mount cakes, candy and sodas. He said he dressed as Adam Taurus, a antagonist from the anime series "RWBY."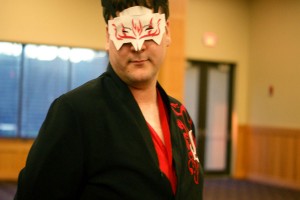 "Adam Taurus is just a character I enjoy, and I can put together the costume easily,"  Hartsfield said.
Cendra Stacey, criminal justice and psychology senior, is the president of the Asian Pop Culture Club. Stacey said she was dressed as Yoda from the Star Wars series.
Stacey said the Asian Pop Culture Club contributed to the event.
"Amanda [Miles] from Castle Club had asked Asian Pop Culture Club if we wanted to help plan," Stacey said. "We pretty much helped with advertising. We agreed to because we love getting to know other organizations."
Stacey said she chose to dress as Yoda, a Jedi, since she believed it was the easiest costume to put together.
"Yoda is an all green guy, and he wears all brown, so I put on a pair of brown pants, brown shirt, then I grabbed my graduation gown, a brown belt, and some green socks, and last but not least Yoda's lightsaber," Stacey said.
According to Miles, the budget of the event was about $100. She said the event was experimental, as it was the Castle Club's first attempt at such a large scale event.
"It couldn't have been done without Conference and Catering," Miles said.
This story previously said Sabrina Friend was dressed as Fluttershy from "My Little Pony: Friendship is Magic," when she did not confirm this. The Horizon apologizes for this potential error.