Studying Abroad Through IU Southeast
Touring the streets of Paris. Climbing to the top of Notre Dame. Riding a camel in the desert. Swimming in the Dead Sea.
IU Southeast offers study abroad programs that allow students to study around the world.
Omar Attum, associate professor of biology, Valerie Scott, senior lecturer in psychology and co-director of International Programs, and Magdalena Herdoiza-Estevez, professor of graduate education, held a panel discussion for students interested in studying abroad on Nov. 16.
Herdoiza-Estevez said traveling abroad is a great way to learn about yourself.
During the panel, the professors said that language proficiency was not a requirement.
One of the upcoming programs is the Intercultural Competence Development in France during Summer session one.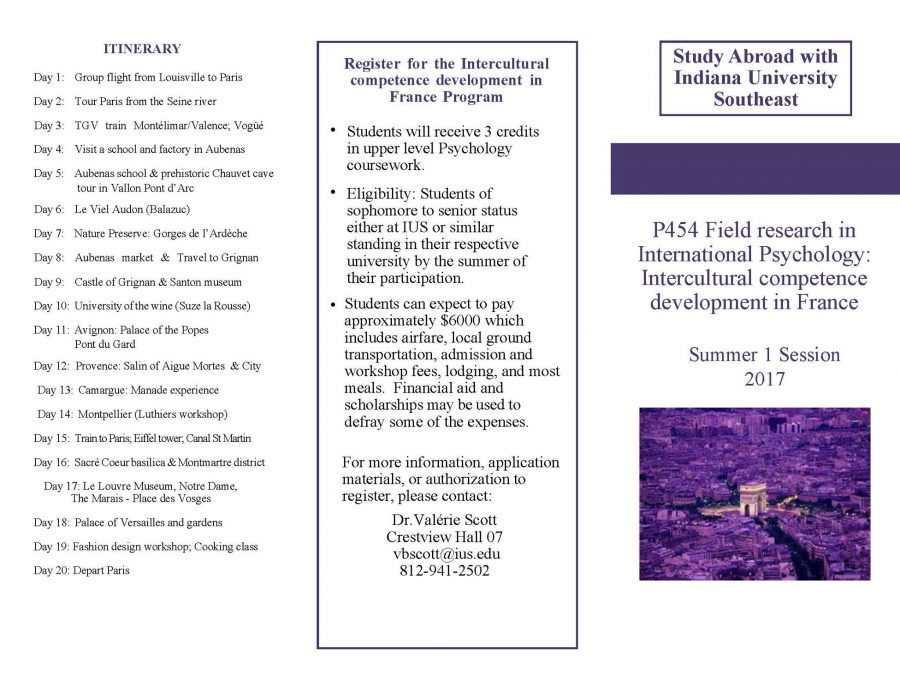 Scott said research has proved study abroad helps with cultural competency. She chose France because Western Europe is most appealing to students. She said she wanted a country where people could navigate in their nonnative language as it allows students to see what it's like to be an immigrant.
Scott said she also chose France because she wanted students to experience the French culture, which she said is often misinterpreted as Parisian culture. Scott said she is a native of France.
During the trip abroad, students will visit a high school in Aubenas and interact with students to build a better understanding of the French education systems.
"I never had one single multiple choice exam," Scott said. "They were usually essay questions."
Students will also visit a factory in Aubenas that makes local products and learn about international marketing strategies.
Not wanting her students to spend three weeks in a hotel, Scott said they would be staying in a castle, in a house that dates back to the 1700s, and in hospitality housing. Hospitality housing allows students to stay in the homes of locals and to see what everyday life looks like in France.
In the city of Camargue, students will learn how to make bread the old fashion way. There will also be an opportunity for a camping trip along the river for students who are interested.
Students will complete activities in each city they visit and will have the option of completing them in either English or French.
In the spring, the biology department will be going to Jordan for their annual Field Biology program.
"It's a great immersion experience and a great way to observe wildlife," Attum said.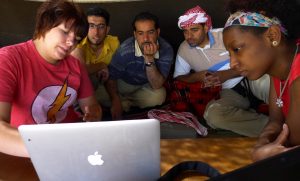 Attum said the Field Biology Program will be studying desert ecology and marine biology as well as Jordan's history, culture and current geopolitical issues.
For the past 20 years, the Field Biology program has been traveling around the world to offer students the opportunity to study plants and animals in the field instead of just in a classroom setting.
In April 2015, Deanne Caffee-Cooper, IUS biology and geosciences alumna, participated in the 300-level Field Biology program to the Amazon in Brazil led by biology professor David Taylor.
"I was interested in studying the diversity of plant life in the Amazon, much of which has not been documented and was cataloged by family because the species specifically was unknown," Caffee-Cooper said.
The overseas study program to the Amazon was a way for her to travel and study in an area of the world that she may not have had the opportunity to go to otherwise.
"The Amazon delivered an abundance of plant species that I have never been exposed to, and unless I return, I will never see again," Caffee-Cooper said.
Although these trips are academic in nature, they are not all classroom and academic study.
During the Field Biology trip to the Amazon, Caffee-Cooper said she was able to spend time interacting with wild pink dolphins, visit a festival and tour an artist community that educated families in trades and sustainable development and farming practices.
"Half of the day was spent in a classroom environment, and the other half was used to teach plant and tree identification and various uses of natural resources outdoors," Caffee-Cooper said.
Through the Indiana University system, any student at any IU campus can participate in any other university's overseas study program, making it easy for any IU student to spend a semester, summer or full academic year studying abroad.
Although this means that any IUS student can potentially participate in any overseas program offered through the IU system, some of these programs may have specific requirements or prerequisites.
Choosing a study abroad program can be done through the IU study abroad website at http://overseas.iu.edu. The iAbroad system for Indiana University contains a searchable map to find programs ranging from full year to summer programs.
All IU and non-IU programs are offered through this site as well and, once available, any student can apply to a program offered on the site.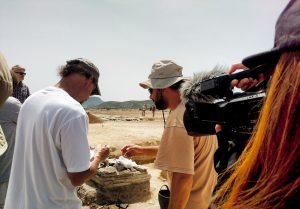 When selecting students, Albert William, research associate in the Media Arts and Sciences department at IUPUI and one of the coordinators of the IUPUI study abroad trip to Paros, Greece, said there are several factors he considers when selecting students, but GPA is probably the most important.
"It shows us the capability of students and their ability to learn quickly, efficiently and learn multidisciplinary," William said.
William said a student's academic performance is more important than what university they go to or what their major is.
"We look at the letters of recommendation we get to see how other people view the students, recognize their achievements and interact with others," William said. "We look at their skills, and not just [media arts and sciences] skills, but how they can contribute to the overall project and also how the project can benefit the student as well."
William said for students that are not media arts and sciences majors, they look at how their other skills, such as research, writing, social media and social skills, can fit into their programs.
"We look at these regardless of whether students are IUPUI or other campuses," William said.
Additionally, programs not directly related to a student's major can be sponsored by a professor as an independent study program.
"It is easier that students build relationships abroad, rather than have them already established," William said.
When choosing a program through the iAbroad system, students need to know that the non-IU and co-sponsored programs may not be transferable.
Taking the time to travel overseas – to see the world and to study abroad – will help give students real world experience and expose them to cultures outside of their own.