Delicious treats to try at Harvest Homecoming
Harvest Homecoming is a fall staple in Kentuckiana. When the fall attire comes out, the air gets a chill and the smell of delicious foods begin to float, you can usually find people heading toward downtown New albany to celebrate the annual event.
The Harvest Homecoming booth days offer many delicious treats from local vendors throughout the streets of downtown New Albany. With dozens of booths offering a variety of tasty foods, there is something for everyone to enjoy.
According to the event's website, the booth days will go from Thursday, Oct. 12 to Sunday, Oct. 15. The booths will be open from noon to 9 p.m. on Thursday, 9 a.m. to 10 p.m. on Friday and Saturday, and noon to 5 p.m. on Sunday.
Here's my review of six popular Harvest Homecoming booths.
The Redmen Club's Chicken and Dumplings
The famous "back alley dumplings" have become one of, if not the, main staple of Harvest Homecoming foods. Every year, it's always my first stop when I get to Harvest and no matter how long the wait, they're always worth it.
It's amazing to see how much the booth has grown over the years simply from word-of-mouth advertising. I can remember a few years ago, hearing multiple people talking about how good they are, and searching for the back alley where they are served every year.
It's easy to see why the dumplings are so popular. The tastiness and warmth the dumplings bring on the traditionally chilly Harvest days are a must try for anyone willing to seek them out.
Amish Homemade Ice Cream and Cobbler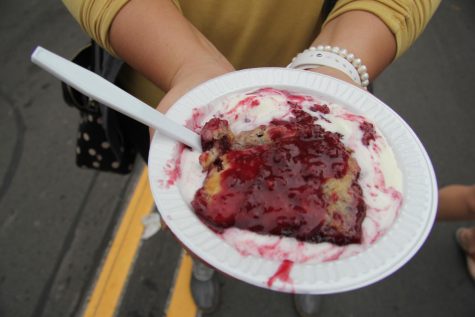 I am not usually a fan of ice cream when it gets chilly out, but this is my exception. Over the years I've been going, I always make sure to get a bowl of cobbler and ice cream at some point over the weekend.
The Amish may not be typically known for their ice cream and cobbler, but they should be. Every year, they're one of the most popular booths to the streets of downtown New Albany.
This is another one that Harvest attendees will have to seek out, since they tend to set up on one of the side streets. Once you find it, the sweet treats will be well worth the hunt.
Boy Scouts Troop 36 Roasted Corn on the Cob
The roasted corn on the cob offered by boy scouts troop 36 is a must-buy for this weekend. Not only does the booth offer the tasty roasted corn, but also a great ambiance.
I love being able to walk by the booth to see the scouts working with their troop leaders and roasting the corn all weekend. It reminds me of a hibachi grill and seeing the kids work provides a picture you don't see every day.
Shawn's Southern or Rubbin' Butts Barbecue
Succulent pulled pork, chicken and brisket sandwiches along with delicious sides is always a good meal.
It's almost impossible for me to choose between these two, but you cannot go wrong with either one of these local barbecue options. I am a huge fan of both and will always try to stop by at least one for a sandwich over the weekend.
Both offer similar options, prices and tastiness. However, don't wait too late because they can sell out quickly.
New Albany Masons' Homemade Donuts
Finally, another one of my required stops. The years I miss out on the donuts is always a regrettable decision. The warm, homemade donuts on a cool fall day is a popular options to many in attendance.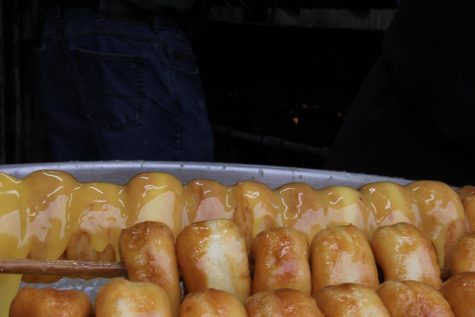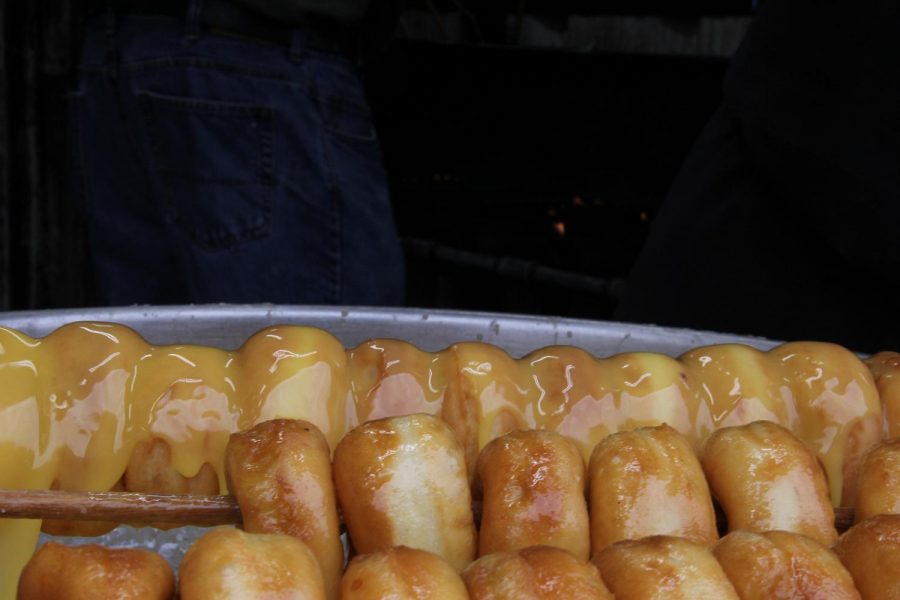 vest goers to try. Get out there, try a little of everything and enjoy all the good eats Harvest has to offer.
For most of the weekend, the booth will have a line that wraps around the corner. This shouldn't deter guests from giving them a try, because they are well worth the wait.
These booths are only some of the most popular the Harvest Homecoming weekend has to offer. There are dozens of other local and tasty options available for Har