Behind the Book Keeper
Christopher Proctor tells others how emerging yourself and stepping outside your comfort zone can give you a new outlook on life.
Rows and columns of stacked books fill the floors of the IU Southeast library. Years of knowledge, stories, and ideas take life on the shelves, but a more intriguing story could be that of the book keeper himself.
Christopher Proctor is the Coordinator of Access Services and the Campus Accreditation Project Manager at the IU Southeast library. His hobbies and interest go beyond his knowledge of the library.
Proctor called himself, "a jack of all trades," due to his love and passion of the arts, traveling, literature and self awareness.
His ideas on culture stemmed from his father. Proctor explained that his childhood was unconventional. At a young age he was introduced to the paranormal and encouraged to explore things in the world that others might find frightening.
"With my dad, I was always encouraged to keep an open mind," Proctor said.
Early Influences
Proctor grew up on the teachings of Eastern Philosophical Traditions focusing on Buddhism and Taoism.
Proctor studied martial arts and gymnastics during his childhood. These activities lead him to begin his travels and explore the world.
At 15, Proctor experienced his first real taste of traveling when his grandparents sent him on a trip to mainland China to study martial arts and emerge himself in another culture.
"Being 15 and going outside the Western Cultural context and going to the Eastern Cultural context shaped a very large part of my early development," Proctor said.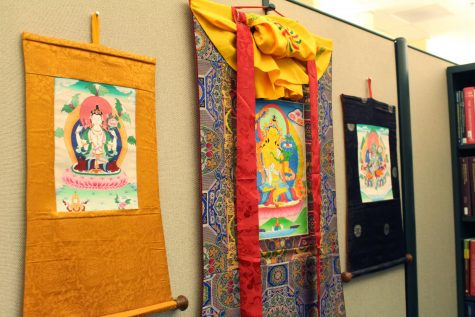 Proctor said if he could give one gift to someone it would be to put them into a different culture in which they do not know the language and just let them be lost. He said by doing this, someone can become more human and vulnerable.
"I think traveling should be mandatory for everyone," Proctor said.
During this time, he was able to study martial arts in ancient temples and also surround himself with Buddhist teachings while visiting Tabiet. It was during this journey that his interest would be sparked in ancient teachings which lead to his love of the library science.
Proctor said he believes that traveling is the key to finding oneself. He explained that experiencing how others live has helped reshape himself.
"They've shaped me by unshaping me, they've molded me by taking my mold away and making me broader," Proctor said.
His travels have lead him to other places such as Athens, Greece and more importantly, Salem, Mass.
Famous Family
It is in Salem where Proctor's ancestors perished as a victim of the Salem Witch Trials.
John Proctor was the first male accused of witchcraft during the Salem Witch Trials in 1692. He was hung on Aug. 19, 1692, and would later be portrayed in Arthur Miller's play, The Crucible.
Proctor has been able to see the sight where his ancestor took his last breath on Proctor's Ledge.
Along with his best friend, Courtney Block, Proctor travels to the northern east coast as much as he can.
"New England is phenomenal, the history is so rich, you can taste it," Proctor said.
"
If I could tell anyone anything, it would be [to be] kind, and don't take yourself and don't take life too seriously."
— Christopher Proctor, Coordinator of Access Services and Campus Accreditation Project Manager, IU Southeast Library
A Shared Love
Courtney Block is the Instruction, Reference, and User Engagement Librarian, at IU Southeast. Block and Proctor have been friends since their high school days at Clarksville Community High School.
"We are two halves of the same whole," Block said.
The two share a love for literature, yoga and Eastern teachings. Proctor explained if you could take away the physical labels of he and Block, you would not be able to tell the two apart.
Proctor and Block, have both taken a literary journey up the coast of New England for three years.
They enjoy visiting the sites of places such as Sleepy Hollow, N.Y., where Washington Irving wrote "The Legend of Sleepy Hollow," the inspiration place of "Little Women" in Concord, and even the movie sites of "Hocus Pocus."
"One of my proudest moments was jumping the fence and hugging Washington Irving's grave," Proctor said.
The duo said they enjoy going to Salem around Halloween time to partake in Salem's Haunted Happenings, a festival that is celebrated the entire month of October.
"It doesn't feel like [Halloween] did when I was a kid around here. The weather doesn't feel like it did, it doesn't have the smell," Proctor said.
Salem also is home to Proctor's favorite author, Nathaniel Hawthorne. A shrine to memorialize the author sits in the corner of Proctor's office complete with a portrait, poinsettias and photos of Proctor's travels to the town.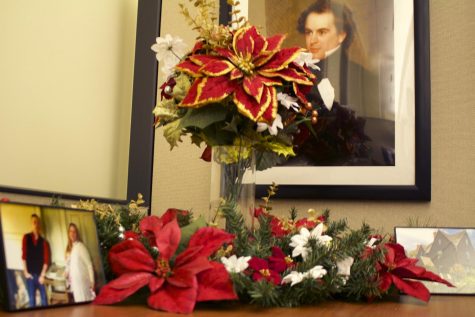 Every time Proctor visits the town, he gets a new tattoo. The first to his collection was the scarlet 'A' on his chest to commemorate one of Hawthorne's most famous pieces, "The Scarlet Letter." The most recent is in memory of the victims of the Salem Witch Trials.
Block paints the picture of the tattoo studio in Salem that sits right on the wharf. If you were to look out the window you would be able to see the house in which Nathaniel Hawthorne lived and worked.
"It was this cohesion of like everything in life that we love," Block said.
Looking into the future, Proctor plans on pursuing his PhD while keeping up with his research studies.
As for his travels, London, Italy and Romania are just a few places on the list that Proctor plans to visit.
Proctor said he hopes during this time that others begin to value each other and explore outside their comfort zones.
"If I could tell anyone anything, it would be [to be] kind, and don't take yourself and don't take life too seriously," Proctor said.