Roger Howard: The Man in the Red Tie
In an increasingly divisive environment, Roger Howard preaches togetherness as the Chairman of the College Republicans of IU Southeast
Article II of the constitution of the College Republicans of IU Southeast explains the four sections describing the purpose of the organization on campus. Those points include:
---
Section I: Coordinate events on campus.
Section II: To inform and promote the principles of the Republican Party among students at IUS.
Section III: To recruit IUS students as members of the IUSGOP and as members of the Republican Party.
Section IV: To develop political skills and leadership abilities among Republican students as preparation for future services by them to the community and the party.
---
For the past two years, their new leader, chairman Roger Howard, is stressing aspects of togetherness and conversation.
College and Campus Work
For two years, the economic and political science senior has been the chairman of the Indiana Federation of the College Republicans, a statewide organization that includes 16 chapters, or university organizations, which stretches from Notre Dame to IU Southeast. Under his leadership, Howard said he prides the work of his team in expanding chapters from eight to 16 across different colleges in Indiana.
"I've been very proud of my work and my team, our efforts to really pop up more chapters across the state," Howard said. "And they're strong chapters, too. They've been able to really succeed."
Howard said when he took over as chairman of College Republicans at IU Southeast, the participation was low, with numbers in the single digits. Since the beginning of his direction, he said they've grown weekly meetings from around five people to one of the biggest student organizations on campus. Though they share a trend of conservative values, Howard says they are widely diverse.
"
That's why I've always encouraged us to want to have a College Democrats because we can do co-events with each other to make people say 'hey, look at that, college republicans, college democrats, they are working together."
— Roger Howard, economics and political science senior and chairman of the Indiana Federation of the College Republicans
"I think that's one of the things with our group. At the end of the day, it's cohesive, but there's so many different people on different sides of issues, all at the same time, so that's how I'd describe our group here," Howard said. "Everyone is respectful to each other. I drive that home at the very beginning meeting when we have new members come in. If you're looking for something [divisive], there's the door."
Howard said the mission of the IU Southeast chapter is primarily to spark student involvement in being civically engaged. According to Howard, joining this organization allows students a platform to have their voices heard and to make real change with the power they have in their communities.
"We have Tuesday lunch meetings, and we always have a guest speaker come in," Howard said. "Even this last Tuesday, we had a candidate for U.S. Senate come in and talk with us. So, it's about having students connect with people in their community, and even larger than that. It's giving them the chance that they normally wouldn't have on their own to have these conversations, to ask a direct question to the Governor of Indiana, 'well what are you doing about this, what can be done about this?'"
Along with his work on and off campus with the College Republicans, Howard has grown his own notoriety which he attributes to his active involvement and his view on opportunity. He previously served as a political intern for Indiana Senator Todd Young during his campaign and was a legislative intern for the Indiana State Senate. He currently works at the Clark County Prosecutor's Office.
White House Visit
Howard credits his resume and work ethic to his recent invite to the White House in March, where he met with President Trump, Ivanka Trump, Secretary of Labor Alex Acosta, Secretary of Human Health Services Alex Azar, and Counselor Kellyanne Conway.
"I wasn't able to shake [President Trump's] hand, but I was probably [about three feet] from him," Howard said. "It definitely happened more or less last-second, but this was an opportunity I don't know if I'd ever get again. I was the only one representative from Indiana invited, it was definitely a cool experience."
Howard said the meeting discussed aspects of the millennial workforce, asking the administration about what they're doing to get young people jobs and how they're focusing on education, as well as alternative routes for future Americans.
After leaving his first job at the YMCA in New Albany, Howard said he was presented with the opportunity to serve as an intern for the Indiana General Assembly at the Statehouse. There, he said was able to make himself known and build relationships with important people in government.
"I interned in the spring, and I was able to work with state senators, and really around the Statehouse — on the House and Senate and Governor's office," Howard said. "I was able to get to know Governor Mike Pence at the time then and a lot of his staff so I was really able to build up my network and my personal connections there."
Howard said his experiences have really helped to add credibility to the group and open the door for numerous guest speakers, including Governor Holcomb who visited the IUS campus and met with the College Republicans on Saturday, April 7.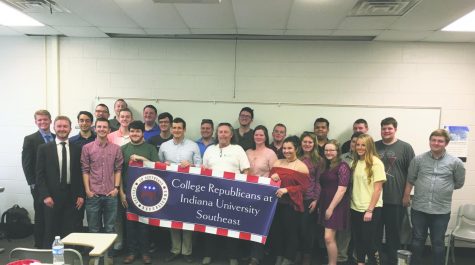 Embracing and Encouraging Discussion
Though a key aspect of the College Republicans is to spread and encourage conservative values and philosophies, Howard calls on the need for discussion, saying that having a College Democrats on campus would only benefit both organizations.
Howard noted that there is a Federation of College Democrats on the national and state levels, but it has more-or-less "gone the way of the dodo," and faded into little to no participation at IU Southeast. He said he wants to host events showing unity among the parties and promoting civil discussion across political spectrums on campus.
"That's why I've always encouraged us to want to have a College Democrats because we can do co-events with each other to make people say 'hey, look at that, College Republicans, College Democrats, they are working together,'" Howard said. "They would think it's an oddity, but really at the end of the day, it shouldn't be that way, and I don't think it is."
Cliff Staten, professor of political science and international studies at IU Southeast, said Howard participated in a college model "United Nations" which Staten directs, and said Howard's energy and charisma make it easy for him to be a leader, and easy for people to follow him.
"In my first year seminar, Roger was the only student who indicated that he wanted to be president one day and I have watched him grow into a campus leader since that day," Staten said. "He is a bit charismatic and other students tend to gravitate toward his leadership. Under his leadership and guidance, the IUS College Republicans have become perhaps the strongest student organization on our campus."