Mardi Gras gives student chance to see family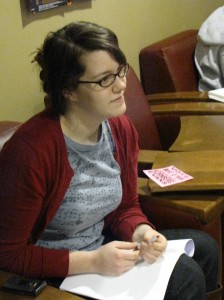 For one day a year, people who live all across the United States and some parts of the world are encouraged to indulge in Marti Gras with food and drink while collecting multitudes of beaded necklaces and partying for hours on end.
For Brittany Sharpless, secondary education senior, it's not just about the parade and festivities — it's about spending time with her family.
Sharpless, who traveled a lot growing up, was born in Jackson, Miss., and ended up in Louisville because of her father's job. Work took her father, Glenn Sharpless, back to the South, where most of their extended family lives.
She still lives in Louisville and said she hopes to graduate in the next two years, giving her the possibility of finding a job closer to her family.
The tradition of Mardi Gras has been a celebration in Sharpless' family ever since she can remember. As a child, her parents would drop her off at her grandparents while they would go out and enjoy the parades. When she was 18, she finally had a chance to see what this day was about.
Although the news sometimes focuses on showing the extreme side of Mardi Gras partying, Sharpless said she believes there are parts that are still geared toward children.
"Kids get a whole week off down there," she said. "The majority of people are off work. That's the target — just spending time with family."
She said seeing her family is her favorite part of the Mardi Gras holiday.
"It's the one time everyone is in town," Sharpless said.
She said it is also about what kinds of prizes one can catch and how much during the parade.
"You get all your loot and your plunder," she said. "I guess it's that whole experience of chasing after floats and getting beads."
After that, her family would return home to exchange or barter for different colored beads, coins or any other worthy possessions caught during the parade.
When Sharpless and her boyfriend, Will Foster, traveled to New Orleans last year, it was his first experience celebrating Mardi Gras. Sharpless said they had a blast.
"He was so excited," she said. "He was like a kid in a candy store."
Foster said he had never experienced anything like Mardi Gras beforehand and went down knowing nothing about the festival or the activities. He said he had no idea what to expect.
"Mardi Gras is just one of those things where it is mandatory for attendance to grasp an understanding of the event," Foster said. "I liked the parades and the music, but my favorite part was the food."
Sharpless' family had a crawfish bowl, something Foster had never tried.
"They boiled crawfish all day with potatoes and corn, and, when a batch was done, they just dumped the pot on a table covered in newspaper, and everyone just gathered around and ate," he said. "I had never had crawfish before. I tried it, and they weren't too bad."
Foster also said because he was staying with his girlfriend and her family, his experience was a little skewed but possibly for the best. He said floats in the parade would stop right in front of the house they were staying in.
"Overall, I had a wonderful time on my first Mardi Gras trip," he said. "I have told everyone I've ever talked to about the trip that it's something you must do, and, after you do, you'll understand why."
In addition to beads and booze, party goers can enjoy "King Cake," a delicious cream-cheese-frosting cake covered in purple, gold and green sprinkles. Sharpless said inside the cake is a tiny plastic baby. Whoever receives the slice with the baby has to throw a Mardi Gras party the following year.
When this year's schedule proved too difficult to find the time off to travel down to New Orleans, Sharpless said she felt she had to do something to commemorate the experience.
She competed in a Gumbo contest at the Bluegrass Brewing Company in St. Matthews. The recipe she used was the same one that has been passed down through her family by word of mouth only.
Her great grandmother, Ida Kidder, who is French and Native American, never wrote down any of the recipes used, and her mother still follows that tradition today.
Although Sharpless had a great time competing, she did not place in the contest.
Her mother attributed this to the fact that Sharpless wrote down the recipe and measured the ingredients, something her mother considers to be a big "no-no."
"She said I didn't allow it to have much soul," Sharpless said.
Being in New Orleans for Mardi Gras is something Sharpless said she would like to experience more of firsthand.
She said this would give her a chance to see family and not be bothered with questions about why she's not down there for Mardi Gras.
"We try to go every year," she said. "It's like a family reunion. You get crap for not going."
She said as part of the tradition, everyone who does not go gets heckled by those who do. This year was no different as relatives were calling and texting her to find out why she wasn't there.
However, she said school keeps her busy.
Recently accepted into the Language Arts Program, Sharpless said she hopes to graduate and have a job teaching either in the Kentuckiana area or somewhere closer to her family.
By JENNIFER SCHONSCHACK
Staff
jschonsc@umail.iu.edu