More students, more dorms
IUS Horizon
August 28, 2011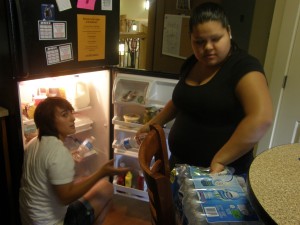 It was a bittersweet event for the Garrett family during Move-in Day as they helped Haley Garrett, nursing freshman, move into her new dorm room in Forest Lodge during Move-In Day Aug. 25.
This will be Haley's first time living on her own and apart from her home — about one hour away in Hanover, Ind.
"It's sad to see her go, but she's 19," Kenny Garrett, Haley Garrett's father, said. "It's time for her to go."
Haley said she was excited about the new move and the new room.
"This is my first time out, and even though I share a room with other girls, it's more like I'm on my own," Haley Garrett said. "The rooms are more spacious than what I thought."
Mindy Garrett, Haley Garrett's mother, said she was excited for Haley to begin the college experience.
"She gets to meet new people, and everybody has been so friendly," Mindy Garrett said.
Mindy Garrett said she appreciated how Move-in Day was well-organized.
Kendra Perry, Haley Garrett's aunt, also helped with the move.
"I'm very impressed, and everyone was so helpful," Perry said, "They get 100 percent today."
In another lodge adjacent from Forest Lodge, Meadow Lodge community advisers were helping residents sign-in and navigate to their new rooms.
"It's pretty intense, but fun," Olivia Jackson, elementary education sophomore and community adviser of Meadow Lodge, said. "We've been preparing all day for the past two weeks — sometimes working beyond midnight — for this."
Jackson said she had to take suicide conflict prevention classes as part of the community adviser curriculum as well.
Jackson said they expected 87 residents to move into Meadow Lodge on Move-In Day. Overall, about 400 students moved into the lodges on Move-In Day.
Chancellor Sandra Patterson-Randles also joined the occasion on Move-In Day, welcoming students to IU Southeast.
"I'm really delighted," Patterson-Randles said. "This is the fourth year for the lodge Move-In Day. We had 339 beds, and we received 558 applications for them — we had to turn people away."
She said this was the reason for a new dorm that will be built on the south side of campus.
"We had an anonymous donor who gave us $1 million toward housing, we used this as a down payment for the new lodge," Patterson-Randles said.
The chancellor said it will be the same design as Meadow Lodge with 87 beds.
"The trustees saw that our enrollment rate is getting higher, our graduation rate was at the highest this year and we needed a new dorm," she said. "They didn't blink an eye."
The chancellor said she is proud of IU Southeast.
"I always love seeing the beginning of new eras," Patterson-Randles said. "It's just fun."
The chancellor shared the lodge news with 700 students attending New Student Induction Ceremony in the Athletics Building on Aug. 25.
During the ceremony, the chancellor welcomed the new class of 2015.
Gilbert Atnip, vice chancellor of Academic Affairs, shared new student statistics with attendees.
"This class is composed of students ranging in age from 17 to 58 years old, and the majority of the students are women," Atnip said.
"We challenge you and support you," Atnip said.
During the ceremony, Josh Kornberg, SGA president, challenged students to become more involved on campus.
"Today's the day you
become a Grenadier," Kornberg said.
By LEAH TATE
Sports Editor
lmtate@umail.iu.edu