Magician returns to IUS
IUS Horizon
February 26, 2012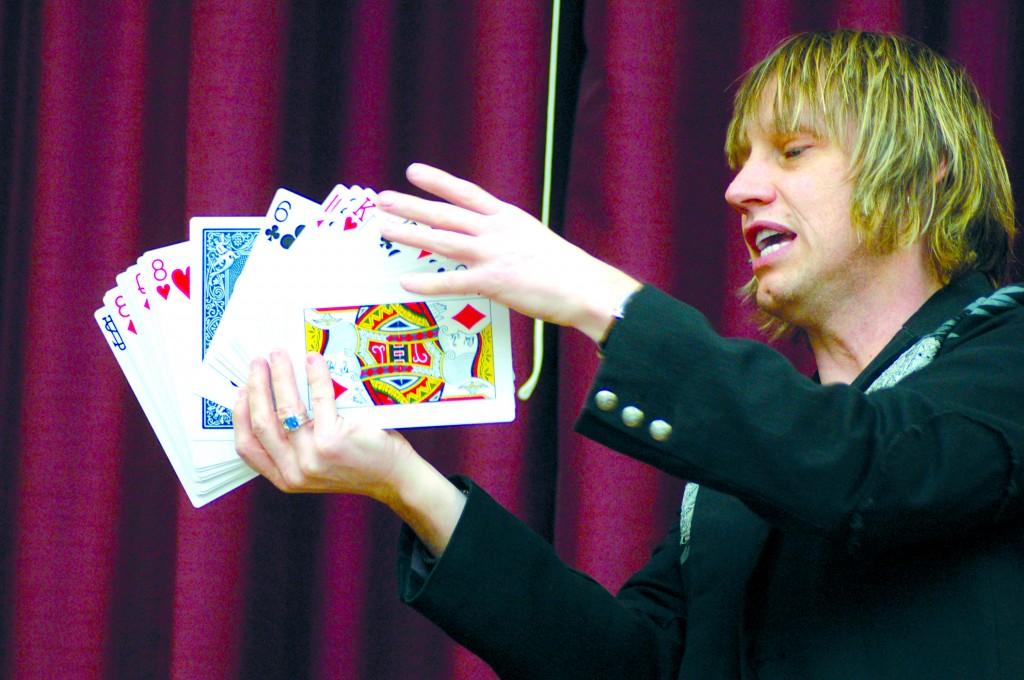 Families gathered in the Hoosier Room to watch the third annual magic show performed by Rusty Ammerman on Feb. 19.
The free event brought almost 50 people to IU Southeast to enjoy an hour and a half long comedy ridden magic show.
Ammerman is from Connersville, Ind., and, during the show, he brought several members of the audience on stage with him to participate in tricks. For nearly every act, Ammerman invited a member of the audience to join him or required audience participation.
"When you have smaller numbers, it creates a far more intimate setting," Ammerman said. "You almost have a relationship with some of these people before you are done."
Ammerman has performed since the age of 16, and his shows have taken him to 43 states and nine countries to entertain. He said his tours consist of mainly high school and college campuses, but he has entertained at many other venues.
"I guess it would be easier to say where I don't perform at," Ammerman said. "I don't perform at community pools, and I guess that's about it."
Aiden Schnieders, 3, nearly stole the show when he joined Ammerman on stage playing magician's assistant in transforming Ammerman's pet rope, "Ropper," into a bunny.
Schnieders' rendition of the famous magic word "abracadabra" had the audience laughing along.
Part of Ammerman's interactive show was adding comedy to the tricks. When the audience did not demonstrate feedback, Ammerman offered comedic relief to fill the silence.
"I've lost you already? That's really too bad," Ammerman said to the audience during his performance.
Ammerman's show was not only tailored for the children of the audience, but he offered humor the adults could relate to, as well.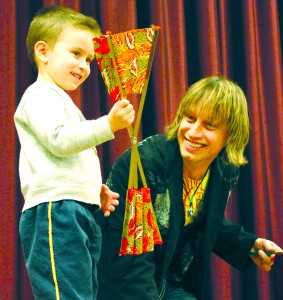 For one of the tricks, he gave Shannon Ries, 10, and Jacob Ott, 10, $5. He then magically transferred $3 from Ott's pocket and put them in Ries' wallet.
"This thing where your money disappears into a pretty girl's pocket is something you will get used to," Ammerman said to Ott.
The event was sponsored by Family Programs, where Ammerman was contracted through the G.G. Greg agency to perform at IU Southeast. IU Southeast uses the services of G.G. Greg to bring many entertainers to campus, including the Herpes Alive series.
"We have a really good relationship with that agency," Kimberly Pelle, coordinator for the Non-traditional Student Programs, said. "They are always letting us know when there is new talent that fits our campus population."
The event brought students and faculty alike to campus, most of which brought their families with them to enjoy the show.
"It gives students something different to do," Pelle said. "It gives students that have families an opportunity to get their family on campus, and it's free. Especially in today's economy, people are looking for something to take their families out to that isn't going to cost an arm and a leg."
After the show, Ammerman offered magic tricks and wands for those who wanted to take some of the magic home with them. He also offered advice for the prospective magicians.
"My advice is to go home and practice," Ammerman said, "and, when you get older, try [the tricks] out at bars and make money."
Putting all jokes aside, Ammerman said the best part of being a performer is the bond that is created from entertaining the audience.
"There is an addiction to making people laugh that you want to do it over and over and over again," Ammerman said.
The Family Program also has upcoming events for students and their families. The Family Programing is hosting Family Day Out on March 3, where they will be visiting the Louisville Slugger Museum.
Family Programs will also host Operation Hippity-Hop on April 7.
By HANNA WOODS
Staff
hrwoods@umail.iu.edu