Ben & Jerry's co-founder churns up discussion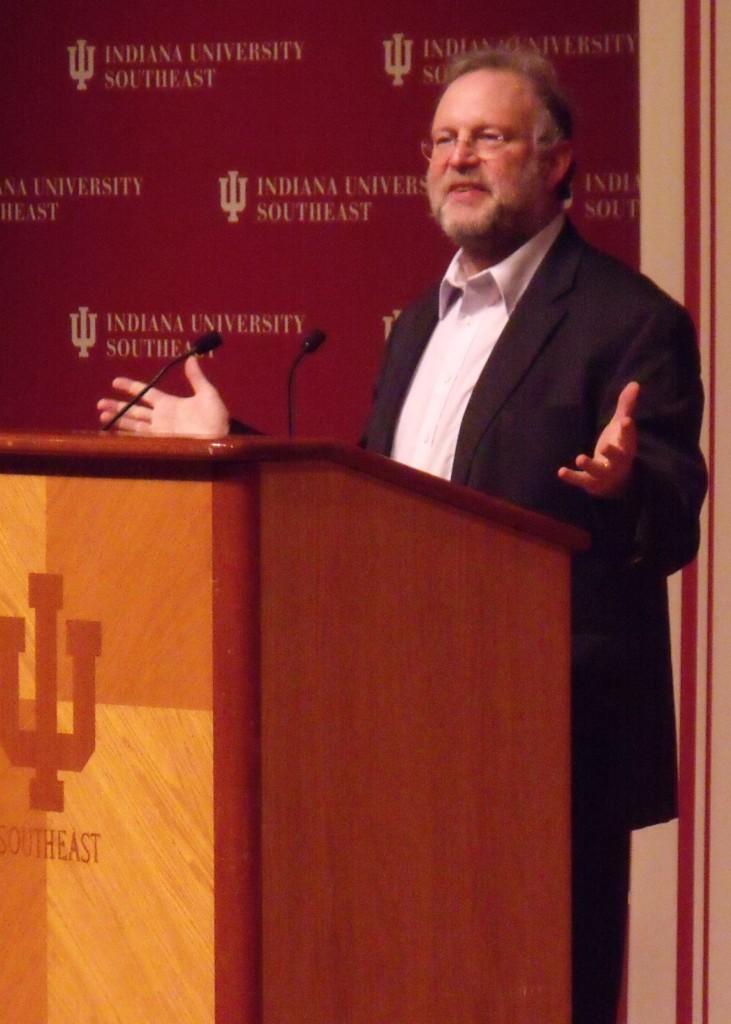 Jerry Greenfield, co-owner of Ben & Jerry's Ice Cream, spoke about his multi-million dollar business at IU Southeast in the Ogle Center on Feb. 21.
Greenfield was the keynote speaker as a part of IU Southeast's Sanders Speaker Series.
Judge Carlton and Sue Sanders have donated $568,140 to the IU Southeast business school. Of that amount, $300,000 went to the Sanders Speaker Series and the remaining money went to establishing the Sanders Trading Lab.
The Sanders said their goal for the series is to bring high-profile speakers to the university to speak to the community about business and the economy.
Greenfield is a business entrepreneur who went from having a little ice cream shop in Vermont to being the co-owner of a multi-million dollar ice cream business.
However, Greenfield and his business partner, Ben Cohen, have not always been successful.
"We were failing at everything we were doing," Greenfield said. "That's what gave us the inspiration to start this business."
Greenfield said, before they started Ben & Jerry's, Cohen dropped out of several colleges and was trying to be become a potter, but no one would buy his pottery. Greenfield graduated from college, applied for medical school and did not get accepted.  Greenfield said, when they opened the first shop, they thought of it as a little adventure, not as a business.
"We weren't looking for a career," Greenfield said "We were just trying to get by, by doing something fun."
Ben & Jerry's is famous for its unique flavors and names of ice cream, and it has also been recognized by the Council on Economic Priorities and the U.S. Small Business Administration for its dedication to helping with environmental and social problems.
"We try to connect and communicate with our customers, not through the traditional advertising and marketing, but through taking political stands and being a socially responsible business," Greenfield said. "We connect through the basis of values as opposed to a humorous or sexy advertising."
Greenfield said Ben & Jerry's would not be nearly as successful if it did not have a social mission.
"I think Ben & Jerry's has always been outspoken on controversial issues," Greenfield said. "That's one thing that distinguishes Ben & Jerry's from other so-called social responsible companies."
Ben & Jerry's raised controversy in 2009 when they temporarily changed the name of an ice cream flavor, "Chubby Hubby" to "Hubby Hubby" in support of the legalization of gay marriage in Ben & Jerry's hometown state of Vermont.
"What we've been learning at Ben & Jerry's is that there is a spiritual aspect to business, just as there is in the lives of individuals," Greenfield said. "As you give, you receive. If you help others, you are helped in return."
Greenfield said people sometimes refer to him and Cohen as old hippies.
"People would always ask how we feel about that," Greenfield said, "and Ben would always say, 'Well, if by hippies you mean someone who believes in peace, love and people who take care of their neighbors, sign us up.'"
Greenfield said having a good product to sell is very important. He said even if an owner operates a kind and caring business, it is also about the product. Ben & Jerry's is unique not only because of the fun flavors and crazy names of ice cream, but because the ice cream itself is distinguished.
"Ben & Jerry's ice cream has a lot of cream in it. It's very rich and creamy. It has very little air in it, so it's very dense and chewy," Greenfield said.
Greenfield said that the best kept secret of Ben & Jerry's is Cohen cannot smell, and it is very connected his taste. Greenfield said because Cohen cannot taste, he is very tune to textures and he really likes texture-contrast.
Greenfield said Cohen always insisted on the ice cream having big chunks of cookies and candies to contrast the smooth and creamy ice cream.
"Ben always said he never cared if he had a chunk in every bite, as long as he knew a big chunk was coming," Greenfield said.
Greenfield said his favorite flavor of Ben & Jerry's ice cream is "Americone Dream."
"AmeriCone Dream" was named after Stephen Colbert, host of Comedy Central's, "The Colbert Report." The flavor consists of vanilla ice cream with caramel swirl and chocolate covered waffle cone pieces.
Greenfield said that because the company tries to do good things, people have good feelings about Ben & Jerry's.
"Whenever I meet someone, even though they don't know me, they treat me very warmly," Greenfield said. "I get to go through life with people treating me like a very nice and wonderful person. That's been one of the best experiences I've had from all of this."
Ashley Troklus, business and marketing junior, said she thought Greenfield was fantastic.
"He was very entertaining, and I learned a lot," Troklus said. "The way he talked about the relationship he had with the community was really cool."
Brad Murphy, theater freshman, said he also enjoyed listening to Greenfield.
"I thought he was a great speaker who gives back to the local communities and does all the right things," Murphy said.
By AYSIA HOGLE
Staff
ahogle@umail.iu.edu