Editor calls foul on excessive celebration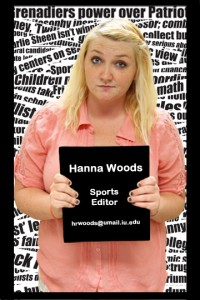 It is that time of year, sports fans. Swap out your old blue Manning jersey for the new orange one and stock up on your Terrible Towels. It is time for some football.
Going into what I hope will be a very entertaining season of football, there is one thing on my mind — what is going to happen in the end zone?
It seems like in the NFL more than any other professional team, the players and viewers alike care more about what happens after the receiver catches the ball than the actual play.
Let's rewind to nine seasons ago to a little game between The Saints and The Giants. The Saints wide receiver, Joe Horn, narrowly catches a ball in the end zone thrown by Aaron Brooks. Horn then gets up, pulls up the padding from the goal post and takes out a cell phone. Horn proceeds to make a call home – all still in the end zone. Entertaining? Sure. Creative? Yup.  Necessary? No.
Horn was not the first to pull off these kinds of end zone shenanigans and most certainly will not be the last. Players like Terrell Owens and Chad "Ochocinco" Johnson have a laundry list of end zone antics that include signing footballs, proposing to cheerleaders and giving CPR to the football.
The NFL has tried to cut down on excessive celebration by fining the players involved and enforcing a 15-yard penalty ensuing kickoff.
The problem that we have seen is that what is and is not excessive is very open to interpretation.
What we should all keep in mind that these players are getting paid to play football. It is their job to catch balls and make touchdowns.
When a receiver catches a ball from the quarterback, great, that is what they are being paid to do. After I finish a story, I do not pretend to resuscitate my computer and parade around the newsroom handing out high fives and busting a move or two — all right, sometimes I do dance — because it is my job, and I am paid to write. Just as they are getting paid to play football.
Last season in one of the most over-the-top and disrespectful celebrations, the Buffalo Bills Stevie Johnson scored a touchdown and danced around for a bit, then pretended to shoot himself in the leg. This was a direct mockery of the 2008 incident in a New York nightclub involving the former Jets wide receiver Plaxico Burress.
Johnson did not stop there. He then held out his arms pretending to be a plane and then crashed into the ground. What a class act.
Of course he was fined, and the 15-yard penalty was enforced, but it did not take back the fact that he acted in such blatant disrespect on national television. Not to mention he looked like a complete jackass, but I am sure he did not care about that, either.
The NFL has handed out numerous fines to these players in attempt to cut down on the end zone antics, but it has not stopped or even slowed down the players. Ochocinco even pulled out a sign reading, "Dear NFL, please don't fine me again," as one of his skits. Way to go NFL, you are really getting your point across.
The thing about celebration is the majority of the fans love it. They enjoy when people like TO and Ochocinco make fools of themselves coming up with the most ridiculous ways to celebrate doing what they are paid to do. The problem is that there is a big inconstancy in the NFL about handing out the fines and how the word "excessive" is even defined.
The Green Bay Packers Lambeau Leap still gets the OK from the NFL, and, unfortunately, the act known as "Tebowing" is not considered excessive either. Then you have people like Eric Decker who got penalized for unsportsmanlike conduct for kneeling and supporting the troops after a touchdown pass from Tim Tebow.
When it comes down to it though, people like TO, Ochocinco, Johnson and Horn are celebrating to boost their already overinflated egos.
What happened to the guys like Barry Sanders who, after scoring a touchdown, just humbly passed the ball back over the referee? I doubt we will ever see another player as humble as Sanders. He let his playing speak for him. He did not have to dance or spike the ball or come up with some ridiculous post play skit. He just played good football and people used to appreciate that.
Celebration in sports is as natural as Tom Brady's flowing locks peeking out from under his helmet, but there is a time and place for it.
Football is already a 60-minute game where actual play time is less than 20 minutes, so celebrating after every play gets unnecessary.
In small amounts, it is great, but when you have people who are doing it solely to gain air time and Youtube hits, it is just plain douchebaggery. We can not continue to reward stupidity of these players by supporting their ego self-pleasurement.
By HANNA WOODS
Sports Editor
hrwoods@umail.iu.edu