LGBT advocate discusses life with same-sex parents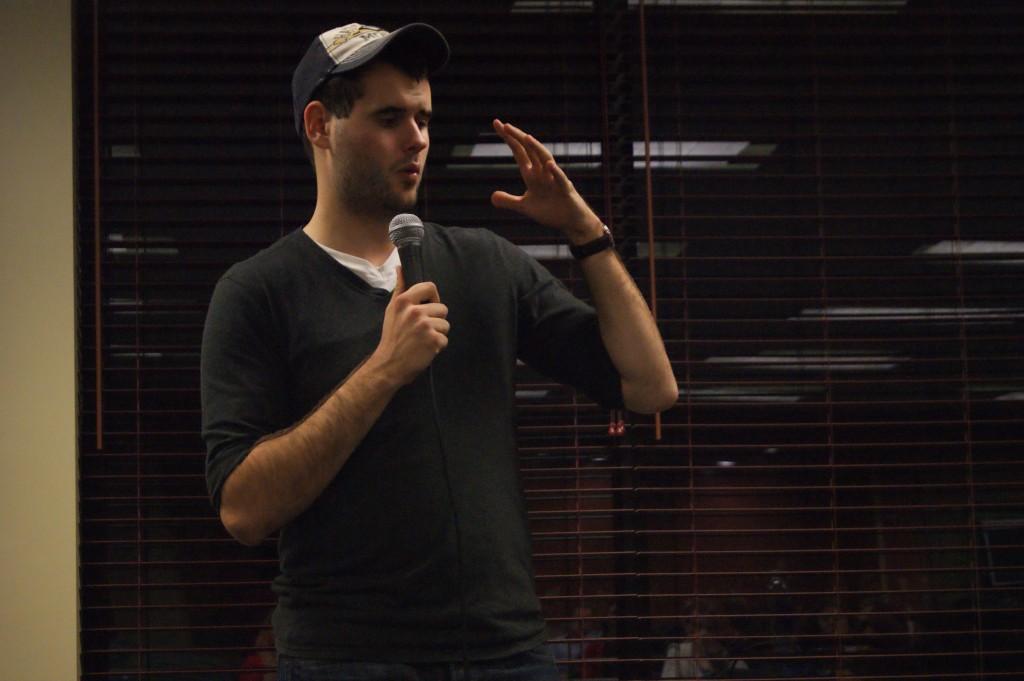 Close your eyes and think about the images that come to mind when you hear the word marriage.
Common images could be a wedding with heartfelt vows, the wedding cake, a reception with funny toasts or having a little too much champagne by the end of the night.
Now imagine going through the whole marriage process, only to find out your marriage is not legally recognized because of your sexual orientation.
This is not the reality for everyone, but it is a reality for some like Zach Wahls' family.
On Oct. 10, the Gay Straight Alliance, along with the Student Program Council, hosted Wahls' visit to IU Southeast.
He spoke about being raised in a household his two moms, Teri and Jackie, and how he has been traveling the country in an effort to change people's views on gay marriage.
Wahls' claim to fame came on Jan. 31, 2011, when he spoke to the Iowa House of Representatives on behalf of same-sex marriage.
He spoke about being raised by two mothers and how his family is a normal family.
"The sexual orientation of my parents has had zero effect on the content of my character," Wahls' said.
However, Wahls said he did not know a flip camera was recording his entire speech, which was uploaded to YouTube within 24 hours.
Two days later, Wahls receive contact from all of the major news outlets, as well as The Ellen DeGeneres Show.
"By the end of the week, the video had over a million views," Wahls said. "I had been contacted by the speaking agent that brought me here, by the book agent that put together the book I have now written."
His book is called "My Two Moms: Lessons of Love, Strength, and What Makes a Family."
By the end of 2011, that video had more than 20 million hits, and, according to Google's count, it was the most watched political video of 2011.
The video opened up the door for him to travel all across the country and have conversations with people about the question of gay marriage, or — as his family prefers to call it — marriage.
"My family likes to call it marriage for the same reason my moms are not my gay moms," Wahls said. "It's not who my moms are. The point is that they are not gay married. They are just plain, old-fashioned married."
In 2009, the Iowa Supreme Court ruled in a unanimous decision that Iowa's Defense of Marriage Act was depriving Iowans of their constitutional rights to engage in same-sex marriage. It said their equal protection rights were being violated by the state.
As a result of this ruling, Wahls' moms were able to legally get married in Iowa.
Iowa is just one of six states in the nation that allows same-sex marriage.
Wahls said the gender of someone's parents is not a deciding factor for what life skills an individual obtains.
"Having gay parents is like the color of my socks," Wahls said. "You can't just look at me and determine what color my socks are. You can't determine the color of my socks by sitting down and having lunch with me or coffee with me. You can't just come to this independent realization that 'Oh, he's wearing purple socks.'"
Wahls said he admits he was bullied for having gay parents, but he also pointed out other children are bullied for having single or divorced parents.
Wahls said his story is about recognition.
"I think we just have to remember that, as hard and as painful and awkward as these conversations are to have, that's why they are important to have," Wahls said.
He also shared a quote from Martin Luther King.
"Dr. King told us, 'The day we stop talking about the things that matter is the day we stop living.'"
Nick Lawrence, business sophomore, attended Wahls speech in order to learn more about the struggles gay couples and the children of gay couples are forced to go through.
"I enjoyed Zach's speech," Lawrence said.  "The way he talked – it's very relatable. It was very easy to understand and to be able to relate to what he is saying. He was very knowledgeable of the different court cases around the country that relate to gay marriage."
Wahls said he insists people currently have more power than they ever had.
"I believe that words and actions will always be the most powerful force that we have, but the ability, the capacity that we have to capture these words and to share those actions is unprecedented," Wahls said.
By KIM KERBY
Staff
kdkerby@ius.edu