Feed me Seymour | "The Little Shop of Horrors" review
Plants are not the typical apocalyptic scenario in my head. However, seeing Derby Dinner Playhouse's performance of "The Little Shop of Horrors" can make one re-think the different possibilities for the end of mankind.
In the play, a talking plant mysteriously appears to young Seymour, played by Ricky Cona.
Seymour nourishes it to its blossom stage by giving it sun and water like most other plants. He soons finds out, though, that the plant, which is named Aubrey 2, is not like the others.
Audrey 2, does not photosynthesize, Audrey 2, commits homicide.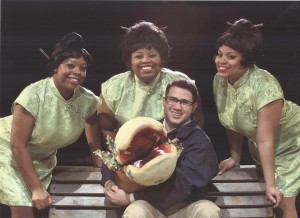 I have not been to Derby Dinner Playhouse since I was a child and their rendition of "The Little Shop of Horrors" was more than I ever could have imagined. I was really impressed with everything.
They did some musical numbers not featured in the 1986 movie and the ending is quite a bit different.
I was worried about Jillian Prefach playing the role of Audrey, a young, scantily-clad girl with low self-esteem and her head in the clouds, because the character's voice has to be right in both her speaking and singing parts, but Prefach showed her talents as an actress and a singer.
What really made the show for me, though, was Chiffon, played by Tymika Prince, Ronnette played by Illy Kirven and Crystal, played by Tamika Skaggs, because their musical numbers went along so well with each situation and the energy each of them showed while singing and acting as people in the play inspired me and made me fall in love with the characters themselves.
I tip my hat to Derby Dinner, not only because they put on a much better performance than I thought was possible on that stage, but also because they reminded me that Broadway is not that far from home. I can get a little taste of it by seeing local actors and actresses perform. Not to mention, eating a good dinner, as well.
If you see nothing else this year, go see "The Little Shop of Horrors" at Derby Dinner.
You will leave with no regrets.
By BRYAN JONES
Senior Editor
jonesbry@umail.iu.edu