GSA shows pride at Louisville parade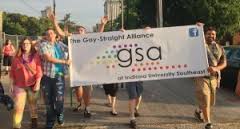 Members of the IU Southeast Gay-Straight Alliance gathered with nearly 1,000 others in downtown Louisville on June 14 to march in the Kentuckiana Pride Parade.
The annual parade is part of the two-day Pride Festival that celebrates the diversity of members and friends of the LGBT community.  Many cities internationally celebrate Pride each June.
Nicholas Moore, business junior and chairman of the GSA fundraising committee, helped organize the group's participation in this year's parade.  He said this was his fourth time attending Pride, but the first year the group marched together.
When they arrived at Preston and Market Streets where they parade began, Moore said the area was already filled with floats and a diverse crowd—some people in costumes, some with banners and megaphones.
"It was just such a cool environment to walk into," Moore said.  "It's just a very positive environment for anyone.  It's a real rush."
Moore said he believes events such as this are important to help foster education and acceptance of LGBT groups, and he said he felt the GSA had a duty to represent IU Southeast at the celebration.
"This a unique time and an age to be somebody that's gay in America," Moore said.  "We're trying to get this legislation passed for equal rights and we can't do those kind of things—we already have people who agree with us—but for those who don't, we can't get them on our side unless we cross the aisle and help them to understand."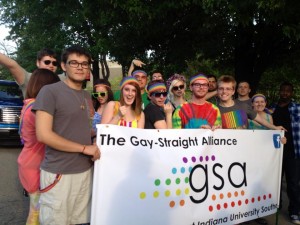 Moore said Pride is also a chance for many who may not always feel safe and accepted in their sexuality to be unified, and he was glad to be a part of it with fellow GSA members.
"Some of them had never been to a Pride festival before." He said.  "Many of them are under 21 and had never been to a gay bar before—and I don't mention that for drinking purposes—but they hadn't been in a group of people that were so accepting and welcoming."
Justin Armenta, psychology junior, said he felt a great sense of community at Pride.
"It's comforting when you are actually gay to be around other people who have been through the same stuff as you and are there for the same reason," Armenta said.  "Being socially casual is so much easier and I just enjoy being around that type of crowd; It's just fun."
Armenta said although he attended the festival last year, this was his first time marching in the parade.
"When you're actually in there, it's completely different because you get to see everybody's reaction," he said.  "There are always people cheering and celebrating.  I saw couples kissing every now and then; it's really special.  It's different than just standing off to the sideline."
Although several protesters were spotted, students said they did not dampen the enthusiasm of the parade.
"I just sort of shut that stuff out like 'I don't really care, I'm not here for you,'" Armenta said.
Moore said the protesters appeared passive but he still remained slightly on alert.
"I've heard horror stories about hate crimes and I don't know what somebody's got in their pocket, you know?" Moore said.
As the parade neared its close, someone began chanting "GSA!" which Moore said quickly turned into the group uniting with one sonorous voice.
Mallory Murphy, international business and marketing sophomore, a first-time Pride participant, said she used her phone to capture pictures of other parade-goers and marchers, while yelling "Selfie!" into the crowd.
"Everybody was so happy," she said.