Downtown New Albany gets a new lease on life
Sixty years ago, "downtown" was considered the social and financial heart of nearly every city in the country. Once a one-stop-shop for everything from dining to drugstores, shoe repair to salons, main city streets eventually began to suffer due to economic and population growth.
Rhonda Stroud, former IUS student, grew up in a rural area 10 miles west of New Albany. She recalled her first childhood visits to the city with her family in the 1960s,
"For the longest time, I didn't even know we were going to New Albany every week. I just thought it was called 'Town,'" she said. "We went for all kinds of things but Christmas was my favorite. I'll never forget the garland strung across the streets and the big silver bells."
In the 1960s and 70s, downtown New Albany, like many urban areas across the U.S., began to wither into obsolescence as residents migrated out of the antiquated city life for the luxuries that suburbia offered—central air, wall-to-wall carpeting, peace and safety.
Malls, large department stores, and "big box" stores grew and set up shop in the outlands of town, where their customers lived. McDonald's revolutionized the factory approach to dining, and chain restaurants spread like kudzu.
This migration left many of the downtown businesses without sales or support and they were forced to relocate or perish. In New Albany, once-bustling streets were abandoned. Buildings became dusty and broken. To many residents, "downtown" was a thing of the past.
Then a funny thing happened.
Slowly, it began to wake up.
Some say it started with the bridge closure in 2011. Others believe the city had no room left to expand and the economy forced it to look within its existing assets for growth opportunities.
It could be that Americans are beginning to think locally. According to GreenUpgrader, 73 cents on a dollar spent in a local establishment stays within the community, as opposed to 43 cents of the corporate dollar.
Since 2007, downtown New Albany has welcomed more than fifty new businesses, with many more to come, said Mike Kopp, vice president of Remax First Commercial Group. He said he sees at least five more years of strong growth potential in the area before it evens out.
Although he does not call himself a visionary, Kopp knows that there is a strategy behind layout of the businesses in the redevelopment district because he personally sought out 90 percent of them.
"There's an Italian place over there, a Cuban restaurant here, a coffee shop. It's not an accident. It's by design," he said.
Louis Schmitt, president of family-owned and operated Schmitt Furniture, said he learned about Kopp's dream to rebuild the downtown area eight years ago.
"There was nothing big going on in the town and it was probably losing its tenants. He saw it as an opportunity," Schmitt said. "With business, I believe, the entrepreneur, the independent individual, the free thinker can come in with a plan, and he did."
Schmitt Furniture opened its doors in 1936 and is one of the longest standing businesses in the downtown area. Schmitt said being founded during The Great Depression and weathering several recessions since has taught the family owners how to protect themselves financially.
"It was nice during the recession to know where the bottom is because now you can rebuild it back up," he said.
Schmitt also attributes the longevity of the company to its philosophy of personalized service. They offer free delivery and repairs, buy mostly U.S. made furniture to sell in the store and strive to cater to whole families. He said it is wonderful to see a mother or grandfather bringing a younger person in to buy their first couch or bed.
"This business is blessed, and I have to thank past generations for keeping the business strong and continuing to teach the philosophy of family," he said.
Schmitt said he is very excited to see new businesses and local agencies such as New Albany First, Develop New Albany and The Urban Enterprise Zone popping up and that they all help support one another and contribute to the growth of the town.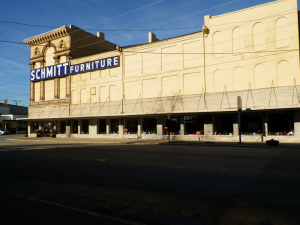 Among the many newer businesses in the area is Sandra Abreau's shop, Colokial, which is filled with handcrafted jewelry, clothing and art from around the world. It is located on Spring Street.
"People say I have an eye for organizing things; I didn't know," she said. "If you go to my house you will see my store."
Abreau is from Miami, but moved to Corydon, Ind. several years ago when she met her husband. She has a bachelor's degree in business administration, and got the opportunity to open a little shop in Corydon when she decided to "quit Corporate America."
She said she and her husband decided to open the New Albany location after Kopp paid them a visit.
"When we came here, it was a huge risk that we took because we came with the hope that restaurants will be opening soon, that things were going to happen," she said. "This building was totally empty. We were the first ones to move onto this street. You need a good realtor to get all of these businesses out here; it requires a lot of planning and I think [Kopp] was the master doing the whole plan."
Abreau says that her shop is doing well.
"I think people these days are just looking for things that are different, that not everybody has. In here, it's not about a brand. It's about who made it, how they made it," she said.
Abreau said despite there being several boutiques and many shops and restaurants in a small area, they work well together.
"I don't think any of the stores here compete with each other. I think they complement each other," she said.
On the Market Street side of the block, Opal Gypsy owner Shanda Sillings-Roderick agreed. Unlike Colokial, which sells items from around the world, her store is full of hand-made art, clothing and jewelry that is 75 percent local.
"We all have our own little taste, our own little niche. It's going in the right direction," she said. Sillings-Roderick said she moved out of New Albany for several years and recently returned. She worked for Abreau at Colokial in the beginning, but when the spot on Market Street opened up, she said she knew the time was right.
"Since I was a teenager, I've always wanted to have my own store, but I just haven't lived in the right place where I felt the good Karma and the energy, and New Albany, when I came back, I said, 'This is definitely it. This is where I need to be,'" Sillings-Roderick said.
Across the street, at Habana Blues, Leo Lopez runs Southern Indiana's only Cuban tapas restaurant. According to TripAdvisor, it was rated no. 1 restaurant in downtown New Albany for 2012 and 2013.
A few years ago, Lopez had a different kind of restaurant in Jeffersonville, Ind. It was going well, but he got an offer from a realtor to move to New Albany. Lopez said he had never been to New Albany and was not sure if it was the right place for a tapas restaurant, which he said is normally only found in bigger cities.
"When I came in, I took I-64 and came down Market, and I just fell in love with the place. It's just got so much character. It took me following my guts for this, you know," he said.
Sunnye Paris, a Southern Indiana native, said she had not been downtown in a while until she started taking yoga classes.
"Everyone is friendly, and the buildings—I just love being surrounded by history. I felt like I was visiting a small town in a state where I'd never been," she said.
Schmitt said he believes the development of the downtown area is bringing business owners together and helping to bolster the local economy.
"Everyone kind of overlaps everyone, and with transparency, they can share best practices. They can share similar struggle," he said. "I think that we have a wonderful platform here, and I think that we make our own recovery. You can't rely on little government or big government. I think America relies on itself, with the communities, the people you see every day when you're coming to work or going home. That, to me, is recovery."
With plenty of new things to discover, a walk through downtown New Albany today could take the whole day.