IUS alumna busy arranging Valentines Day for others
Valentine's Day calls for a busy week at any floral shop, with orders flooding in from left and right. At Lavender Hill, Jeffersonville's own local floral shop, the day may become chaotic but they make sure to handle each order with care.
Grace Harmon, IUS alumna, currently works as lead designer at Lavender hill and said that Valentine's Day is at least five times busier than any other day.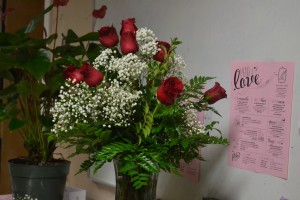 "We focus on quality instead of quantity," she said. "On Valentine's Day you just go into a mode it's all about organization, I mean, there will be kinks. There will be somebody that comes in at the last minute and expects you to hang the moon and gets irate whenever you can't, but that's just to be expected and the best thing to do is just to be organized, plan ahead, and hope for the best."
Lavender Hill is not part of any wire companies. Wire companies include FTD, ProFlowers, Teleflora and others. According the website www.openaflowershop.com, a wire service is a company that transfers orders between florists, across geographic divides. They collect money from the sending florist and pay the receiving florist for filling the order.
Since Lavender Hill is not affiliated with any wire companies, Harmon said that they only take the amount of orders they can handle.
"We're not as busy as some of the shops that are wire services," she said. "We take on what we can and we know that what goes out our store is going to be quality."
Harmon stresses the importance of developing a relationship with local florists and said the quality of the product purchased will be well worth the money spent.
"Order from a local shop, whether that be us or not — preferably us," Harmon said, "I cannot stress enough how much better you will get if you just call a shop directly and have that communication. Have a relationship with your local florist, it's simpler and you get a lot more bang for your buck as well as just a nice relationship with a local business to support them."
Harmon, has worked for Lavender Hill for five years in May. She said she has found her passion in the form of floral design, though she attended IU Southeast for fine arts and general studies.
After she studied abroad in Florence, Italy, Harmon knew that she wanted to work in floral design.
"I just walked in after Italy and was like 'ok, I want to be done and I want to work full time. So I went for one more semester to finish up my associates," she said.
Carolyn Minutillo, owner of Lavender Hill, praises Harmon's work and talent.
"She's a natural for doing it." Minutillo said. "I think she sees it, I mean you can teach design but I think you have to feel it–just like painting and other things but it's instinctive for her so it's a good match for us too."
Harmon said she enjoys working at Lavender Hill because employees get more creative freedom when creating an arrangement.
"With wire companies you have a photo and it says this, and you have to make that, but we do have to stick with some [guidelines]," Harmon said.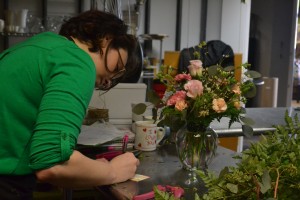 She said when doing an arrangement she likes to make use of her artistic skills and the reputation of the shop to make an original piece for the customer.
"A lot of our customers will come in and just say, 'do a Lavender hill arrangement,' and those are the keywords for me to do something creative, have free-range or to do something more contemporary," she said.
Harmon says there is no typical day for her or her co-workers at Lavender Hill, every day brings a new challenge.
"Whether there's a bridal consultation, a marketing meeting, if we're going out or doing anything from the runway for the roses and meeting with InFocus magazine, there's just no typical day," she said.
The staff at Lavender Hill is dedicated to their work, and customers are guaranteed a quality piece when they order from them. Harmon said the staff is dedicated to quality and will make sure each arrangement is perfected, regardless of how long it takes.
"Usually I get out at 5:30 [p.m.], but, during wedding season, or Valentine's Day, I might not see the sun until the next day and we're here until midnight or one…one thirty in the morning," said Harmon.
Harmon takes pride in her work at Lavender Hill. When she first started working at the shop, she said within her first year she instantly made some of her best memories at the shop.
"There was one elderly lady that had me come into her house, to carry her flowers and she started crying because she was so excited that somebody remembered her on her birthday." Harmon said. "It's great whenever people actually are surprised and excited to receive something like that."